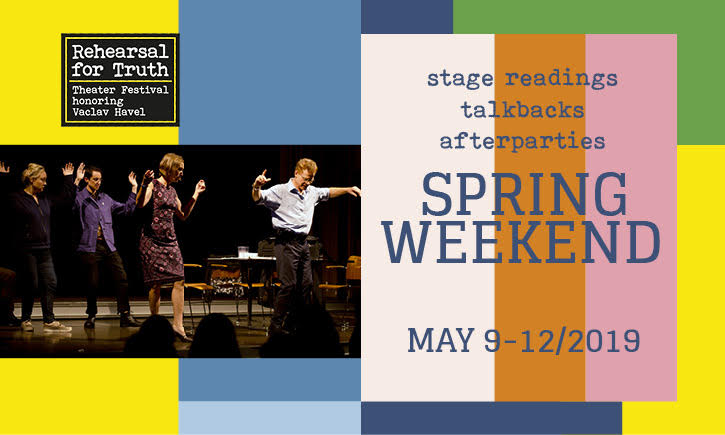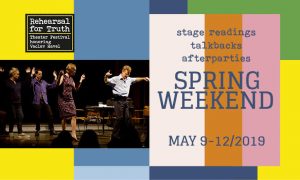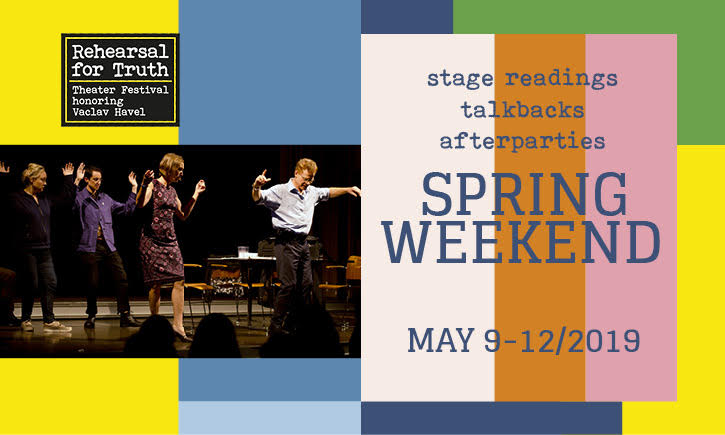 With over 7.5 million daffodils planted by 100 000 volunteers in NYC and 194,000 tulips in Central Park – spring is definitely in the air. To celebrate the arrival of this burst of color from these European blooms the Vaclav Havel Library Foundation and BBLA festoon the Upper East side with a weekend of FREE stage readings, a full production, after parties and talk backs at The Bohemian National Hall.
Playwrights from The Czech Republic, Poland, Hungary, Slovakia and Romania are profiled from 9-12 May 2019 at this theatrically intensive long weekend. Here are a few soundbites from some of the artists involved in the project:
Playwright Andrea Pass, the Hungarian playwright who authored SUNFLOWER , says her story can be understood as a "metaphor about a family where the unspoken problems cause a poisonous atmosphere. Accusations, setbacks are swept under the rug and, suddenly, they explode in a destructive blast. At that point, it looks impossible to redress the root of the conflicts, the poison stays in the air, the victims of which are the children, the new generation."
Attila Szabó, the Hungarian project advisor says that Andrea's work aligns with the Rehearsal for Truth main objectives – to showcase the distinctive contemporary cultural perspective of the Central European region on the New York stages. He said, "The unique dramatic and theatrical voice of Andrea Pass deals with very relevant and mostly unspoken problems in our region, but also represents a trending theatre production model: that of the playwright-director, which at the moment seems to be the most innovative development in contemporary dramaturgy, bringing to life a series of socially interested and aesthetically vivid works."
Slovakian playwright and director, Martin Cicvak, said his inspiration for his play Urn on an Empty Stage came from an ambition to write a touring comedy -simple and easy to pack up -about four actresses and an urn. "But the text in itself started to be complicated – my mind started to dig out memories of all the abused women in the world literature and suddenly, an opera singer appeared in the play with all that "philosophizing" agenda. I realized that what I was really about to do was to give the women a weapon to murder that egocentric Creator, who I would give a "working" name Kronos, and to be able to do so every evening they would perform this play."  Martin also shared his daily writing ritua: "For me, ideally from 10am to 2pm which includes all the rituals needed for the kind of concentration that's necessary for writing: isolation into solitude, into silence. The text starts to write itself, but sometimes it takes hours until the psychological machine is put in motion.
The weekend also boasts a full length Romanian production, I Hope I Wouldn't Meet Myself Today based on Nobel Prize winner Herta Muller's book. This epic work has been translated, created and performed by Simona Maicanescu. She spoke about the decision to choose the work saying, "The adaptation of her novel has become a hymn dedicated to survival, and dignity, friendship, love… In short, to life! Ms. Müller's story is an unforgiving blade that penetrates the abyssal depths of our consciousness; haunted by the ghosts of the past, it does not allow us to forget, nor to make the same mistakes again. A proof that happiness and freedom only exist inside oneself, and that 'the sky doesn't end in front of the border guards', this story is both a consciousness wake up call and a lesson not-to-be-skipped if we want our society to thrive in the new millennium."
Pavla Niklova, Executive Director of VHLF, is thrilled to have this production as part of this festival, "We're very pleased that for the first time the festival Rehearsal for Truth is working also with Romanian artists! The solo show of a superb Romanian actress Simona Maicanescu is based on the novel of the Nobel Prize recipient Herta Müller. Müller's deep insight into the practices of secret police and its devastating effects on human lives and her exquisite way of expression will be one of the highlights of the Spring Weekend."
As a performer  Simona Maicanescu cites her mentors and inspirators as Pina Bausch; Richard Schechner, Jerzy Grotowski, Thomas Ostermeier, Patrice Chéreau – so we can be assured of a production full of body, heart and soul!
There are 5 opportunities to immerse yourself in some of the best contemporary playwriting from Europe in a spectacular venue that is an unforgettable experience in itself.
The great thing about this festival is that all of the stage reading, production and after parties are free to the public. Tickets can be reserved at Eventbrite.
Friday, May 10, at 7pm, features a stage reading of Vanek Variations from the Czech Republic: Audience, by Vaclav Havel; The Meeting by Edward Einhorn; Infiltration by Petr Erbes, all directed by Edward Einhorn. https://www.eventbrite.com/e/spring-weekend-audience-the-meetinginfiltration-czech-tickets-59964688999
Saturday, May 11, at 4 pm, features the stage reading of a Hungarian play by Andrea Pass, Sunflower, directed by Adrian Alea. https://www.eventbrite.com/e/spring-weekend-sunflower-hungary-tickets-59965963812
At 8 pm on May 11th, audiences will experience a full length production of the Romanian play by Herta Muller, Hope I Wouldn't Meet Myself Today, directed and performed by Simona Maicanescu. https://www.eventbrite.com/e/spring-weekend-hoped-i-wouldnt-meet-myself-today-romania-tickets-59966704026
A stage reading of the Slovakian play, Urn on an Empty Stage, by Martin Cicvak and directed by Katarina Vizina will be presented on Sunday, May 12 at 3 pm. https://www.eventbrite.com/e/spring-weekend-urn-on-an-empty-stage-slovakia-tickets-59965285784
Poland's Magda Fertacz's Puppenhaus. Treatment, directed by Zishan Ugurlu, closes the weekend on May 12th at 7pm. https://www.eventbrite.com/e/spring-weekend-puppenhaustreatment-poland-tickets-59967167412
All productions for this Spring Weekend are held at the Bohemian National Hall, 321 E. 73rd St., New York, NY, 10021, and have been translated into English. The stage readings and full-length production are free events, and reservations can be made on Eventbrite. After every stage reading and production, there will be talk backs with the artists followed by a small reception hosted by the featured country's cultural institution.
For more information visit: https://www.vhlf.org/