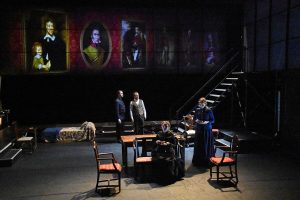 The Metropolitan Opera season is over and summer festivals featuring opera (Bard, Caramoor, Mostly Mozart, not to mention Saratoga Springs and Tanglewood for long weekends) are months away, the New York Opera Fest takes place all over town through June 30.  The schedule features operas from its Baroque origins through the present.   On May 9-11 at the GK ArtsCenter , little opera theatre of NY (LOTNY) presented the NY premiere of Benjamin Britten's Owen Wingrave, written for television in 1971.  Yes, opera was part of pre-cable television, and Britten wasn't the hard sell the Met now treats his as.
Based on a short short by Henry James, Owen (baritone Michael Weyandt) rejects his titled family's centuries of military service.  As he confides to Coyle (bass-baritone Daniel Klein), his tutor for the Sandhurst exam, he doesn't know what he'll do – but whatever it is, it won't be in uniform.  Coyle, his wife (soprano Amelia Watkins) and Owen's best friend Lechmere (bass Daniel T. Curran) are far more sympathetic to the young man than his family.  Auntie Miss Wingrave (soprano Tracy Cox) and uncle Sir Philip (tenor Brian Downen) are apoplectic, or as emotional one can get in Henry James.  Following a confrontational dinner, the Windgrave's ward Kate (mezzo-soprano Augusta Caso) further antagonizes Owen by daring him to spend the night in the portrait gallery of family war heroes (projected as video images on the screened back wall of the set).  Whether from grief, suicide or a thorough haunting, Owen dies.
While Owen Wingrave has confrontation, it doesn't have the usual and/or expected operatic sensationalism.  What it does have is Britten's longtime interest in portraying the outsider: the dreamer that doesn't fit in.  Owen also gives voice the composer's pacifism; his War Requiem (its world premiere was also televised) is anything but glorification.  But best of all, his score provides the military marches, ballads, stifling atmosphere and creepy physical and mental corners James alludes to but keeps at a distance.
The cast, especially Weyandt as Owen, Klein as Coyle and Curran as Lechmere, were excellent.  The chamber orchestration by Britten scholar/biographer David Matthews was guided through the intended darkness by conductor Richard Cordova and the orchestra. Dumb's GK ArtsCenter isn't an ideal space for opera, but director Philip Sneidman made James "thinking aloud" work with Britten's atmospheric music by making the maestro and musicians part of Josh Smith's set, with a partition separating the players from the singers.  Kudos to the detailing in Lara de Bruijn's costumes where Owen's suit matched one of his ancestor's portraits and the women's dresses were accessorized with military buttons.