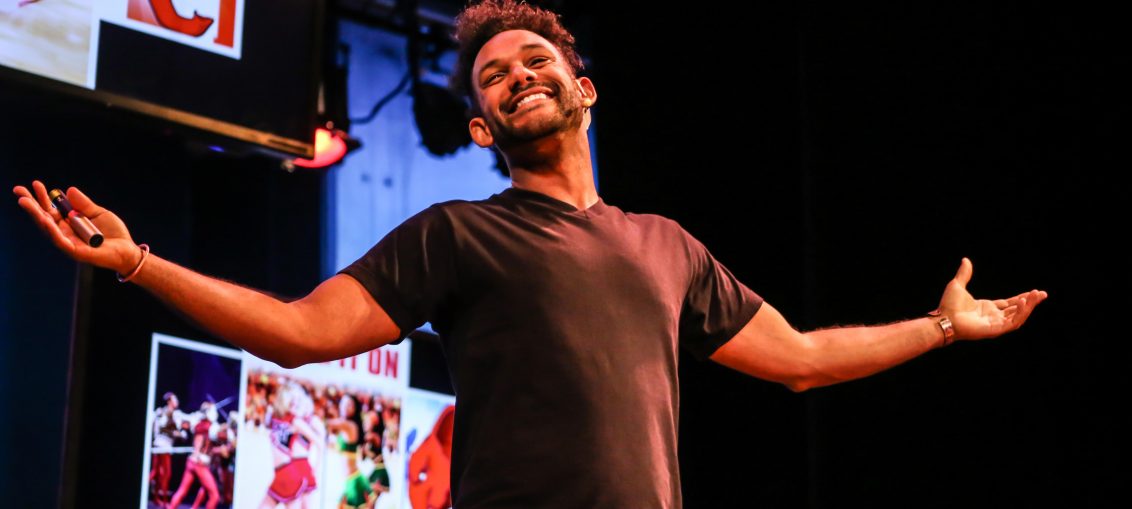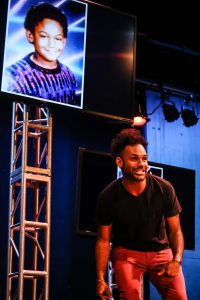 The Day I Became Black is a heart opener, a mind shifter, a bridge builder. Bill Posley's life-storytelling is the antidote to desensitizing discourse overload. Today we are inundated with concepts, theories, verbiage writ large and Bill cuts through the noise with an honest memoir that makes you want to hold hands with complete strangers. My plus one, Elizabeth, said it was healing theater and I agree – Posley has a potent curative gift. It's like he is laying theatrical hands on you and raising you from the complacency couch. He achieves this feat through the power of laughter, joy and self deprecating humor topped with a dollop of nostalgia. I roared with laughter whilst thigh slapping myself to bruises and rocking back and forth like an overachieving rocking horse at a children's birthday party. He is undiluted nitrous oxide. It is necessary theater.
Posley is an actor totally in control of his craft. He invigorates his life journey with a robust physicality-moving around every inch of the stage like an Alvin Ailey dancer in free flight. He makes you want to leap to your feet and go for a jog  with him around the stage -his energy is infectious and inspires a desire for action. A truly generous actor. He beams good nature and a genuine love of life in all of its foibles and fallout. You want to match make him with all of the best people you've ever met. I particularly enjoyed his ability to dive into all emotions with depth and sincerity. There were times when I felt tears running down my face only to notice them mirrored on his cheeks in front of me. He is an emotion "whisperer" – able to coax even the most stubborn, subconscious feelings to the surface for some air time – hilarity and sorrow in equal measure. What a great show – in every single way possible!
His text is the 2019 zeitgeist. It's monumental in its simplicity. He shakes his own family tree to understand its genus. His search for identity as a biracial man will take him to the attic of his childhood memories to extract the foundation stones that anchor his experience. As the son of a black activist father and a white mother living in a blue-collar Massachusetts suburb his formative years have provided him with endless material to keep today's audience enthralled. Posley is an accomplished writer who intrinsically understands the structure of both comedy and drama. It's a strong script that has longevity tattooed on it.
Bente Engelstoft is the director that ensures we all "take the red pill, to stay in Wonderland, and get shown how deep the rabbit hole goes." She wakes us up in Posley's world and ensures we are wide eyed and open to receive his truths. Engelstoft keeps the pace at a thoroughbred, race-winning gallop, you can feel the wind in your hair and your adrenaline pumping. She has tweaked, prodded, shaped, fine tuned and electrified this work with her obvious attention to detail.
Chaz Bottoms created some gorgeous animation for the show (This play and "character" would make a brilliant animated series). These moments are like lemon sorbet between gourmet courses of Posley's perspectives. Brittany Belland did a delicious job as Video Editor allowing the live and the screen time to co-exist without feeling forced.
Bill Posley has the ability to make you feel completely at ease even when the story takes some dark turns. If you are looking for a map to navigate the core question of how to be yourself -this is the road marker you need. I thought I was only going to see a stand up comedy show but instead I was thrilled to witness an artist finding his unique expression in a defining work for our times.
Side bar: If anyone has a Trevor Noah contact tell him to go to the show already. Every night Bill Posley will down a shot of hot sauce until his inspiration comes to see him in action. It's been four weeks already – we desperately need Posley's talent unencumbered by an ulcer – so work some magic people. As a fellow South African I have been sending Trevor telepathic messages but not sure I am on the right frequency.
Huge Kudo's to Kristen Boulé – Artistic Director and a co-founder of 2Cents Theatre Group for producing this vital work.
Running time: 80 minutes with no intermission.
The Day I became Black runs April  25 – May 26, at the SoHo Playhouse Main Stage located at 15 Vandam Street between 6th Avenue and Varick Street in New York City. The updated performance schedule is Thursdays – Saturdays at 9pm, Sundays at 5pm and Mondays at 9pm. Post-show talkbacks follow each Sunday show. Ages 16+. Tickets are $39. Purchase at https://www.BillPosley.com or by calling 1-888-596-1027.  For more info visit https://www.sohoplayhouse.com/the-day-i-became-black.
Like THE DAY I BECAME BLACK at https://www.facebook.com/thedayibecameblack, follow on Twitter at https://twitter.com/billposley, and on Instagram at https://www.instagram.com/thedayibecameblack and https://www.instagram.com/billposley.