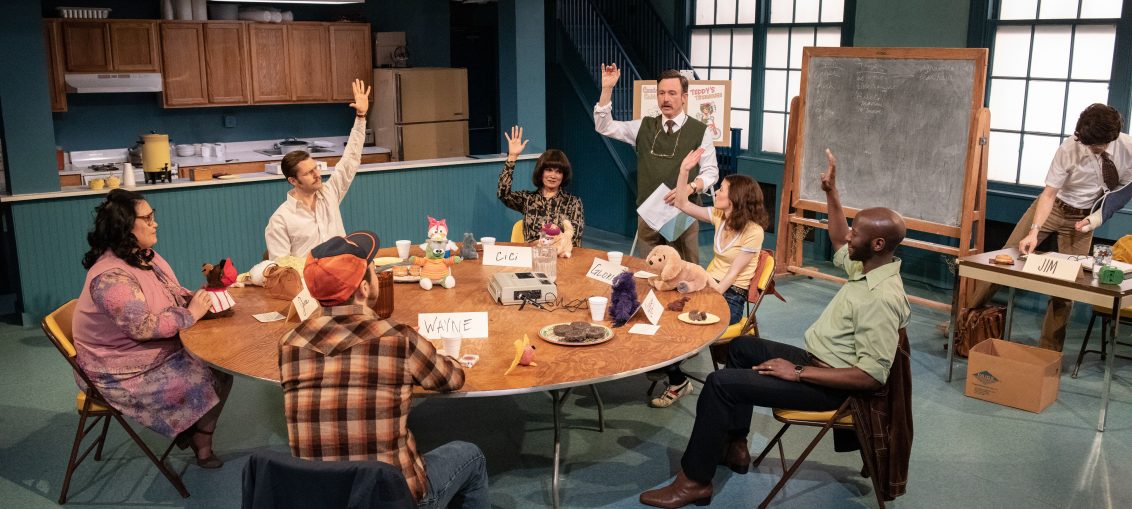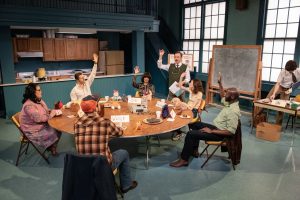 A show that's sold old since previews is pretty much reviewer-proof, but, if possible, try to catch Mrs. Murray's Menagerie  at Ars Nova at Greenwich House  (27 Barrow Street, NYC).  Created by The Mad Ones and Phillip James Brannon, Brad Heberlee, Carmen M. Herlihy and January LaVoy, the 90-minute send-up ends its run on May 11.
Mrs. Murray's Menagerie is a fictitious 1970s children's television show – an idea already loaded with potential.  Rather than do the show, the script and director Lila Neugebauer bring it to life with songs and guest appearances by its heavily licensed and franchise puppet cast members.  (Not for sale in the lobby.)  Yet the long-running family favorite is recreated verbatim by six parents (co-authors Brannon, Herlihy and LaVoy along with Joe Curanutte, Michael Dalto and Stephanie Wright Thompson) brought together in a focus group led by Dale (co-author Heberlee) and his assistant Jim (Marc Bovino).
The parents' competitive, defensive and not-so-surprising socioeconomic opinions are anything but adult.  The session doesn't dissolve into a playground scuffle (Neugebauer's set recreates a non-"smart classroom" to perfection), only that TV was and remains the ultimate babysitter.  Also underneath the pile of plush merchandise is that whether it was four channels + pubic and access or now at 400 or more, there's a lot unfunny about children's programming.  What matters most are ratings, tie-ins, sponsors whose products aren't best for young diets and editing away their creators' true nature (the upcoming Disney streaming service will not show the uncut Song of the South because of the justifiable outrage it will cause among several generations of fans who've never seen it intact).
What makes Mrs. Murray's Menagerie retain its human and not dissolve into pretense is that these serious things are never brought up.  They're just there nonetheless.