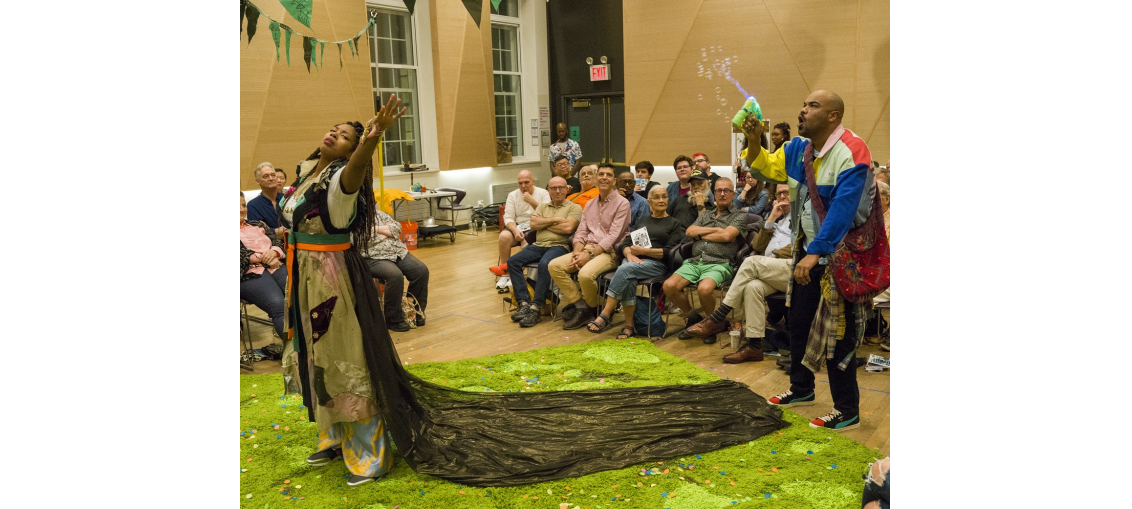 Though some of the fantastical fairies and magically made-up men and women may have hung up their glittery wings and cast off their gilded lids and long lashes on November 1st, the true enchantment continues through November 17th at the Public Theater with The Mobile Unit's playful production of Shakespeare's A Midsummer Night's Dream. This costumed comedy of trickery is the perfect treat for the post-Halloween season. And, thanks to the mission of The Mobile Unit (a reinvention of the "Mobile Theater" originally founded in 1957 by Joe Papp) that art should be free and accessible to everyone — the public, not just the privileged — this gleeful, hilarious and heartwarming production of one of the Bard's most beloved classics is available for all to enjoy at no cost.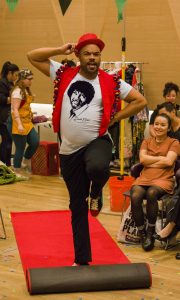 The Mobile Unit now tours two productions a year in New York City to correctional facilities, homeless shelters, and recreation centers before its homecoming run at The Public Theater on 425 Lafayette Street. Notably, while Midsummer graces spaces all across all five boroughs, The Mobile Unit has hit the road nationally with the Pulitzer Prize-winning Broadway play SWEAT by Lynn Nottage. In either incarnation, whether performing in the Midwest or for the Public's own community of nearly 9 million New Yorkers, The Mobile Unit is not only keeping Papp's vision alive, but evoking the spirit of American vaudeville theatre with their pared-down productions — low tech and uncomplicated — where the magic of theatre and suspension of disbelief are ruling factors and the talent on the stage (whatever or wherever that may be) delivers the message to eager audiences.
While The Mobile Unit has a way of transforming even dour Shakespearean histories (such as their spring season's compelling Henry V) into timely topical themes, giving this glorious gang of meticulously craft-driven misfits A Midsummer Night's Dream is like letting loose a school bus full of hyperactive five-year-olds on a playground. But only highly-skilled professionals with such a complete mastery of the complicated language could enact childish characters and natures so charmingly and convincingly and make a 400-year-old text feel fresh, relevant and on par with contemporary concerns. Indeed, though it may appear to be one of Shakespeare's more light-hearted comedies, director Jenny Koons didn't shy away from digging deeper, asking the cast on the first day of rehearsals: What are our collective dreams? The responses varied from universal human desires to disparities between realities. These passionate players know how to imbue soul into silliness.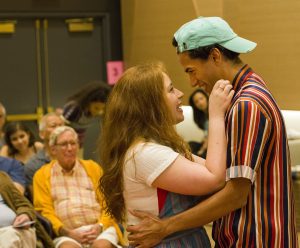 The story of A Midsummer Night's Dream may be familiar to most and if not, it was evident that the themes certainly resonated with the attendees, especially the youth. Teenagers outnumbered those with white hair — a rare sight for New York audiences. The tone was set for youthful engagement the moment one enters the Public's black box space; it's a party atmosphere with balloons abound and banners drape across the space while a boombox blasts reggaetón, Michael Jackson and Lady Gaga. Eventually, the charismatic cast encourages a few brave members of the front row to participate in "The Electric Slide." All of this before the show even began. The stage was set for fun!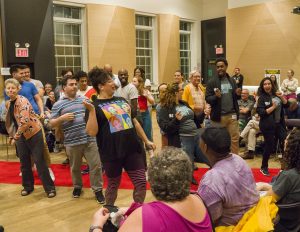 In the tradition for The Mobile Unit of meaningful audience engagement, understanding and relatability to what they are seeing, the actors commenced the performance by posing these questions pertaining to the plot: "Have you ever loved someone who didn't love you back? Do you believe in faeries? And (the crowd favorite), have you ever woken up and thought 'What happened last night?'"
With that, we were whisked away to Athens where the lovely Hermia (Carolyn Kettig) is in a quandary because her father (David Ryan Smith) insists she marries Demetrius (Leland Fowler) when she is mutually madly in love with Lysander (Jasai Chase-Owens). This plea made to the soon-to-be-wed royals, Theseus the Duke of Athens (Merrit Janson) and Hippolyta (Marinda Anderson) former queen of the Amazons, inspires the lovebirds to elope, which they do that evening by entering the forest, pursued by Demetrius. Helena (played with comedic panache by Rosanny Zayas), who is jealous of her best friend Hermia (in a "Becky with the good hair" kind of way) and amorous for Demetrius who thwarts her affection, follows after him.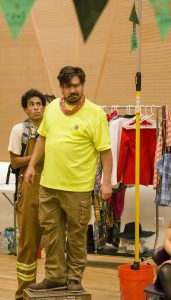 In parallel plots: a troupe of amateur thespians is rehearsing for a performance of "the most lamentable comedy and most cruel death of Pyramus and Thisbe", with Smith double-cast as Quince, assumes the role of a swish playwright and director reading the casting list out to the band of misfits. Coffee-consuming, over-eager and melodramatic actor Nick Bottom (portrayed brilliantly by Christopher Ryan Grant channeling his best Al Pacino or Nicholas Cage intensity). Bottom displays such narcissistic diva behavior that he petitions (and nearly insists) to play any and all parts (male, female or animal) but the role he was given — the leading man. This assortment of outcasts coming together to pull off this pathetic play explore and extort such clever comedic stereotypes that one can't help recall a high school drama class.
Meanwhile, as the four lovers, Bottom and the troupe of "rude mechanicals", are lured into the unknown, the woodlands (evoked with a sprinkling of confetti, a bubble gun and rolling out a carpet of green Astroturf) are alive with magical beings in equal aggravation with each other, for the king and queen of the fairies — Oberon and Titania (double casting the royal-couple to be, Janson and Anderson) are in a squabble. Cunning Oberon hatches a plot to punish Titania and engages his "shrewd and knavish sprite", Robin Goodfellow aka "Puck" (the spirited Natalie Woolams-Torres) to utilize a Cupid's bow love potion that would make his queen fall for whatever form she first spies upon waking. Oberon is momentarily distracted by the Athenian lovers' issues and sends Puck on a separate mission to aide the lovelorn Helena who can't seem to catch a break (or her man).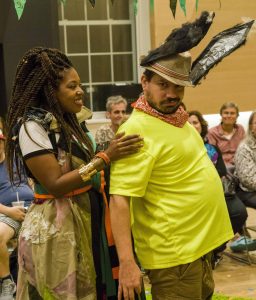 To anyone familiar with the tale, this all leads to mistaken identities, mischief and mayhem as the love juice shifts the focus to Helena and Hermia becomes the disdained one — even by her own betrothed, only infuriating Helena to believe it is all a joke at her expense. The whole scene plays out like a high school Rom-Com, embarrassingly relatable to the younger and reminiscent to the older members of the audience. Wily Puck has also taken it upon himself (Herself? Theirself? The casting is brilliantly gender neutral and color-blind, reflecting the reality of New York City inhabitants) to transform Bottom into an ass (a play on words for his name) and this donkey becomes the source of doting and desire for Queen Titania when awoken with the love potion in her eyes.
After the madcaps, all's well that ends well the next morning and the lovers have been coupled with their rightful intendeds (now with Helena getting her guy, Demetrius), Bottom returned to being an ass in human form only, and Puck and the fairy sovereigns having a good laugh over all that transpired. Or is it really all well? The morning after reeks of a bad hangover and though everything seemed to turn out alright, Shakespeare leaves the characters without any clarity or resolution for their fate. And after so many nasty words were exchanged, and such confusion — is it that easy to forgive and forget?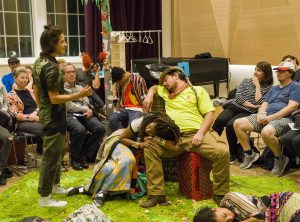 But the real coup de grâce of the entire evening was the enactment of the tragedy of Pyramus and Thisbe by the scene-stealing Smith as Quince, Grant as Bottom and their merry players for the royal wedding. Well, not so merry perhaps for Starveling cast as "moon" (a double-cast Kettig with deadpan delivery) was miserable, Snout as the "wall" (another prime opportunity for double-cast Zayas to show off her ability to entice laughter) and Snug (a double-cast, delightfully dim Chase-Owens) as the lion because he is "slow to study" and couldn't learn the lines, is cowardly and shy. The two who do manage to get into it (much to the chagrin, aside commentary and speculation of the crowned couple) are Bottom as Pyramus and Flute (double-cast Fowler, pulling off a hilarious portrayal of a dainty damsel in full beard). Their hysterical commitment to the over-the-top double-suicides only further sends both audience and fellow actors into peals of laughter and proves that Shakespeare could have a sense of humor about his own work — with a nod to the aggrandized ending of arguably the most famous tale of tragic lovers — Romeo and Juliet.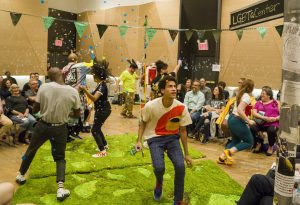 The Mobile Unit's fast-paced 90 minutes of charm, comedic delights and DIY fantastical revelry enacted by a pack of seasoned professionals who reflect the landscape and diversity of modern theatergoers as much as theater makers, portraying the follies of youth and enchanted encounters with the joy of children at play make this Midsummer Night's Dream one you never want to awake from.
TICKET INFORMATION:
A MIDSUMMER NIGHT'S DREAM began it's run at The Public Theater on Sunday, October 28 and will run through Saturday, November 17 in the Shiva Theater, with an official press opening on Friday, November 2. Furthering the mission of making great theater accessible to all, tickets to the MOBILE UNIT's run at The Public are FREE and are available via TodayTix mobile Lottery and in-person distribution downtown at The Public Theater, 425 Lafayette Street at Astor Place. On each public performance date, free tickets will be distributed in-person beginning 90 minutes prior to curtain, and via mobile lottery on the TodayTix app. Download the TodayTix app to enter or visit publictheater.org for more information.
The performance schedule at The Public will be Monday, Tuesday, Thursday, and Friday at 7:00 p.m. and Wednesday and Saturday at 1:00 p.m. and 7:00 p.m. (There are no 1:00 p.m. performances on Wednesday, October 31 and there are no performances at 1:00 p.m. or 7:00 p.m. on Saturday, November 3.)
The Library at The Public is open nightly for food and drink, beginning at 5:30 p.m., and Joe's Pub at The Public continues to offer some of the best music in the city. For more information, visit www.publictheater.org.