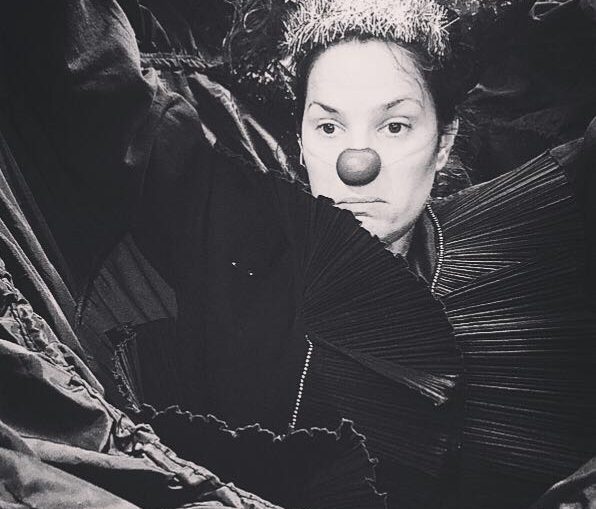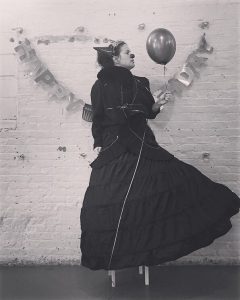 Michaela Lind is a Swedish performer who is preparing to clown around at Theater Lab, NYC on November 13, 14, 15. She has developed her own unique clowning style and created a lucky packet of extraordinary surprises with her new solo clown show entitled "My Birthday". This original work was created in collaboration with Clown's Ex Machina and promises to tickle your funny bones and turn your cells into Champagne as we follow a clown as she prepares and celebrates her birthday.
I chatted with Michaela about this physical theater clowning experience.
What was the main impetus for choosing to create or perform this work?
It all started with an improvisation with a suitcase. That then led me to a hoop skirt. That led me to Birthday hats. It kept cooking in the woods outside of Paris last fall. And throughout this year it has slowly been growing under the guidance of Kendall Cornell (Clown's Ex Machina) and it's still in development.
Who are your primary mentor's/role models/inspirers and why?
Kendall Cornell: she is a sharp and funny female clown who has been pounding the pavement for female clowns in NYC for many years. Ira Seidenstein: he is a fantastic teacher and his excellence is beyond words. Slava Polunin: for his poetic play. Gardi Hutter: for her quirky and hilarious female clown solo shows.
What are the biggest challenges in doing a one-woman show? 
To stay on track with the process and to always make sure I have an outside eye on a regular basis. Not to mention the financial commitment it takes to create your own work. It helps to have a very understanding partner in all regards.
What is your most favorite moment of your own show and why? 
The ending. Because it sort of shifts everything around into a new rhythm. After playing it at the Providence Fringe this summer, one man came up to me afterwards and said, "You are not American, are you?" "No, I said." "I could tell by the ending," he said.
If you could imagine your piece being performed anywhere in NYC where would it be? 
On an amazing budget I would love to perform at BAM. It is my absolute favorite theater space in the city.
Do you have plans for taking your work further?
Yes, I am currently planning a collaborative as well as solo tour (mostly Europe) next year, and I am diving into a new project based in Bouffon.
What started you on your clowning journey?
Moving to NYC from Sweden, I attended the first year at NYC clown festival and took a workshop with Jeff Johnson. From there I started immersing myself in more clown and got myself involved in the all-female clown troupe Clown's Ex Machina in the city. I would say that not until last year, after spending time at The Moulin Jaune in Paris, did everything revolving clown and physical theater sink in and take a deeper meaning for me as a way to express myself.
What do you want the audience to leave with after seeing your work?
A reflection on what birthdays mean for them. And despite the fact that life moves in cycles and that death is always near, we have to keep moving. Sadness and happiness go hand in hand.
What other shows have you seen in NYC recently that you have loved?
I saw "…Or not to be – How Shakespeare Could Change Your Death." An Essay for the Stage by Simon Fortin. It was very captivating, phenomenal acting, and a mediation on death.
Why are you drawn to the medium of theatre?
Peter Brook say it perfectly in his book Empty Space "A Stage has two rules: 1. Anything can happen.2. Something must happen." Theater is magical and raw, a place for ritual as well as all that is human, and it deals with the now. What better way to experience things in real time?
To experience My Birthday head to Theater Lab on 13, 14, 15 November at 7:30pm. (357 West 36th street 3rd floor.)
For More Information & Tickets:
http://www.theaterlabnyc.com/events/my-birthday/