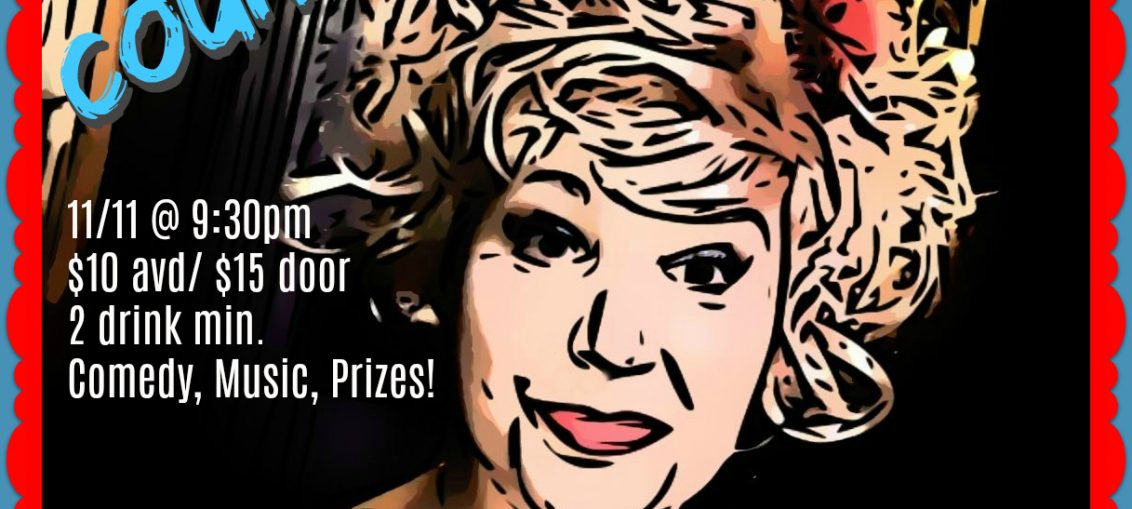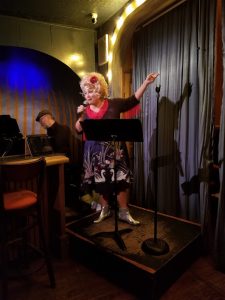 Fancy DuCan almost catapulted to stardom when her song blasted from a car window in a 1997 episode of Cops! She's fresh off her album tour, which includes hit songs, "Can't Heal a Heart with More Heartbreak," "Only Circle At The Square Dance," and "All The Times I Didn't Kill You."
This show features comedian, Jennette Cronk, and musical director, Frank Spitznagel. Host of the Suncoast Burlesque Festival's Comedy Night, Jennette has performed in the Del Close Marathon, New York Musical Improv Festival, in comedy clubs from NY to FL, and performs weekly at The Magnet Theater in Chelsea.
I caught up with "Fancy Ducan" to chat about her imminent arrival in NYC.
How are you (Fancy) dealing with your almost, sudden catapult to celeb status after your song was played through the window during an episode of Cops! on television?  
The good thing about almost being famous is that no one recognizes you! I can walk into any old check-cashing place and not get harassed for autographs.
What is your all time favorite country song and why?  
I love "Your Good Girl's Gonna Go Bad" by Tammy Wynette, but it's real hard to choose. I like that era of music so my style reflects that!

Which of your own lyrics do you love the best and why?
I love all my songs at different times, but right now "Jesus took the wheel/but I wasn't in the car" is my favorite. Of course, "I'm the only circle at the square dance" is a classic of mine and folks love that one too.
Where do you draw your inspiration for your original songs?
Old loves, bills, and boxes of wine.
Who are your role models?
Dolly Parton is my queen, but I love all the country Divas. Loretta, Tanya, Pam Tillis, Emmy Lou— I love the Judd's and any band with sweet harmonies! I'm also a big fan of my piano player, Frank Spitznagel, who also writes arrangements for me. That man could play beer cans and make it sound like magic.
Tell us about the inspiration for your Storytellers album?
Fancy That is a collection of my favorite songs and also songs that the Hallmark store would allow me to put on the album. We had to agree on what was appropriate, of course. Also, since "Can't Heal a Heart with Heartbreak" was playing on COPS from Darnell, through my ex-husband's car window during his arrest, they want royalties now—so that ain't on the album either.
I like to dive in and give folks a little country wisdom behind each song.
What has been the best piece of advice you have been give and why?
My fried Sue once said, "don't wrestle a pig in mud—cause the pig likes it." Can't sink on down to some people's level cause they like muckin' around too much and you'll go crazy and get drug down with them.
What can NYC expect from your cabaret?
Hold on to your hats NYC, I'm giving away some great prizes, country wisdom, good harmonies, and darn funny tunes!
Who will be joining you on stage?
Frank Spitznagel on honkey-tonk piano, Jacob Horn on harmonies and such, and (hopefully but not yet 100 percent confirmed) Sean Bartlett on drums.
Why do you think NYC needs Fancy Ducan?
Everyone needs Fancy DuCan! Country songs are funny, sad, true, and outrageous all at the same time. We've all almost made it at one time or another. Fancy is just like all of us.
Join Fancy and her band for a night of honkey tonk, laughter, and prizes. Tease up your hair and come on out for a rootin', roarin' good time!
Fancy Ducan's Country Cabaret runs November 11, 2018 at 9:30pm at The Duplex Cabaret Theatre 61 Christopher Street (at the Corner of 7th Avenue)New York, NY 10014
Price: $10 – $15
$10 Advance & 2 Drink Minimum in Theater
$15 Door & 2 Drink Minimum in Theater
For More information & Tickets: www.purplepass.com/fancy1111