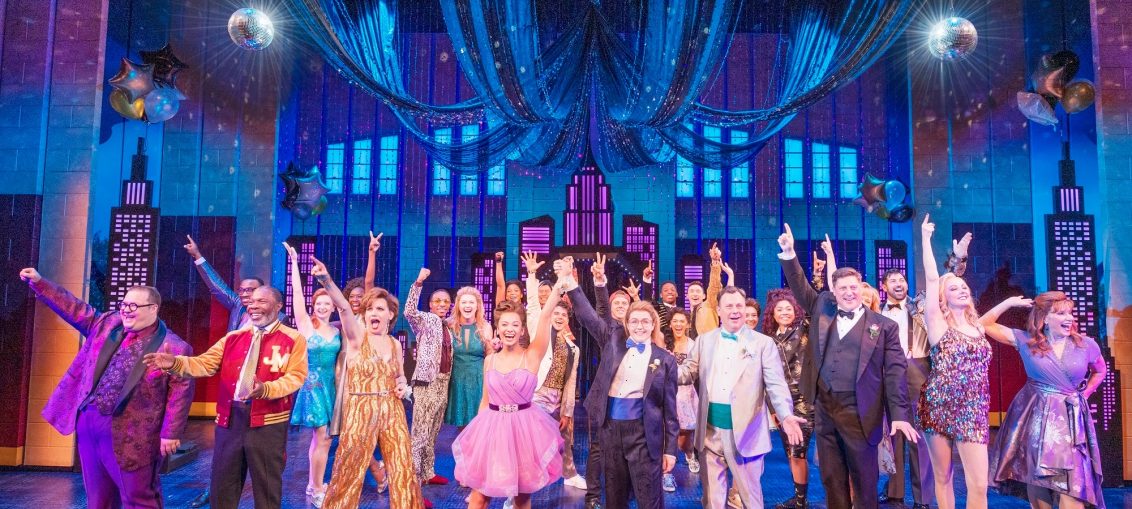 The Prom, now playing at the Longacre Theatre, might just be the show that single-handedly puts the Broadway back into Broadway musicals. With rare yet notable exceptions, most of them Tony winners — Fun Home, Hamilton, Come From Away, The Band's Visit and Dear Evan Hansen (the latter of which The Prom is a close cousin of but the cheerier, more bubbly sort) — most musicals being produced today are based on branded properties: film or book adaptations, jukebox creations where the songs are guaranteed to be memorable hits (they already are) or pop culture icons (Spiderman: Turn Off The Dark and King Kong, which are also well-known films and come from printed publications, and anything blessed with the magic wand of Disney). Not that there's anything innately wrong with that. The sad truth is, shows are costing more and more to produce and they are more likely to close than make their money back due to bad reviews, bad timing in the market or just plain bad luck and many other factors, so it's no surprise many are only willing to gamble on what seems like the safest bet.
But then comes along the scrappy underdog that could, and the game changes again. The aforementioned shows were all, in their own ways, quite revolutionary, escaping tradition and breaking the mould. That's why what is so utterly delightful and refreshing about The Prom is that instead of trying to break the mould and be the first of its kind or, in contrast, offer theatergoers the safest bet with a branded entity they are already familiar with, it goes right back to the standard mould of Broadway magic and doesn't try to reinvent it, just catch it up with today's standards and the current concerns.
I wasn't sure what to expect initially with The Prom. The title vaguely suggests one of those jukebox nostalgic recaps, but this show is anything but that — it is highly modern and timely, while still giving honor to and drawing inspiration from the golden era of musicals and what makes Broadway so grand.
That approach to love and trust what makes Broadway musicals what they are is one of the things that made The Book of Mormon such a (revolutionary) phenomenon. It was hilarious, audacious and may have broken all of the rules but it also followed and honored all of the standards of a big (and big-hearted) Broadway musical. So then it should be no surprise that Casey Nicholaw, the choreographer and director of Mormon, as well as Mean Girls and Aladdin among others, is at the helm of this production.
But something about the irreverence and the outrageousness of certain over-the-top characters when placed in particular normative situations makes The Prom feel like Nicholaw has finally unleashed from branded constraints and can return to his Mormon-esque exuberance. Pair that with a stellar book by Bob Martin and Chad Beguelin, so chock-full of quick-witted quips that it could have been penned by a couple of drag queens at the top of their games, with music by Matthew Sklar teamed with Beguelin's lyrics that ping-pong between brazen and belt-worthy Broadway ballads (tremendously felt by the use of Beth Leveal's powerful pipes when Dee Dee performs her 11 o'clock number, "The Lady's Improving", which brought down the house) to danceable ditties and tender tunes more appropriate in the realm of indie rock. The Broadway Bible is followed devoutly without ever feeling formulaic. One can hear plenty of inspiration drawn from the songs of Broadway's bests with some modern twists and catchy melodies with clever or poignant lyrics that pay their respects to the greats while remaining totally original and of this era.
The musical follows four Broadway stars (with two of them being more wannabes than former luminaries) who are incredibly narcissistic, washed up and no longer welcome under the bright lights of the Great White Way. They are portrayed by a magnificent foursome: Brooks Ashmanskas (as Barry Glick — the proudly queer leading man who has become past his prime), Beth Leavel ( as Dee Dee Allen — the quintessential diva), Christopher Sieber (as Trent Oliver – the-Juilliard trained classical actor who can't get over it) and Angie Schworer (as Angie — the Fosse-style dancer and Chicago The Musical chorus girl who dreams of playing Roxie). Desperate for better press and praise, they embark on a do-gooder adventure to the heartland of the American Midwest — Edgewater, Indiana, where a prom is being cancelled because one student, Emma (played with extraordinary heart and down-to-earth depth by Caitlin Kinnunen) wants to take her same-sex girlfriend to the dance but the small-minded small town won't allow it.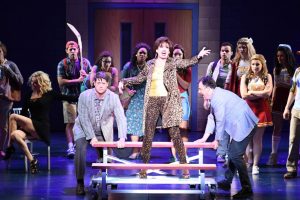 The agenda-laden Broadway crews' attempt to intervene is disastrous (and hilarious) but in the end, the experience is a humbling one for all — and the audience as well. There is clear hypocrisy, selfish intentions and hard-headedness on all sides (except for Emma who sweetly confesses to her beloved that she only wants to  "Dance With You"). Expressions of love of all sorts are recurring themes that all of the characters have their brushes with: Dee Dee Allen finds a surprise flame in the kind and integrity-driven school principal, Mr. Hawkins (portrayed with dignity and depth by Michael Potts), who is a long time fan of her Broadway performances, which he gushes about on their outings to Applebee's; Barry Glick sees himself as an unhappy, outcaste young gay man in Emma's dilemma and the two share an unshakable bond; Trent Oliver finds his love for his student days at Juilliard translated into a penchant for teaching; and Angie reignites Emma's spark by reminding her to find her "Zazz" in a fabulous Fosse tribute performed in the teen's tiny bedroom. That's it for storyline spoilers because the show is so worth seeing and the humor and heartwarming (and heartbreaking) moments resonate more deeply with a sense of surprise.
But one of the most interesting lessons snuck into this entertaining romp might hit hardest to many New Yorkers living in "liberal bubble" who were shocked at the 2016 Election results and are still surprised there are ignorant, fearful and close-minded people out there, and that even though same-sex marriage is now a legal right nationwide, there are still many who protest their outrage and discomfort. And if the stage show wasn't enough — the same-sex kiss of the couple at the Macy's Thanksgiving Day Parade (the first in the parade's history) relit the fire for urging the rest of America to act and react with true tolerance and acceptance through open, heart-to-heart, human-to-human communication — the most pervasive theme of the musical.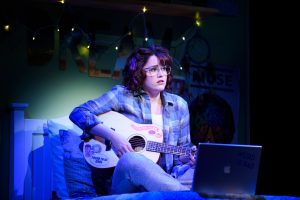 The Prom explores that tension and the explosive emotions behind it all with open eyes — no judgements or preachy messages — but a heaping dose of hilarity with flawed yet loveable characters who are all humbled by the occurrences that take place over a seemingly innocuous school dance that suddenly takes the nation by storm. Because of that and more, it is one of the most American of musicals to come along in recent years (again, see some of the aforementioned above for reference) but unlike the others, it is an unabashed tribute to the more traditional Broadway songs, dances and styles, while still remaining modern and relevant.
The Prom slots somewhere between Hairspray, The Producers, Dear Evan Hansen and Glee, but is also its own unique and totally original entity and all who see it should expect both laughter and tears and will be all richer for it. It is about a scrappy pack of believers who end up making moves that shift perspectives and change the world, one person at a time. All I could think at the triumphant end is that I hope that a show like this has the long life it deserves.
The Prom is now playing at the Longacre Theatre on 247 West 44th Street. For tickets and more information: https://theprommusical.com/