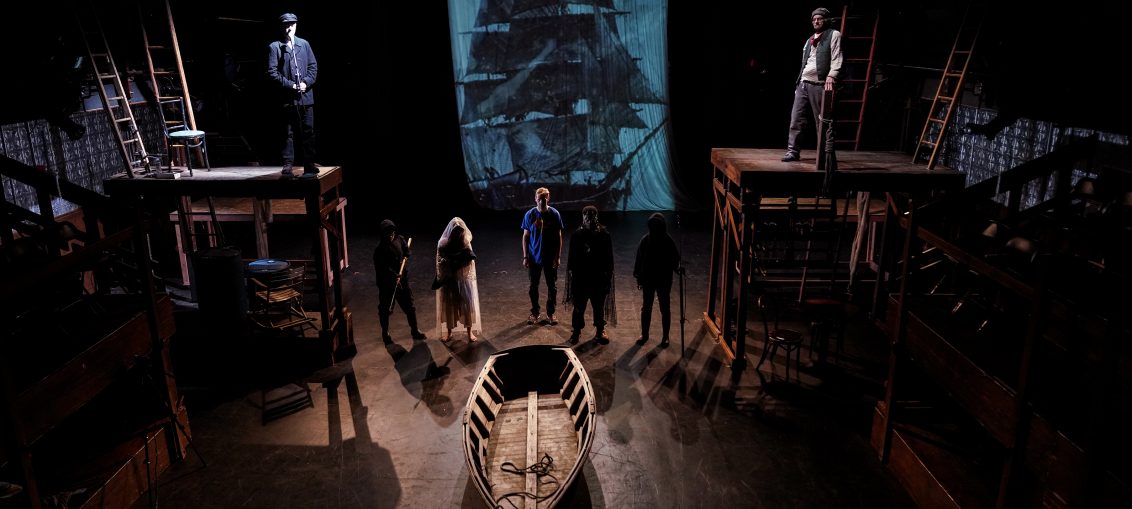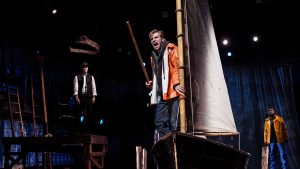 Chasing the New White Whale is an homage to Herman Melville's Moby Dick and explores the nature of deadly obsessions. In this play our Captain Ahab is Robbie Foerster – a New England fisherman chasing the "dragon". Playwright Michael Gorman lost his older brother, a commercial fisherman, to a heroin overdose and this is the tragic wound that drives the creation of this brave work. This play has a literary quality about it in that the text is dense and like Melville's work is not afraid to use a range of genres and theatrical styles to tell its tale. Where this production truly excels in its design. Donald Eastman's majestic set design, Lacey Erb's haunting projection design, Sammo and Billy Flynn's dramatic, powerful compositions (played live) Chris Akerlind's sensitive, emotional lighting design and Tim Schellenbaum's evocative sound design mesh together to create an ocean of possibility. We get swept away in the storms, the whirlpools and eddies, the watery grave and the unrelenting elements. They manifested a visually sumptuous environment that has an immersive quality about it.
Michael Gorman's text attempts to tackle a myriad of themes, characters and situations. There is a mythological layer personified by the Hungry Ghost (Sarah Boyden) of the ocean and the Phantoms (Rae Nelson, Sabrina Fara Tosti) of those lost souls drowned in drugged oblivion. There is the nod to ancient knowledge and protection spirits in the silent presence of Fedallah (Trey Adams) – a kind of Queequeg. There is the prophet Elijah(Jim Reitz) straight out of Moby Dick signaling dark times ahead. We have the Chaplain (Michael Gorman) delivering impassioned sermons from his elevated pulpit. We have young love, career ambition, a landscape artist, fishermen, an exotic dancer, a drug dealer and so on. It feels like a cast of thousands played by twelve. The themes of sustainability, addiction, parental neglect, issues facing the fishing industry are all in The Northern Star boat for the voyage. I personally feel the load is too heavy. Gorman has been exploring this metaphor of the white whale as heroin in a trilogy of plays as well as in installations, readings and presentations. It's a brilliant thematic link but I think he tried to squeeze in all of his work over many years into one production.
You can see the evidence of a fortune of research and personal accounts that is the foundation of the piece but it goes off in too many directions and is difficult to follow. Character arcs take massive leaps in time and in suspension of disbelief. I sense that the script has been significantly edited and perhaps in that process some of the heart of the work was lost.  There are many threads and fragments that are interesting but I didn't feel a connection with any of the characters. I would have liked to have seen Robbie's addiction and obsessive chasing of the monster "whale" as the central aspect to the play so we could get to know him and be affected by his demise. At the moment there are just too many storylines with loose ends and not enough emotion.
Director Arthur Adair keeps this water world in constant motion and ensures the pace surges forward. He has created mesmerizing stand alone moments and a vital physicality that brings the fisherman's universe to life. All of the performers are throwing themselves into the work with an infectious enthusiasm. I particular enjoyed Victoria A. Villier as the feisty artist Michele. Chris Cornell gives an endearing performance as the sidekick anchor to the wild and fearless Robby. Meridith Nicholaev is delightfully mercurial as Therese, Khari Constantine as Steven is utterly charming and heartbreaking as the "innocent". Alan Barnes Netherton as Robbie has a powerful and energetic presence and perfectly embodied the "wild child".
This is indeed an ambitious project and I would love to see it as a trilogy. There is so much incredible material that can yield many episodes. It's a pity to have it all crammed into 75 minutes that leaves too many gaps.
Running time: 75 minutes with no intermission.
Chasing The New White Whale runs November 24 – December 9, 2018 at La MaMa (66 E 4TH STREET)  For tickets, visit: lamama.org; or call OvationTix at 212.352.3101