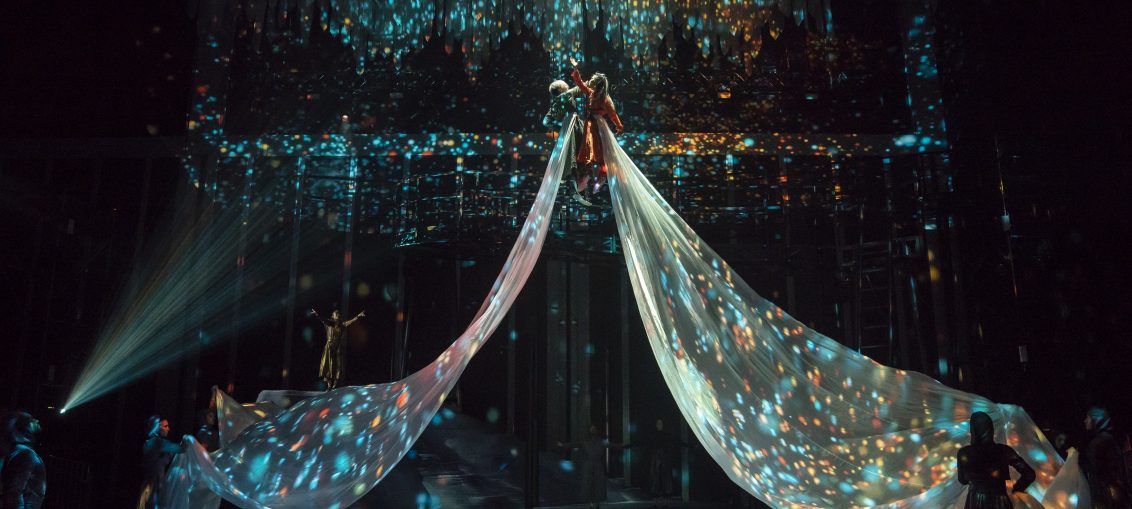 Swords whizzed past heads close enough to cut their opponents' hair; dancers dropped from or rose to the sky like celestial beings dangling on a mere thread; acrobatic action scenes shifted into nightclub extravaganzas complete with vogueing routines; fire and water danced alongside the performers as elemental partners, adding to the danger and thrills. A dream team of talents was assembled to realize co-conceiver and director Chen Shi-Zheng's vision that was initially inspired by observing Bruce Lee's audition tape for his film debut at age 18. All of this and more came together to create Kung Fu spectacle Dragon Spring Phoenix Rise, a world premiere Shed commission as part of the new civically-engaged, boundary-pushing institution's inaugural year.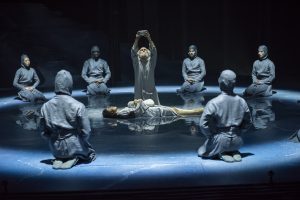 Nestled in the heart of the Hudson Yards—formerly a midtown wasteland that has transformed into one of the hottest, most in-demand, luxurious and tourist-trodden areas in Manhattan, seemingly overnight thanks to the Highline—The Shed's primary mission as a 21st century center for the arts is to commission new works from artists of all disciplines and empower them with the freedom to take creative risks.
Dragon Spring Phoenix Rise is such a show. It's a modern-day American fable set in New York City (Manhattan and Queens) about an underground sect who utilized martial arts to protect the sacred treasure of the House of Dragon—the Dragon Spring. The defiant daughter of a Yoda-like Master Lone Peak (veteran David Patrick Kelly whose iconic NYC film roles include Crooklyn and The Warriors), Little Lotus (PeiJu Chien-Pott, renowned Martha Graham Dance Company principal) falls for bad boy billionaire Doug Pince (action movie actor David Torok) breaking the family tradition and her father's heart. But Doug had ulterior motives. He teamed up with the House of Dragon traitor Lee (Dickson Mbi), to claim the Dragon Spring for himself through his and Lotus' son Little Dragon (Ji Tuo) via a diabolical plan that included riding himself of his wife and Little Dragon's twin sister, Little Phoenix (Jasmine Chiu), therein ending the prophecy that would inhibit his obsession with acquiring immortality.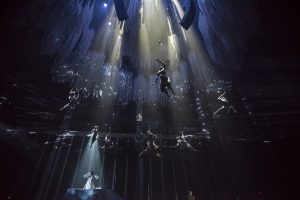 As with most action-packed flicks with high-flying martial arts moves, it's an epic though threadbare story with minimal yet punchy dialogue and exaggerated archetypal characters (provided by Jonathan Aibel and Glenn Berger, the pair responsible for popular family films such as TROLLS and the Kung Fu Panda films) was all in the service of getting to the exciting battle scenes, be it in the dojo or on a nightclub dance floor. The two-dimensional B-movie style of acting, though it took a bit of getting used to, ended up feeling rather well-suited to a show that was more akin to a live-action comic book story or animation than a traditional play or musical—something that's become a phenomenon in Japan and growing across Asian and beyond with "2.5D" musical adaptations of anime and manga.
It took a creative army to manifest such an ambitious undertaking and over a year to assemble the ideal talents both on stage and behind the scenes who could handle such quadruple-threat demands, even though most of the performers had little to no prior martial arts experience or training. This amalgam of innovators delivered stunning visuals (provided by Tim Yip, Mikiko Suzuki McAdams, Leigh Sachwitz, Jeremy Chernick and Tobias G. Rylander); remarkable sound production and design (Bobby Krlic, Arca, Brandon Wolcott and of course, the recording-artist Sia); astounding use of martial arts with contemporary movements as dynamic choreography (Akram Khan and Zhang Jun); and an outstanding cast–particularly the diverse and multifaceted ensemble and most especially the scene-stealing Abdiel Jacobson, who towered in spiked-heels and whose fringed trousers had the mesmerizing effect of a lava lamp. All were well worth the price of admission.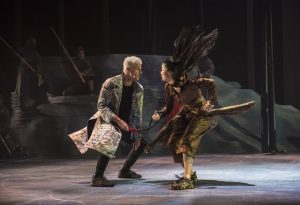 However, with great risks and lofty ambitions, some elements can become an afterthought, blend ill-fittingly or fail to reach the standard of excellence the rest of the work achieves. Other than the often on-the-nose and sometimes stumbling book and dialogue, the show was billed as a "Kung Fu Musical" though, despite the fantastic sound design, there was very little music in the traditional sense of what one expects from a musical–songs that are sung in solos, duets and group numbers with the purpose to propel and shape the characters and story. Other critics–principally those who review musical theatre–took note of that fatal flaw and were in some cases justified though others were a bit harsh and extreme, as cruel as a warrior who discovers the crack in their opponents armor and twists the knife in. Jukebox musicals can be hit or miss with their use of recycled tunes that have known appeal but aren't necessarily suited to drive the plot.
But what was surprising to me was how ineffective the songs of one of the most emotionally raw and compelling dynamos lyrically and vocally–the singer/songwriter (for herself and others), Sia–were at stirring and commanding a genuine emotional response. Part of this could be due to the fact that only three songs were actually sung by the performers, the rest were remixes spliced together by Bobby Krlic (aka The Haxen Cloak) and Arca. Two of those three were performed by PeiJu Chien-Pott who, while onstage only with one other person each time–her husband and then her daughter–sang at them rather than in a true duet. The other song was performed by the twins (Jasmine Chiu and Ji Tuo), but also on a blank stage and directed outwardly, not to each other. The staging was awkward, the songs too long, presented as ballads and could have well utilized the fabulous ensemble, even as background characters to give added dimension (though they were likely changing into many of Montana Levi Blanco's exquisite costumes or high-flying harnesses).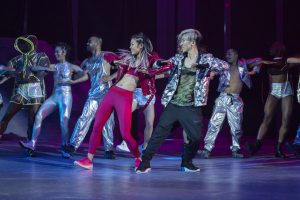 When Sia's recent contemporary pop classic, "The Greatest", played in the dance club where Little Lotus and Doug first met, it was electrifying and spot on. But when the exact same song was used in the scene where the estranged twins encountered each other in another nightclub 18 years later without notice or reference to it by then being a "vintage" tune, it felt a bit redundant and lazy when Sia's repertoire contains plenty of dancefloor hits. But the more noticeable absence was Sia's cathartic intensity and dramatic vocal stylings crackling with lament, desire and simply, feeling. No one does Sia like Sia, not even the biggest pop stars who she's written songs for. So someone else singing a Sia song without clear context is doomed to fall short, try as they might. No one can argue the extraordinary commitment this cast, most of whom were primarily dancers only before being tasked with so many responsibilities outside of their normal wheelhouse. And the chemistry between the twins Little Dragon and Little Phoenix was so youthful, sincere and sparkling that it felt like a shame when they found out their relation (hey, it worked well enough for Cersei and Jaime Lannister in Game of Thrones!). When he comes to her and Lotus' aide and fights his father, you felt it.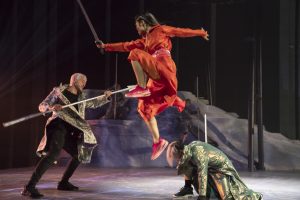 Dragon Spring Phoenix Rise reminded me a bit of the Broadway endeavor Spider Man: Turn Off The Dark–resplendent with a superstar team but a lot of kinks to work out–and another highly ambitious project, Sleeping Beauty Dreams starring Diana Vishneva, that was also (again, perhaps unfairly) ridiculed and ripped-apart by some critics though I saw, as with this piece, vast potential in and a glimpse of what the future may hold for the integration of tech and theatre. Those two were also visually thrilling and technologically ahead of their time, though they fell short on clear narrative and emotional depth.
But as is true with any act of boldness, audacity and innovation, there is a learning curve and perfection on all fronts may not be achieved immediately. Think back to the late 1990s Star Wars incarnations when CGI as we know it today was still in its relative infancy. Those rebels took creative risks that led to more sophisticated means and better storytelling methods for our current modern era (like the 2019 version of The Lion King and the forthcoming CATS, both of which have also received some scrutiny and judgement). Thank goodness for an organization such as The Shed that is devoted to nurturing artists who are willing to break boundaries, explore new terrains and manifest their visions fully with the resources to do so. Even though they may not always soar flawlessly, The Shed there will be a strong harness to catch them when they fall and send them onward and upward to the sky again. As the saying goes, "Shoot for the moon and you'll end up amongst the stars." Even in its inaugural season, The Shed has put its money where its mission is–to send artists of the 21st century into the stratosphere, all from its hub in the comfort of New York City–home of audacious innovators and daring risk-takers.
Dragon Spring Phoenix Rise debuted its World Premiere at The Shed's McCourt Theater from June 22-July 27, 2019. For more information about The Shed, its programming and Dragon Spring Phoenix Rise, please visit: www.theshed.org