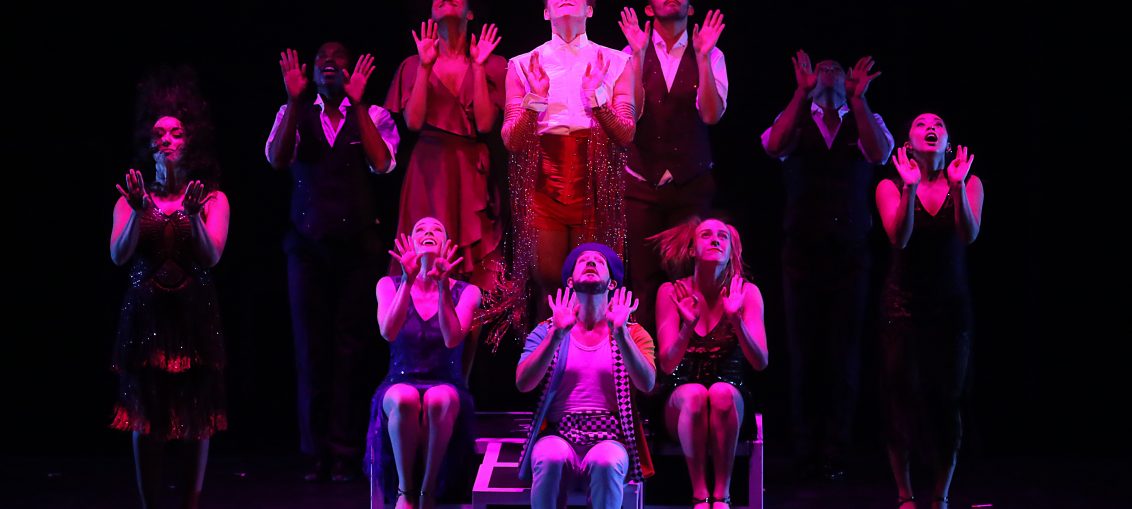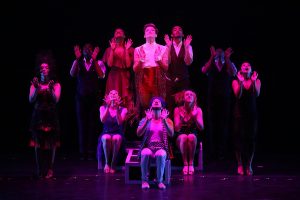 Choreographers have a default line in interviews that is some variant of "I tell stories through dance." Much of the time, though, I watch their work and wonder what the story might have been about.
Mercifully, Al Blackstone has created a story that runs the length of "Freddie Falls in Love" that is actually a story with a beginning, a middle and an end. There are characters who are not just dancers in a pose, and there is conflict and resolution. There just isn't any talking. The term "dansical" is over-used in some quarters, but here it fits like a ballerina's leotard. Indeed, it is more a silent film brought to life than any other art form the way I see it. Harold Lloyd or Roscoe Arbuckle could have crafted it and would have been proud of it.
In brief, we have a young man, delightfully played by Matt Doyle, who falls for a young lady, Melanie Moore. His marriage proposal scares her off, and he spends the rest of the production recovering from the heart break. Throughout, his female best pal, Betty Weinberger encourages him on his journey. This includes a trip to Paris (we know its France because the dancers wear berets and smoke cigarettes), a few failed relationships on the rebound with Tiare Keeno, Lindsay Janisse and Chantelle Good (the Paris holiday romance).
Along the way, the dance seems incidental, or perhaps is so integral to the characters and action that you only notice it when there is a fully formed production number. That is not to say the technique is weak, quite the contrary – most of the dance is better than what one sees in the current crop of Broadway musicals. They simply make it look so natural you forget in some places that they are actually dancing. When there is a definite production number, all the stops come out, and the company is tight.
I was taken with three individual performances in particular. Evan Kasprazak, best pal and traveling buddy for our jilted protagonist, can tap up a storm, and provides a wing-man character with sympathy for his pal and laughs for us. Kolton Krouse plays an androgynous entertainer in a Paris club and is simply hypnotic. Finally, there is Ashley Day who spends a great deal of time dancing with a bird-puppet on his right hand. Ashley does the dancing and the puppet does the acting, so full marks to Ashley's creativity.
The music would have been better had it been performed live, but we all know how expensive that is. Still, Jacques Brel, Fiona Apple and Tommy Dorsey sound just fine even if they're recorded. The set was simple, merely a collection of boxes, and the costumes were simple casual dress that still allowed for free movement.
The accessibility of the arts to a mass audience has been an issue for quite a while. Dance has benefited from the success in recent years of So You Think You Can Dance (where Al Blackstone frequently features) and World of Dance. For live dance, the challenge remains to produce work that has popular appeal while retaining the artistry of the choreographer's vision. "Freddie Falls in Love" doesn't just want that tightrope – it dances joyously along it.
Running Time: 70 minutes without intermission
"Freddie Falls in Love" is playing at the Joyce Theater, 185 8th Avenue, New York City, through August 4. For more information and tickets, visit the Joyce Theatre's website.