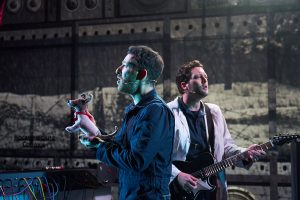 The Jetsons had Astro.  Doctor Who K-9 and Karvanista.  Boxey adopted robotic Daggit after the first Battlestar Galactica survived the Cylon attack but the poor kid's pet didn't.  The original Enterprise crew ended up with two dogs (one good, one bad and both in unintentionally hilarious costumes) in The Enemy Within.  Science fiction has long been a dog's world, but so was science at one testosterone-fueled time.  In what was not such a Cold War secret, the Soviets used/abused dogs during the Space Race (1955-1975).  The best-known stray was Laika ("Barker"), the first earther to orbit the planet in 1957.  Her dedication to the Motherland is commemorated in Van Hughes and Nick Blaemire's Space Dogs.  Now playing at the MCC Theatre and directed by Ellie Heyman, the result is a high energy, highly spirited musical about an unlikely subject.
With the help of a too-cute Laika puppet designed by Amanda Villalobos wearing a Young Pioneer's red scarf, Hughes and Blaemire sing and act all the parts – with Hughes as Chief Designer Sergei Korolev and Blaemire the space dog. What develops over 90 minutes is a devotional man-and-his-dog story between Laika and the maligned engineer (who spent several years in the Gulag for "lack of production" and kept deliberately anonymous inside and outside the USSR to the point of being denied eligible for the Nobel Prize).  Both share duets about the stars, having their own space and a sense of belonging.  The imagined relationship is believable.
Hughes and Blaemire provide a lot of historic detail in their songs and script, and they have a lot to work with.  Even those unfamiliar with the Space Race should find it slightly interesting because it's still relevant.  Appropriately, the songs complement that time with Soviet marches, ballads, bluegrass and show tunes.  Wilson Chin's set combines the best over-the top elements of Mid-Century and Stalinist design.  Another key part of that design are 39 stuffed dogs representing the rest of the space dog crew, who found themselves were temporarily adopted after being tossed into the audience.  Upon their reluctant return to the stage, they became part of the action with their scenes enlarged on a video screen.
Whether space geeks, fan boyz or girlz, dog lovers or musical theatre fans, the sold-out audience loved the show.  Ultimately, Space Dogs is about love, memory and something else:  When the Soviets stopped sending dogs into space  they thought they could control Cosmonaut Gagarin, the first man in space.  They couldn't.  Ground control and space crew have to work together – and it's not a job for dogs.
Space Dogs opened on February 12, 2022 and runs thru March 13, 2022 at the Robert W. Wilson MCC Theater Space  (511 W 52nd Street, NYC).  Tickets can be purchased via their website.