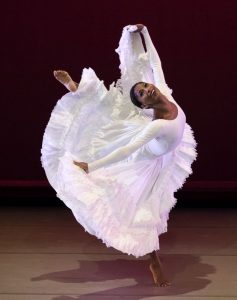 Recipes, coffee franchises, fashion, even outfits worn to museum galas are labeled "iconic."  The performing arts have no shortage of them either.  Towards the end of 2021, two very different ones who deservingly earned that moniker received renewed interest, partially untied by themes of female empowerment.
It was the audience at the December 4th evening performance of the Alvin Ailey American Dance Theatre who helped make it perfect.  They willingly showed vaccination cards, applauded the "mask on" announcement and cheered non-stop.  To quote the Gospel lyrics heard at the end of the evening in Revelations, "There is trouble all over this world."  Two hours in good on- and off-stage company made current troubles less painful and achieved Mr. Ailey's vision of inclusion.
The centerpiece was the 50th anniversary of Mr. Ailey's Cry., a solo first performed by the legendary Judith Jamison.  Jamison, along with luminous Ailey alum Donna Wood Sanders, coached  the 16-minute solo to Jacqueline Green.  Created in honor of "all Black women everywhere – especially our mothers," Cry neither distances nor sentimentalizes.  That is another of Mr. Ailey's great gifts.
Cry is longer than most duets or short dances, with revealing resting points in between.  Wearing a long white dress, Green was goddess-like.  During the first section set to Alice Coltrane's "Something About John Coltrane", she delicately shaped a scarf into a headpiece, table cloth and mop. The "train" she's boarded in the second part is Laura Nyro's "Been on a Train".  However, for both the singer-songwriter and Mr. Ailey, that train is a lifetime of pain.  At its end, Green, spurred on by the Voices of East Harlem, resolves to be "Right On, Be Free".  The skirt she's worn is now part of her dance, moving across the stage and into a new chapter.  Jacqueline Green was a joy to watch.
Like Woolf's Mrs. Dalloway and Barry Jenkins's Moonlight, Cry is about living life – abstracted, yes, but in reality.  But  Alvin Ailey tells it in minutes instead of pages or two hours.
The Alvin Ailey American Dance Theatre was able to complete their annual season at New York City Center in December 2021.  Their touring schedule, online and in-person class schedules – all subject to change – are available on their website.  Jacqueline Green performs Cry in Angel Kristi Williams' 2020 film Really Love, available on Netflix.
A year before and stages away from where Alvin Ailey started his company at the 92nd Street Y in 1958, I Love Lucy, the show that defined television and re-defined pop culture, ended its run.  Thanks in part to growing, welcome interest in going beyond dryer/"accepted" narratives, Lucille Ball is the subject of both the TCM podcast The Plot Thickens and Amazon Studios film Being the Ricardos.
Both podcast host Ben Mankiewicz and director Aaron Sorkin tell how the RKO contract player (who ended up buying the studio!) and bandleader (whose shrewd show-business sense is fully acknowledged and appreciated) met Lucy on break when filming  Dance, Girl Dance (1940), which she made before the two starred in Too Many Girls (1940).  While Mankiewicz sticks to the basics that Lucy and Desi embellished over their lifetimes, Sorkin makes two mistakes:  Lucy didn't become a redhead until she went to MGM in 1942, and her makeup bruises and torn costume were not from a scene from being beaten up by a pimp, but  by Maureen O'Hara.
The climactic catfight is no surprise, yet how it starts and ends are.  Bubbles, aka "Tiger Lilly" (Ball) and Judy (O'Hara) are aspiring ballerinas on hard times; this takes place before permanent American ballet companies.  Tired of struggling, Bubbles becomes a burlesque queen, bringing Judy into the act as her artistic/non-stripping "Stooge" opening number.  During one really bad night of heckling and wardrobe misfunctioning, Judy takes her turn insulting the male audience, something that wouldn't happen again in American cinema for decades.  Rather than being booed, she gets a standing ovation.  Enraged at the applause, not the message, Bubbles starts hitting Judy in full view of the audience.  During the next scene in night court, the two women explain their behavior, learning to forgive and respect each other anew.
Had it been a male director instead of Dorothy Arzner, Dance, Girl Dance might be only of interest because of Lucy and Desi meeting rather than for the film itself.  Like Lucy and many other women artists, Arzner's career is getting a way overdue look as the most productive American women director with 16 credits (her contemporary John Ford directed 141).  Bubbles and Judy's complicated relationship is depicted subtly, with the heroines admiring their respective determination in ways they never realize.
What else is surprising about this film is the dancing. Whether it was Arzner or choreographer Ernst Matray, the numbers reflect their dancing times.  Lucille Ball's striptease of elaborate costumes and verse is lifted from Gypsy Rose Lee's act.   When Maureen O'Hara, whose career began as a dancer, watches a rehearsal of a ballet troupe sponsored by Steve Adams (Ralph Bellamy), the choreography is a homage of sorts to the draped dancers in George Balanchine's  early American career.  It isn't going too far suggesting the Adams character is a Hollywood reimagination of  Lincoln Kirstein.
Dance, Girl Dance is part of The Criterion Collection.
.