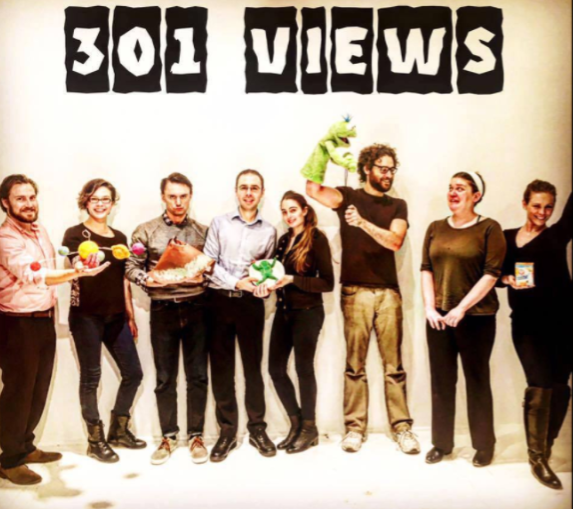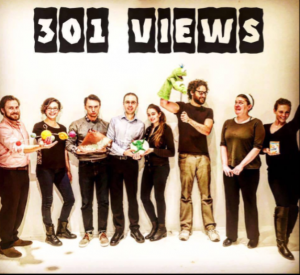 My entire life I have been a considerable fan of sketch comedy. From more modern sketch like The Kids In The Hall to The State to The Whitest Guys You Know to the forerunners of sketch like Sid Ceasar, Carol Burnett and Monty Python among dozens of others. It's the history of it all I love so much. It's a medium that very few can excel in. On Wednesday March 7th The Sketch group, 301 Views, excelled at it. The performed to a capacity crowd who only added capacity laughs.
          This is the second time I've gotten to view 301 Views and it only got better. In no particular order, other than by how much I like each person, 301 Views is, Jen Stutz, Mike Brown, Maegan Mandarino, Andy Danish, Liana Afuni, Linda Moulton, Jessie Sims and is directed by the incomparable Katherine Knowles who together make up an almost too talented very funny group. Let's just say, soon they're going to have to call themselves 1 million Views. Everybody who wants to laugh needs to see this. My only complaint about 301 Views is that there wasn't enough to view. They definitely leave one wanting more. The performance flowed incredibly well. March 7th's show was Oscar themed which is always one of my favorite subjects. We open with some western music which immediately gave the show a John Ford feel, who just happens to be Oscars winningest Director.
          From Meryl Streep trailer parodies and retellings of Julie Andrews and Dick Van Dyke meeting and how awful Americans do English accents. To Bond Parodies with Andy Danish as a dead on Sean Connery impersonation. The audience even got an illiterate Marlon Brando auditioning for "A Streetcar Named Desire" who Jessie Sims played and obviously had a lot of fun with it. My favorite line from the show was "Fuck La La Land" said by Mike Brown and in or out of context makes me laugh like I do on nitrous oxide. Then we have movie pitches like another retelling of a Sherlock Holmes and a Star Wars parody pitch. The pop culture references never stopped. It's also important to know we had dick, vagina and ass jokes. No sketch show is fully realized without them.
          Watching this group come together was very similar to watching Voltron form. Together they are a force to be reckoned with. Everything works, like a well oiled porn star. Speaking of porn stars Greg Gormans sincerity shines through in every word. Liana Alfuni is striking in every moment. The presence Andy Danish has in voice and physically stands out. Linda Moulton often played it straight to perfection helping move the show along with great moments. Jessie Sims has the feel of a young Hollywood actor on the make. Jen Stutz fits in overwhelmingly well as Meaghan Mandarino constantly shows us her range. If comedy had an I.Q. rating 301 Views would be in Mensa. Their ability to mix pop culture with the mundane and insane knows no parallel in this genre. My favorite moment in the production was a Teenage Mutant Ninja Turtle parody with Andy Danish as Shredder (A Shredder Costume Andy got a lot of attention for last year at ComicCon) Shredder seems to be incapable of not coming off racist while he threatens the turtles. This piece led into a great Teenage Mutant Ninja Turtles song parody that will stick in my head forever. 301 Views Recently got themselves booked to perform at the Charm City Comedy Festival In Baltimore May 2nd to May 12th, check out their Facebook page at Charm City Comedy Festival for specific dates and times.  
See Other Shows At The Pit: https://thepit-nyc.com/
See 301 Views on youtube go to: https://m.youtube.com/channel/UCTGfmoC4W1Jn2Bm1CoQotpQ
Run Time: 45-50 minutes