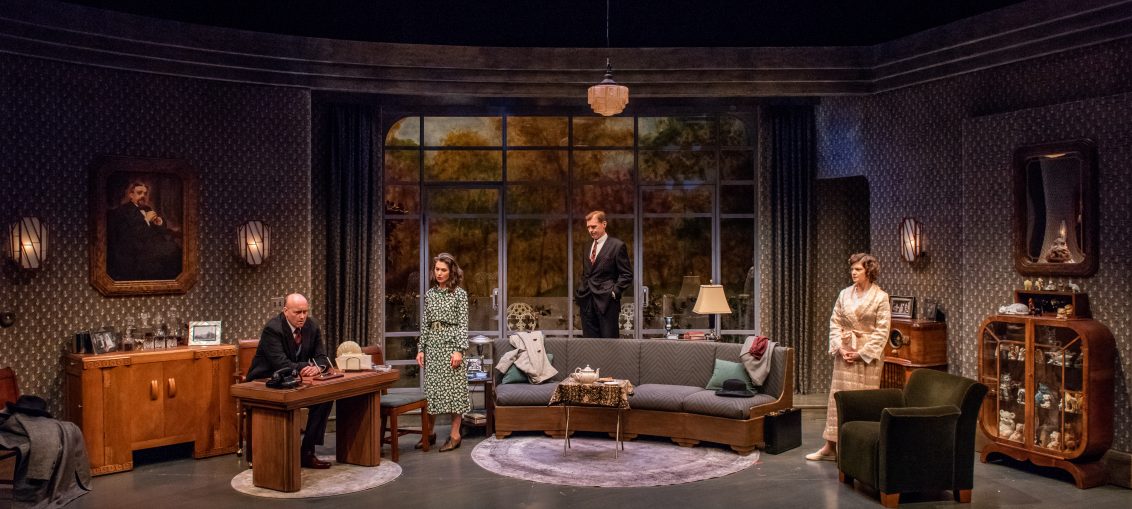 When it opened on Broadway in 1936, Days to Come lasted seven performances.  Perhaps audiences expected something more salacious from Lillian Hellman.  Her debut play The Children's Hour had plenty, and her second about an Ohio strike had none.  While Days to Come is no masterpiece, the Mint Theater's excellent production at The Beckett reveals a play mired in its past and present but anticipates the future.
The Rodman siblings Andrew (Larry Bull) and Cora (Mary Bacon) are heirs to a brush factory.  Though the factory has remained operational during the Great Depression, the dwindling family fortune leads Andrew and lawyer Henry Ellicott (Ted Deasy) to cut wages from sixty cents (today's equivalent of $10.72) to forty cents ($7.15).  The ensuing strike prompts Andrew and Henry to hire strikebreaker Sam Wilkie (Dan Daily), and the workers to bring in union organizer Leo Whalen (Roderick Hill).  Both Wilkie and Whalen are very good at their jobs.  Adding to the escalating tensions are Wilkie's two thugs (Geoffrey Allen Murphy, Evan Zes) guarding the Rodmans, Andrew's restless, spoiled wife Julie (Janie Brookshire) and the Rodman's long-time housekeeper Hannah (Kim Martin-Cotten)'s vocal support of the strike.
Hellman's dialogue easily reveal situation and personality, providing director J.R. Sullivan and the cast a lot to work with. That Days to Come primarily takes place in the Rodmans' living room brings the fight home and through Jane Shaw's effective offstage sound effects.
However, Hellman soon transforms characters into symbols without feelings: Andrew is a milquetoast patriarch who believes benevolence is going to bring back his perception of normal.  Henry is a sleazy lawyer who's been having an affair with Julia.  Wilkie and Whalen are more often than caricatures of the labor movement.
Both lead female characters suffer the most.  Cora is the stereotypical middle-aged spinster hysteric resentful of the beautiful sister-in-law living under the same roof.  It's puzzling audiences still find that funny instead of repulsive.  Julia is a Midwestern femme fatale whose awkward attempts seducing Whalen brings about tragedy.  Neither Mary Bacon nor Janie Brookshire's are at fault; their parts were written that way
And still, Julia and Whalen's meeting gives Days to Come relevancy not even its highly politicized author could have imagined.  The encounter is the excuse Wilkie uses for spreading a lot of fake news.  Dan Daily didn't overplay the moment, for Wilkie is doing his job.  The collective shudder is not only for what will happen offstage, but also how other official distortions of the truth are now an offstage reality.
Hellman solves characterization and honing-in of family dynamics in her subsequent plays.  It isn't necessarily a wasted afternoon or evening seeing how her style evolved.  Days to Come doesn't reflect the unrest of its era as well as Woody Guthrie's ballads, John Steinbeck's novels, Clifford Odets' Waiting for Lefty (1935) or Marc Blitzstein's The Cradle Will Rock (1937), but it's important recognizing their were others who attempted in earnest.  Among them Lillian Hellman.
The Mint Theater's production of Days to Come opened at The Beckett Theatre (Theatre Row, 410 West 42nd Street, NYC) on August 26, 2018 and runs through October 6, 2018.  Tickets are available through the The Mint's website.