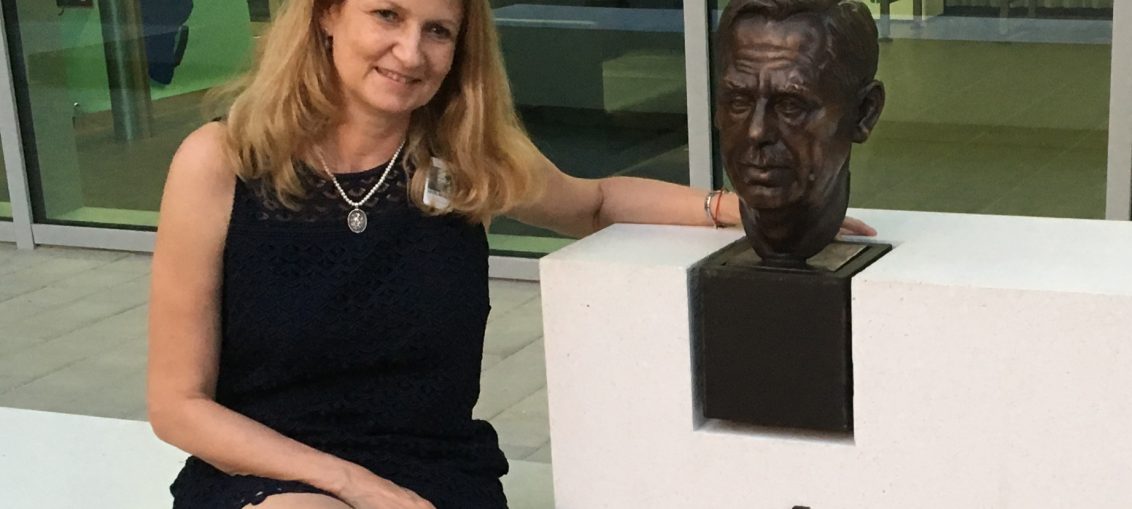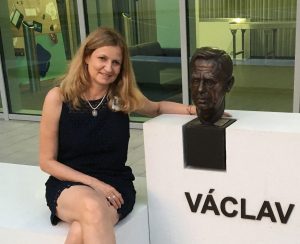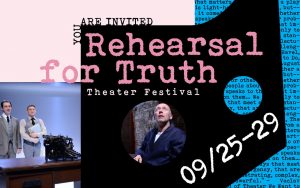 Pavla Niklova is the Executive director of the Vaclav Havel Library Foundation (VHLF) and Artistic Director of The Rehearsal for Truth Festival. I met with her in the Dvorak Room at The Bohemian National Hall to discuss the upcoming theater festival from September 25 – 29, 2018. The VHLF together with the Bohemian Benevolent and Literary Association (BBLA), will partner with Czech, Hungarian, Polish, and Slovak performing arts and cultural institutions to host the second year of a unique festival presenting the best in contemporary Central European theater.
What gave you the idea to create The Rehearsal for Truth theater festival in honor of Vaclav Havel two years ago?
I was thinking about how to honor Vaclav Havel and one direction or area of his legacy that maybe hasn't been visible that much, because the most famous area of his activities is when he became the President of Czechoslovakia in 1989, was his career as a playwright. Before he became the president and before he became the dissident he was quite a famous playwright. So, I thought we could honor him with a theater festival.
The reason why I had the idea to present four theater companies from Central Europe, Czech Republic, Slovakia, Hungary and Poland, was that Havel was really a big advocate of these four countries. He believed we should present ourselves together, that we are stronger together, that we have a very rich cultural history and traditions that differ in many ways but still have a lot in common because we come from one very tight, close region in the heart of Europe and that we have something to say to the world. These countries have a very rich theatrical history so that was one of the reasons and one more – its very difficult to bring theatre companies from Europe to the United States and so I thought Havel would be a good excuse for that!  NYC is the center of theater in the world so I thought a central European showcase would really fit in.
How do you go about curating and choosing the work?
 I try to see as many plays as I can when I go to Europe but we also have very strong partners in theater institutes in the all of these European capitals –Prague, Bratislava Warsaw, Budapest and so I found very good partners in the representatives in those four countries institutions.
Do they send you a whole selection of productions and you make a final choice?
The process is not the same with everyone and not the same every time, but basically we start talking about what would be a suitable production and some of the partners send many more suggestions, others strongly recommend two or three. What is important is that even though this theater festival is in honor of Vaclav Havel it doesn't mean that those companies would have to present Havel's work. But by coincidence this year we will have one of Havel's plays, but it isn't a prerequisite. The theme of the festival is – theater that is political, that is socially engaged, that deals with the current political and social themes that are common both for Europe and the United States. That's exactly the theater that Vaclav Havel believed in.
Where do you get your financial support from in NYC to host the festival?
For this year we got support from our New York City Council Member Ben Kallos and NYC Cultural Affairs. The VHLF works closely with The Bohemian Benevolent & Literary Association (BBLA) which is an old American non-profit that was established at the end of the 19th century and its mission has always been to promote Czech and Slovak clubs and associations that care about Czech and Slovak culture and heritage. They also maintain relations with their home countries in Europe and with Czech and Slovak communities in the US. Also all these theater companies always manage to get support from their local regions – either sponsors, different foundations or governmental agencies. Both last year and in 2018 there are around 30 partners participating in this festival.
You have added the Reality Czech Gala Dinner to the program this year. Can you tell us a little about this evening that will honor Madeleine Albright?
This year it's a special occasion because we will be celebrating the 100th anniversary of the founding of Czechoslovakia and although it doesn't exist anymore, we still believe that it was a very important date – 1918, when both of these nations and other nations in Europe got their independence, their democratic systems. Of course it was difficult century – we can't really say we have been independent for 100 years, that's not totally true. We were occupied by Nazi Germany and then Russia but it is still a very important date. So, apart from theatrical activities we would like to honor Madeleine Albright who is originally Czech and who really helped Czechs and Slovaks to enter western democratic societies in the 90's. She will be in attendance and there will be a great occasion to celebrate and honor her.
At the event there will be also short excerpts from The Rehearsal for Truth festival shows as well as music by the renowned Czech singer Iva Bittova and the Slovak dulcimer band – Pajtasi. We are also excited to have two time Tony Award Winner Christine Ebersole as one of the Emcees along with Vit Horejs a puppeteer, playwright, and director of the Czechoslovak American Marionette Theatre based in New York City. Tickets for this event are open to the public. The Czech restaurant Bohemian Spirit will add to the authentic Czech and Slovak ambiance of the evening.
During the Gala Dinner you will also present The Disturbing the Peace Award, for a Courageous Writer at Risk to Liao Yiwu…
Yes, it's the Havel Foundation's annual literary award. It's another program that keeps Havel's legacy alive and extends it. The award is given to a person who happens to have a similar life story to Vaclav Havel. He wanted first to be a film maker then he became a playwright and but then all of a sudden he was a dissident because the political situation around him changed and he didn't. It kind of happened to him. All of these writers that have been nominated are also people who were persecuted by a political regime but that didn't silence them. We also look for people who our jury feels can make a change with their work. That they can be leaders. So our award is kind of encouragement and acknowledgement of their work. Unfortunately, we can only give one award per year but we always have a short list of 5 people.
We always try to promote these five writers together to bring attention to their causes and case to help promote their work and their fight. This year the nominees include Ahmet Altan (Turkey), Ketty Nivyabandi (Burundi/Canada), Patrice Nganang (Cameroon/USA), Liu Xia (China) and Liao Yiwu (China/Germany). The winner for 2018 is Liao Yiwu who will be at the event to accept the award. He is a Chinese author, reporter, musician and poet  and as a vocal critic of China's Communist regime, he spent four years in prison after publicly reciting his poem "Massacre" in memory of the victims of the Tiananmen Square military on June 4, 1989. He currently lives in Germany, under asylum but will be attending the award ceremony. He will also be bringing fellow nominee Liu Xia with him as she was very recently released from China.
What do you think theater companies coming to NYC benefit from the festival?
I think every professional actor wants to perform in New York. I think its rewarding for them that they can feel the city, that they can become a part of it for this one week. Of course we are trying to promote their work to local presenters and we hope that they will be back for longer in the future and will do our best to make it happen. We also hope that they will see each other's work and maybe work more within the region together.
What can the audience in NYC look forward to at the festival this year?
We will present four performances in the original languages with English supertitles, followed by talk-backs with the artists and after parties hosted by the countries cultural institutes and consulates general in NYC. There will also be two staged readings and one panel discussion. The companies who will be taking part include Untitled Theater Company #61 (US)  and Svanda Theater (Czech) with Night Before The Funeral (stage reading), Svanda Theater's productions of Protest/Debt, Astorka Korzo ́90 Theatre's Eve of Retirement (Slovakia), HOPPart's Scale 1:5 (Hungary), Komuna Warszawa's Cezary Goes to War (Poland) and The New School (US) stage reading of Pankrac 45. The panel discussion title is The Power of the Powerless in China with Liao Yiwu, Liu Xia and Andrew Nathan, moderated by Carl Gershman, President of the National Endowment for Democracy.
There will also be two art exhibitions –Czech and Slovak New York, an exhibition by Martin Nekola – a review of the many locations in the city with connections to Czech history and to the Czech spirit. The second is August 21, 1968 – a Commemoration of the 50 years since the end of Prague Spring and the invasion of Czechoslovakia.
The Czech Republic, Hungary, Poland, and Slovakia have worked together consistently in the performing arts for almost thirty years. The result of their collaboration has been an outpouring of outstanding dramatic works that pose important questions about immigration, European identity, reconciliation with fascist and communist pasts, and a host of other essential issues. The region's unusual creative energy deserves to be promoted and acknowledged internationally, especially as it has resulted in—to borrow Havel's words—theatrical productions that are at once urgent, intellectually penetrating, complex, challenging, and powerful.
All Rehearsal for Truth productions are free to the public except the Gala Event which has an admission price.
Here is the the full program with links to reserving your free tickets:
https://www.vhlf.org/news/rehearsal-for-truth-festival-2018-program-announced/
The Rehearsal for Truth theater festivals runs 25 – 29 September These events will take place at The Bohemian National Hall, 321 East 73rd Street (between 1st & 2nd Ave).