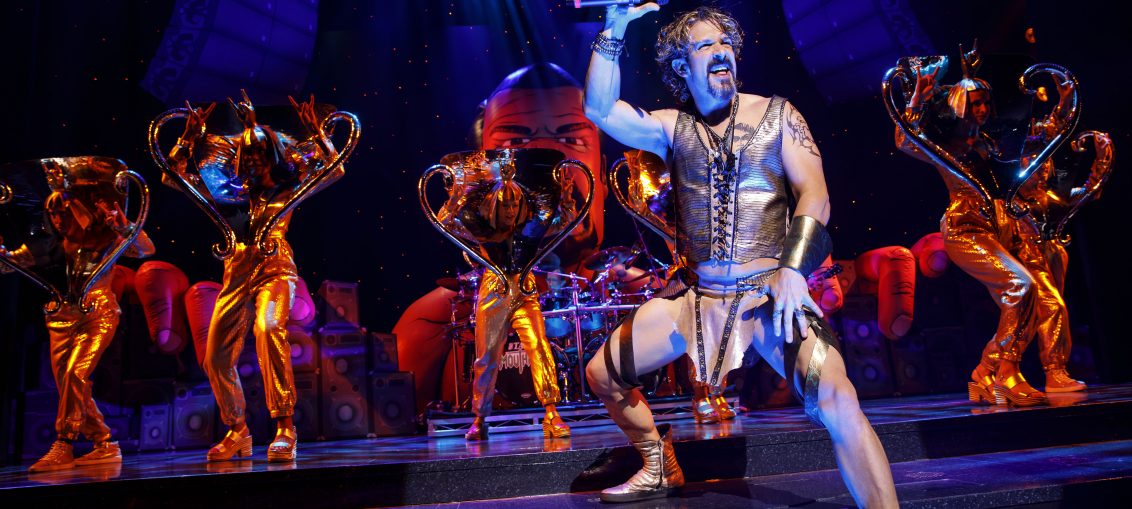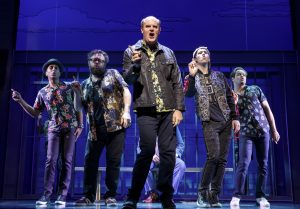 (WARNING! Contains spoilers)
New York City — the most dazzling and difficult place to live out your wildest dreams and fantasies. They say: "If you can make it here, you can make it anywhere," but truth be told, many don't make it. Such was the case for Mitch Papadopoulos (played by Mitchell Jarvis) — the protagonist of Gettin' the Band Back Together — a Jersey boy turned stockbroker who had to revert to living with his mother in his childhood hometown across the Hudson River in Sayreville, NJ, after his career took a nosedive when he turned forty.
The show can be described as an original musical in the spirit of sketch and improv comedy with many elements inspired by: School of Rock (the Broadway show and the film — actually, most Jack Black films), The Wedding Singer, High Fidelity, Rock of Ages, Spinal Tap, The Full Monty, American Pie and Kevin Smith films with the sentimentality of Rom-Coms, the quick wit of SNL with a good dose of MTV.
Any homecoming with your tail between your legs is never easy, even with a warm and welcoming mother, Sharon Papadopoulos (played with feistiness and finesse by Marilu Henner of the TV show Taxi), a lovable oaf of a childhood pal, Bart Vickers (scene-stealing Jay Klatz channeling his best Jack Black), and a reunion with a high school crush, Dani Franco (Kelli Barret). But it is made all the more painful for Mitch when the rival bandleader of his garage band glory days, Tygen Billows (Brandon Williams in his shining — quite literally, there are sequins involved — Broadway debut), the front man of Mouthfeel, is now a real estate king and threatens to foreclose said mother and childhood pal's homes unless Mitch agrees to a rematch in the next Battle of the Bands.
Mitch and Bart wrangle up the rest of the Juggernaut musicians of yesteryear, unhappy cop and Broadway aficionado Sully Sullivan (lovably portrayed by Paul Whitty) on drums, and keyboard, clarinet and sax player turned dermatologist, Robbie Patel (Manu Narayan from Bombay Dreams — who can play a mean saxophone!), who finally gave in to his parents wishes for an arranged marriage.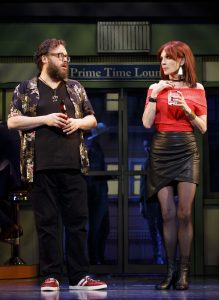 Missing one key member since their lead guitarist died, they hold auditions where an assortment of misfits referencing Sister Act, Dear Evan Hansen, HAIR, Hedwig and the Angry Inch and even the Naked Cowboy, leave the reunited musicians hopeless until a sixteen-year-old savant Ricky Bling (performed by the young and talented quadruple threat Sawyer Nunes) joins.
But when the guys get discouraged, it takes Sharon's encouragement and recounting of how she helped a certain Aerosmith guitarist recover his "horsepower" in  "WWJPD? (What Would Joe Perry Do?)" to get them all "Back in the Saddle Again". Their first gig is a surprise Orthodox Jewish wedding (secretly arranged by Tygen and his cronies) where instead of crash, they soar, particularly thanks to Ricky Bling (who happens to be Jewish) improvised J-rap. This hodgepodge of misfits spreading glee to the Hasidic gatherers ends the first act.
Act two opens with the celebration of success being continued at the local diner serving a side of serenade — a small town in New Jersey answer to Ellen's Stardust Diner in Times Square) where sad sap Nicky Styler is wailing his woes into the microphone while plunking the keys, bitterly.
No one seems to care for love is in the air — Officer Sully and his lady cop interest, the foxy Roxanne Velasco (Tamika Lawrence, whose powerful pipes get their time to shine later); Ricky Bling and Dani's daughter, activist and angsty teen Billie Franco (Noa Solorio); Robbie and his Canadian blonde bombshell discovered at the auditions, Tawney Truebody (Becca Kotte), Bart and Sharon — Mitch's mom; and Mitch and Dani who are given a chance to revisit their days of puppy love.
When Tygen breaks up the fun and tries to steal Dani — who he is dating — away, a fight breaks out and the boys of Juggernaut end up in jail.  They're freed by Roxanne and the ladies just as Sully confessed his love in the charming and hilarious "Life Without Parole."
The boys (or rather, middle-aged men) then prep for the big Battle of the Bands but first, Bart has a confession to make to his childhood friend — "I slept with your mom!" This absurdly funny, hands-down showstopper had the audience cheering and cheeks aching with laughter as Bart goes into the dirty details of "motherly love" in perfectly rhymed lyrics. But there's no time for Mitch to wallow, and Rocky-style training continues. The Juggernaut lads go toe to toe with Mouthfeel's men in a daring dance-off that covers every genre from Bollywood to the "chicken dance" to the lift from Dirty Dancing.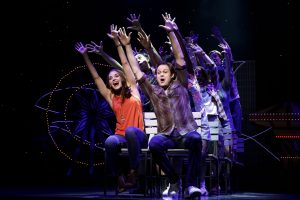 The big day arrives and the Battle of the Bands host and judge is none other than the ubiquitous town drunk who appears in almost every scene but is actually the Mayor (played by Tad Wilson) with the local drama teacher and — guess who? — Joe Perry as guest judges. After whirling through — flashforward style — hundreds of contestants, Mouthfeel finally takes the stage. This is where the Broadway budget shows: the gags are over the top and straight out of an 80's hairband music video meets Spinal Tap — right down to the little people parodies, fly away robes, gladiator costumes and giant blow-up figures, and smoke.
There is a break between that and the Juggernaut showcase during which multiple confessions and insecurities are aired to wrap up the storylines (though none nearly as funny or interesting as Bart's previous confession). They go on to play and despite meddlers' glitches, deliver a heartfelt performance, and lose to Mouthfeel anyhow. But a twist occurs as Tygen is about to claim his prize — Joe Perry gives Sharon her cut of the royalties to the song she inspired, and all is well. As expected with any such Rom-Com genre — all's well that ends well. Or does it?
Just like in the finale of Gettin' the Band Back Together, the spirited underdog who everyone seems to be rooting for doesn't always win. The show opened on August 13th and is closing a barely a month later — September 16th.
I've followed the show's progress for years after attending the first industry reading (as a producer who was also doing my own industry reading at the time) in 2013. At the time I found it charming and had never seen such an uproarious reaction at a simple reading.
The show's roots are as earnest, humble and sincere as its characters: the Grundelshotz — a group of performers and writers who conceived and created the story and characters (largely based on personal experience) through a series of improvisational rehearsals, caught the attention of respected veteran producer Ken Davenport, who also co-wrote the book.
The audience for the night I attended were exuberant, riotous with laughter and gave an enthusiastic standing ovation. One woman I spoke with — an older Cuban lady — was seeing it all by herself for the second time with her third ticket booked for the final show. She lamented that shows she adored like this one and Escape to Margaritaville closed early — she felt — largely in part to harsh reviews not from the audiences, but the critics. Gettin' the Band Back Together seems to be another casualty. The majority of the meaningful reviews were, to put it mildly — not nice. But the audience adored it. Is there not a place on Broadway for both the highbrowed depth and the lowbrow fun? The world of theatre is meant to be all-inclusive, and this crowd seemed to have found a show that spoke to them.
So what grave sins against the theatre gods did the show commit that it had to be cast down so harshly? The clear virtues were: the clever and perfectly aligned comic book-style sets by seasoned designer for stage and screen (large and small) Derek McLane; the superb direction of John Rando (a gem in the crowns of Broadway musical comedy since his Tony-Award-winning Urinetown); the wonderful, absolutely committed cast and ensemble and lighthearted fun they portrayed. The pacing was generally tight (save the last 15 minutes) and the show was an all-around an enjoyable evening. Certainly not deep or life-changing, but so what? Neither are Rom-Coms but they do well at the box office.
As noted above, Gettin' the Band Back Together  takes a lot of inspiration and pays clear tribute to many of the films and TV shows beloved by Gen X (and before and beyond) which didn't translate well into commercial success on Broadway (with a few notable exceptions like School of Rock). It has the winning method in many ways, and the audiences sure seem to love it — but without the recognizable songs of a jukebox musical or a show based clearly on a film or famous entity, such sincere, earnest attempts are likely to fall prey to the cruelty of critics and end up with their posters gracing the walls of Joe Allen. Even the Mayor/Town Drunk said to the random audience member who was in a high school band (this was established in the opening) and was brought up to play cowbell for one song: "Johnny, one minute you're in a Broadway show and the next you're unemployed. That's showbusiness!"
But, like Mitch, not everyone is cut out to live the New York dream for the long run and — also like him — Gettin' the Band Back Together might not have achieved the Broadway success story everyone involved had wished it would have, but the show and its creators shouldn't give up hope — just like their protagonist, sometimes one perceived failure opens another door and leads you to where you always belonged. I'll bet that this show will have a long, joyful and prosperous life in regional, university, stock and amateur and even high school theaters. In the right settings with the right audiences, perhaps the Band will get back together again and again… and again.
Gettin' the Band Back Together run through September 16th on Broadway. For more information: https://gettinthebandbacktogether.com/