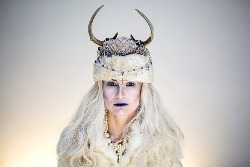 The Snow Queen
New Ohio Theatre
Snapshot Review: Warm and Loving
Patricia Contino, Reviewer
A show with "snow" in its title involving a journey to the coldest place on earth may not sound ideal during this Tri-State deep freeze. While understandable, Blessed Unrest's adaptation of Hans Christian Andersen's "The Snow Queen" is warm and loving, transforming the New Ohio Theatre into a favorite cozy room where this story of true friendship comes to life.
Written by Blessed Unrest co-founder Managing Director Matt Opatrny and directed by company Founding Director Jessica Burr, "The Snow Queen" is indeed the Anderson fairy tale that inspired "Frozen" For those expecting Elsa, Anna and Olaf, they have to wait until next month when Disney opens the live-action version on Broadway. Blessed Unrest doesn't even tr.y competing with it. They don't have to. Theirs follows Anderson's original protagonists Kay (Todd Grace) and Gerda (Nancy McArthur).
The two children are inseparable, until Kay inadvertently summons The Snow Queen (Tatyana Kot), who casts a spell on him. When he leaves his Grandmother (Celli Pitt) to follow the Queen to her northern kingdom, Gerda goes looking for him. Along the way, she encounters a wise, friendly Princess, a spirited, lonely Bandit Girl (all played by Kot), a creepy Old Woman tending a magic garden (Joshua Wynter), two feuding sisters she reunites (Pitt and Kot), and her loyal traveling companion Ba the reindeer (Wynter and Rich Brown). The two Bas form the large creature so beautifully illustrated by Kay Nielson, Randolph Caldecott and Arthur Rackham.
Blessed Unrest tells "Snow Queen" with their signature with minimum costuming and movement-based theatre. Songs – occasionally birdsong or the language of flowers – or choreography enhances dialogue. There is also a lot simultaneous stage action, which fascinated younger audience members. This storytelling was at its best depicting Gerda's long journey at the front of the stage while Kay dances a long solo depicting his imprisonment in the back of it with the two dancing around each other center stage at key intervals. They also have fun with it too executing quick costume changes when Gerda reencounters her all her friends when her quest is complete.
"The Snow Queen" melts away the deep freeze with deep imagination.
Advisory: Suggested for children 7 years and older
Running time: 80 minutes, no intermission
Performances of "The Snow Queen" take place January 7-10, 12,-14, 2018 at New Ohio Theatre (154 Christopher Street, NYC). For ticket information, please click here. Listings of Future Blessed Unrest productions and projects are on their website.
© Copyright 2018 by Jeff Myhre, PhD, Editor. No part of this publication may be reproduced without written consent. Produced using Ubuntu Linux.