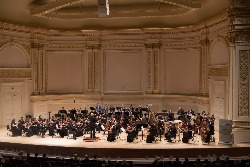 The Orchestra Now Performs Hermann and Korngold
Carnegie Hall
Snapshot Review: Must See
Patricia Contino, Reviewer
"Star Wars Night" is not only a mainstay of MLB and NHL Many major symphony orchestras know that film music is an easy sell, and John Williams' iconic fanfare was part of the orchestra now (TŌN)'s opening season concert at Carnegie Hall. The difference was hearing it played alongside Erich Wolfgang Korngold's opening theme for 1942's "King's Row." Discovering Williams' inspiration from a Ronald Reagan film served as a precursor to Korngold's" Symphony in F-Sharp," part of a program conducted by TŌN's music director Leon Botstein celebrating glorious non-movie music by Korngold (1897-1957) and another great film composer, Bernard Herrmann (1911-1975).
The concert opened with a suite from perhaps the most recognizable music in cinema history, Bernard Hermann's "Psycho." TŌN cultivates informality with limited program notes, opting instead for posting selfies and orchestra members introducing the music from the stage. What violinist Clara Engen neglected mentioning was Alfred Hitchcock giving the penultimate screen credit to Herrmann rather than listing himself as the producer. Those unfamiliar with François Truffaut's "Hitchcock/Truffaut" or the documentary "78/52" might be interested that the 1960 classic is a landmark not only for Herrmann's score for string orchestra (fearing outrage over the violent content, a nervous Paramount Pictures provided Hitchcock with a limited budget), but also for killing off star Janet Leigh within the first 20 minutes. Her well-orchestrated death occurred in a shower shot over seven days consisting of 78 setups and 52 cuts of her attacker's knife slashing her skin and running water mixing with her blood. Herrmann's music matches Leigh's screaming, the glistening knife, and her reaching for the shower curtain before dying. The Suite is a reminder that those chords reappear in appropriate places, including the cast and audience finally meeting Mrs. Bates.
"Psycho" is on The National Film Registry and regularly shown in film revival houses and on Turner Classic Movies. Hearing Herrmann's driven, forever-frightening music in a concert hall – Carnegie Hall no less – was a rewarding experience. It is simply flat-out great music.
TŌN 's followed its stay at Bates Motel with Herrmann's "Symphony No. 1". He wrote the CBS and the New York Philharmonic co-commission in 1940 at the start of his Hollywood career. The symphony offers no hint of his first two soundtracks, "Citizen Kane" and the Academy-Award winning "The Devil and Daniel Webster", composed a year later. Herrmann wrote little non-film, radio, or television music, and this large-scale abstraction was revelatory. Finding out something new about a favorite artist is an affirmation. TŌN deftly handled Herrman's shifting moods – from romantic to mysterious.
Following intermission, clarinetist Micah Candiotti-Pacheco introduced Erich Wolfgang Korngold's "Symphony in F-sharp". While the "Star Wars" comparison was helpful, as was his explanation of how composers "borrow" from each other, he never mentioned that the Jewish Viennese Korngold came to Hollywood after fleeing the Nazis. Also left unsaid was, like Herrmann, he only won one Oscar (for 1938's "The Adventures of Robin Hood"), and his Violin Concerto and opera "Die Tote Stadt" ("The Dead City") are still performed. Again, this is not movie trivia one-upmanship but a way to further appreciation.
Korngold\\\\\'s 1954 symphony exploits his trademark use of "the big sound": full-voiced, stereophonic, and passionate. For a composer whose influence continues, Korngold had a few of his own, specifically his mentor Gustav Mahler. His beautiful Third Movement is an elevated tribute to Mahler's orchestral descriptions of his wife Alma. Minus a screenplay, Korngold creates a golden sound world evoking Klimt rather than Sunset Boulevard. The playful finale united all the musical themes, thus providing a happy ending.
Botstein and TŌN eschewed approaching the two symphonies as oddities. Doing so would have come across as condescending. Both composers will always be renowned for their film work, but it is good knowing that there is a bigger picture outside the revival house or 4K restoration.
TŌN is Bard College's (Maestro Botstein is their President and Artistic Director of the college's summer music festival) training orchestra. The first TŌN class graduates in 2018 with substantial performing experience and a Master's degree. Is such a degree valuable in today's academia and real world? Is learning to work with others, creating a community, and exploring outside the expected?
Running Time: 2 hours and 20 minutes with 1 intermission
The Orchestra Now (TŌN) performed at Carnegie Hall on Friday, November 3, 2017. For further information on their upcoming performance schedule and the Bard College Master's in Music, please click here.
For information on The National Film Registry, please click here.
© Copyright 2017 by Jeff Myhre, PhD, Editor. No part of this publication may be reproduced without written consent. Produced using Ubuntu Linux.