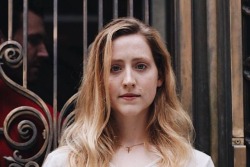 The Trial of Faith
Hudson Guild Theatre
Snapshot Review: Intense Theatrical Battle
Jacquelyn Claire, Reviewer
It's a fitting time to draw inspiration from the life story of Joan of Arc to explore themes of dysfunctional patriarchy, the futility of war and strong female warriors who would rather submit to being burnt at the stake than to denounce their beliefs. It's an intense theatrical battle as 'Joan of Arc' takes on the English at Orléans and the Bishop of Beauvais, Pierre Cauchon, at her rigged ecclesiastical court trial, after being captured. The salacious segments of her story are told through music, dance and drama.
We're in 1429 and France is in the Lancastrian phase of the Hundred Years' War. Jeanne d'Arc (Joan of Arc), The Maid of Orléans, has been receiving 'messages' from God himself delivered through Archangel Michael, Saint Catherine of Alexandria and Saint Margaret, since the age of thirteen. These visions from on high instructed her to deliver France from English domination and support Charles VII in his quest for the throne. Quite a burden for a teenager but off she goes. She leaves her peasant family in Domrémy and heads off to convince the Dauphin Charles of her divine quest. He believes her visions and gives her his blessing to head into battle where she turns the tide of the war with her presence. She is later captured and forced to stand trial culminating in her death on the flaming pyre. The play gives us a sort of highlights package of the defining moments of her very short life.
The cast comprises Miriam and Jared Canfield – talented siblings tackling monumental themes. Jared expertly inhabits the historical characters of Jean II, Duke of Alencon, Dauphin Charles and the Bishop Cauchon. He deftly changes between the different roles like an exuberant chameleon. I found his portrayal of Dauphin Charles the most compelling as he allowed a stillness and gravitas to permeate the king-to-be. I would have preferred his portrayal of the patriarchal Bishop to be less emotional and more self important and severe. But he is clearly an extremely skilled performer who is not scared to plumb the depths of his emotions to deliver truth.
Miriam Canfield, as Joan of Arc, brought a deeply feminine, soft, light-footed approach to the role. When I think of Joan of Arc my imagination creates a version of Gwendoline Christie as Brienne of Tarth in the Games of Thrones television series. A kind of fearless, armor clad, unwavering force. But Miriam brought the sensitive, tragic, highly-strung maiden into this retelling. It was interesting to see this rendition of Joan of Arc as an innocent, illiterate teenager, defiant in her beliefs and close to tears at the injustice of her situation. Miriam is not only an exceptional actress but a highly skilled dancer. The scenes were beautifully punctuated with short choreographic expressions of torment and ecstasy.
Director, Jane Arnfield had previously worked with Miriam Canfield in the production, "The Fall" – which was a NYC Fringe Festival favorite in 2016. As Arnfield resides in Northumbria in the UK, the direction was conducted via Skype. I love the idea that theatre makers can collaborate across continents without having to get on a plane. Mentors and marvelous creatives are a mere click away from each other! You can feel Jane Arnfield's expert directorial hand in the honest performances. She stripped away artifice to reveal the central emotional cornerstone of each character. Her directorial super power is encouraging performers to explore the vulnerabilities of their characters and not to shy away from big emotions. Jane Arnfield always brings a graceful sophistication to any work she touches.
Regarding Miriam Canfield's text – I think there is still more to excavate in this story and it could benefit from another draft or two. I would like to see her writing develop to find it's relevance to a 21st Century audience. At the moment it sits as a snapshot of Joan of Arc's life and obsession with God – a sort of historical theatrical spark note. I think it requires a new frame and a unique theatrical angle. I would also lose all attempt at costumes and endless lighting changes and trust the obvious craft of the actors to physicalize different characters and environments. More of a Grotowski 'Poor Theatre" attack?
Miriam Canfield is clearly fearless and embodies the Joan of Arc quote, "I am not afraid. I was born for this." I applaud her 'gutsy girl' approach – tackling producing, writing, dancing and acting in one project with such conviction and passion. Perhaps the theatre Gods have been whispering to her and we'll be seeing her conquering the NYC theater industry in the years to come?
Running time 60 minutes
The Trial of Faith played January 2- 6, 2018 at The Hudson Guild Theatre.
For more information, click HERE.
© Copyright 2018 by Jeff Myhre, PhD, Editor. No part of this publication may be reproduced without written consent. Produced using Ubuntu Linux.