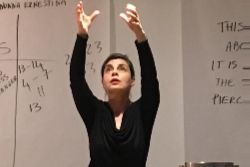 Let Me Cook for You
Theaterlab
Snapshot Review: Completely Engaging
Jacquelyn Claire, Reviewer
Theaterlab presents "Let me cook for you" – an exquisitely intimate dinner party play. Only twelve audience members are given the opportunity to "dine" with Orietta Crispino as she sates your hunger with a masterful memoir. It's one of those truly unique New York theatrical moments that you want to witness.
Orietta is making us dinner. Along with celery, peppers and marinated tofu you'll get to savor the delicious ingredients of foreign accents, past desires, impossible hungers, horoscopes, myths, numerology and blemished beauty. She carves up her past in bite size episodes that offer the flavors of past hurts, impossible longing and searching for home. In the stark white space of the theater she deconstructs her personal story into black markings on the walls. Letters, words, numbers take on striking significance and we look for and find intersections between our own life numbers and her compelling narrative. Orietta is a provocative, charming playwright and commanding performer. You relish in the personal details of her life journey that have found her washed up on different shores looking for a still point, for stability, for a place to fill her insatiable starvation for meaning.
I found Orietta Crispino's performance completely engaging. It's like being at a friend's house, sitting around a dinner table, glass of wine in hand, as she weaves a spicy story about the fallout of her own upbringing with warmth, humor and playfulness. You don't want to go home.
Director, Barbara Rubin, has crafted a perfect dish that is visually appealing and theatrically satisfying. The pace is tight, keeping the audience entranced and curious to know more. She is an expert in creating clarity for an audience with brilliant attention to detail in every moment of the seamless storytelling.
It's an intelligent piece of theater made by three women (assistant director Liza Cassidy has also been instrumental in crafting the work) who understand how to tell an intimate story that makes your feel part of the family. Costume designer, Sara Baldocchi Byrne, sensually clothes Orietta in dramatic black with the perfect pair of black heels that contrast perfectly against the stark white walls. (Orietta fills in all the color with her passionate performance)
"Let me cook for you" is part one of a meal of many life courses. This might have been the main meal but she plans to give us more segments of her life combined with appetizers and desserts etc. in the coming months. You will be able to attend different 'dishes' where along with the latest course you can hear more stories about her extraordinary life. These shows will one day be performed back to back so you have a full course dining experience where you will consume her stories of self that have been stirred into the pot. I can't wait to devour them all.
Let her cook for you, you'll get so much more than what is on the menu and you will leave hungry to know more.
Running time: Running time 60 minutes, no intermission
Let me cook for you plays through December 10, 2017 at Theaterlab on Fridays & Sundays at 5PM
For more information, click HERE
© Copyright 2017 by Jeff Myhre, PhD, Editor. No part of this publication may be reproduced without written consent. Produced using Ubuntu Linux.