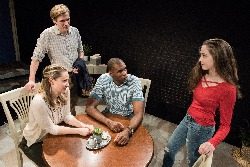 The Thing With Feathers
The Barrow Group Theatre
Snapshot Review: Creepy, Persuasive, Uneven
Marc Miller, Reviewer
Treacherous business, social media. Is that kind voice at the other end really who he says he is? Is he hiding something? Will a casual online encounter have unexpected consequences? Such everyday 21st century ruminations permeate The Thing with Feathers, Scott Organ's creepy little drama premiering at the Barrow Group. The title alludes to Emily Dickinson, of course, and Emily Dickinson is where it begins, with Anna (Alexa Shae Niziak), a clever, restless, Internet-savvy teen, chatting remotely about Dickinson's poetry with Eric (Zachary Booth), her new online friend.
He's so encouraging, so empathetic, so complimentary, what questioning teenage girl wouldn't welcome such an encounter? And what could be the harm? We'll soon find out. Eric, though he doesn't fess up to it at first, is more than a decade Anna's senior. And he tracked her down online for a very specific reason, not to be divulged here. It involves Beth (DeAnna Lenhart), Anna's now-single mom, who's almost engaged to Tim (Robert Manning, Jr.), the longtime boyfriend she's understandably crazy about. He's tall, handsome, smart, measured, thoughtful, and a little dull. He's Obama, and Manning can't make him interesting. Also, if he's a cop, how does he afford an enormous house with a pool, gym, and big backyard? It's one of a few loose threads Organ has left hanging.
Those threads aside, much of The Thing with Feathers is pretty riveting. Eric, a smooth talker if there ever was one, soon insinuates himself into Beth's household, though he says he lives 900 miles away, and ingratiates himself into Anna's existence, building a coy online flirtation into an ardent courtship we can't altogether trust. (Interesting societal evolution here: The thought of a 28-year-old man pursuing a 17-year-old girl might have been titillating a couple of decades back, and only mildly disturbing at the dawn of the Internet; now, post-#MeToo, it's scandalous and, for many, deeply upsetting.) But things are, as the press release for The Thing with Feathers says, not what they seem, and a major revelation about Eric at the first act curtain sends us out into intermission queasy with what's-going-to-happen-next.
Organ's work is largely neat and logical, and he gives each actor—except, arguably, Manning—a chance to shine. Booth is scarily convincing as a charmer with a furtive agenda, and when he tricks two characters we care about late in the play with a brisk one-two punch, it's shudder-worthy. Lenhart mostly has to do concerned-mom things, but when she's allowed to venture into darker territory, gives Beth a hard edge that we didn't see coming, but makes great sense. And Niziak wonderfully embodies the impatience, impulsiveness, and ricocheting emotions of online-era youth—her Anna, while Organ gives her lines that are maybe too clever for a questioning teen, is convincingly quick, self-possessed, and good at lying. Seth Barrish directs the quartet smartly, allowing them to underplay their big moments, and telling us where to focus each minute on Edward T. Morris's cluttered set.
Where Organ stumbles, I think, is in the ending. It's a mother-and-daughter scene, and it's ill-timed. One of them is crushed and disillusioned, one may be in serious trouble that could ruin the rest of her life, and here they are having this cozy chat. We want to know what's going to happen to both of them, and to Tim, and especially to Eric, and instead Organ wants to give us mother-daughter closure where there is none. Most of The Thing with Feathers is persuasive and well-written, but this isn't the right curtain for it. Maybe he needs to work on The Thing with Feathers, Part 2.
Running time:1 hour 50 minutes, with one intermission
The Thing with Feathers plays through Feb. 10 at the TBG Theatre, 312 W. 36th St., 3rd floor
For more information, visit The Barrow Group /Theatre.
© Copyright 2018 by Jeff Myhre, PhD, Editor. No part of this publication may be reproduced without written consent. Produced using Ubuntu Linux.