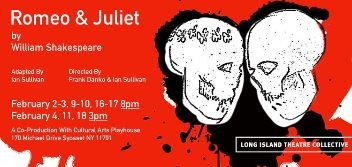 [media-credit id=1 align="alignnone" width="1132″]

[/media-credit]
Romeo and Juliet
Cultural Arts Playhouse, Long Island
Snapshot Review: From Tragedy to Comedy
DB Frick, Reviewer
The Cultural Arts Playhouse, or CAP as many call it, has been utilizing their talent and wielding some of Long Island's best theater for several years now. CAP has been home to many plays and musicals and also applies artist residencies. CAP offers an array of possibilities for fans of theatre and performers alike. Currently in residency at CAP is The Long Island Theatre Collective, LITC for short. For several years now, LITC has been bouncing around several theatres on Long Island and have finally found a home, but like true trubadours of the theatre, I have a feeling you will be able to see them at many different venues in the years to come. This season, the LITC has beared Romeo and Juliet directed by Frank Danko and Ian Sullivan. One of the many deeds that stand out in this fantastic production was its use of music in Romeo and Juliet. I have seen several of Ian Sullivans plays over the last four years, and his use of music can easily be compared to Quentin Tarantino, who always picks musical pieces that make you remember scenes forever — Ian Sullivan has that same knack.
One of the effects that has been come to be expected as a fan and performer of theatre is that somewhere nearby any weekend someone is doing a production of one of William Shakespeare's thirty seven plays. Very few have been able to make the kind of impact on words the way that William Shakespeare was able to compose them some 600 years ago. His tradition and impact was continued this past weekend when the Long Island Theatre Collective premiered in association with Cultural Arts Playhouse a very different take on Romeo and Juliet. This time set in a post apocalyptic future after a devastating earthquake. I know, sounds funny right? Well, it actually is. Yes. Romeo and Juliet was made funny, one of theatres greatest tragedies was made out to be particularly funny actually.
Some of the funniest scenes are with our Juliet played by Isabel Russo and her Nurse played by Taneisha Corbin both played with precise and connected comic timing. Their rapport was seen from the onset. So playful with each other, you really got the feeling the Nurse raised Juliet from a babe and truly knew her. On the other side, we see Romeo played by Riley Scott who had some great banter with Friar Laurence played by Christopher Cuoccio. Their time on stage together was truly fun to watch. The Friar should get an award for world's worst parent. I think even after seeing this show a couple dozen times, I still often forget that all the failings of the love strewn Romeo and Juliet fall onto the adults, The Friar and The Nurse. Their demise is truly the fault of the adults.
Though all roles were played with serious perfection Blake Williams as Mercutio stood out and commanded the stage's presence, as Mercutio should. He got so lost in playing the character I forgot where I was. I felt like I was losing a very witty friend at his demise. Blakes grasp of the language, movement and acting truly made it an interesting piece to watch whenever he spoke. Ilana Landecker pulled off Lady Capulet flawlessly. She reminded me of the same way Bebe Nuewirth would play Lilith on TV's "Frasier," truly acting and being a different person wholey. I hardly recognized her off stage after the show because she played the part so well.
If you're on Long Island and looking for something to do in the coming week Romeo and Juliet will be playing at Cultural Arts Playhouse. February 9th, 10th, 16th and 17th at 8pm and February 11th and 18th at 3pm.
Running Time: 2 hours 15 minutes.
© Copyright 2018 by Jeff Myhre, PhD, Editor. No part of this publication may be reproduced without written consent. Produced using Ubuntu Linux.