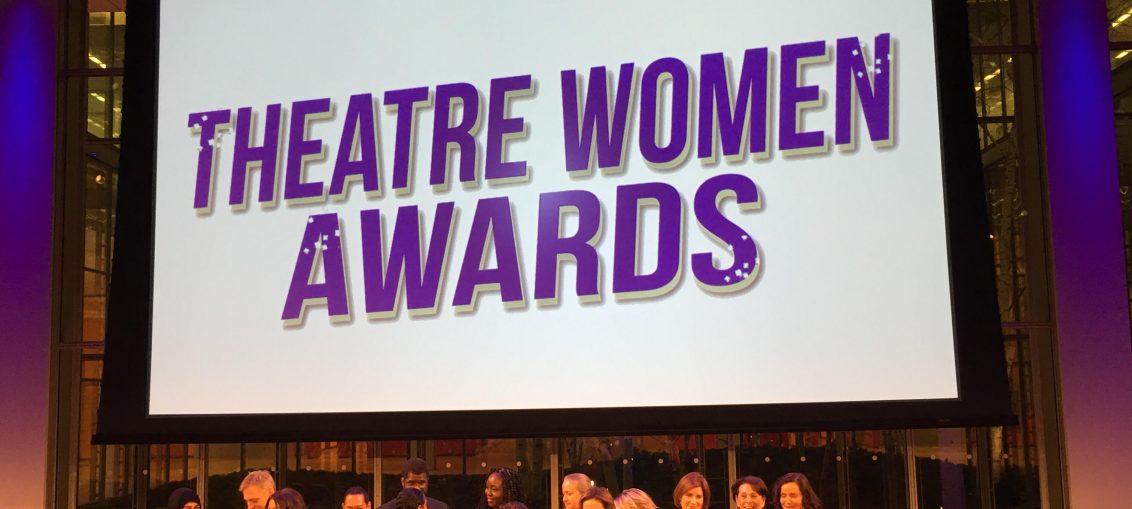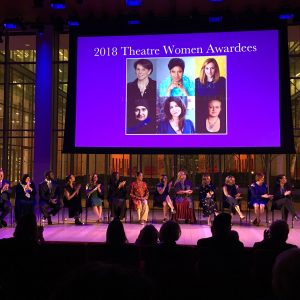 On Friday March 16, 2018 The League of Professional Theatre Women held their fifth annual Theatre Women Awards at The TimesCenter – a sophisticated, intelligent event honoring six women's contribution to the arts.
Kelli Lynn Harrison (Co-President) and Ludovica Villar-Hauser (Co-VP of Programming) started off the proceedings with infectious exuberance. The tone of the event was heartfelt and authentic, creating an atmosphere of intense optimism. They spoke about their efforts towards gender parity in the arts and of the LPTW Seal of Approval initiative that will be awarded in 2018 to Off Broadway theaters in which women make up 50% of playwrights and/or 50% of directors hired in the recent season.
Mahayana Landowne (Co-VP of programming) introduced the findings of the Women Count report authored by Martha Wade Steketee with Judith Binus. Their report covered nearly 700 Off-and Off-Off-Broadway productions by 23 theatre companies for 7 complete seasons and analyzed the status of women employment in 13 roles from playwright to stage manager, in New York City. While the statistics are improving there is still a long way to go to gender parity. But with the dynamic, committed women in the room it felt like the momentum has accelerated and it will be high on the agenda in the industry and is an achievable, necessary goal.
The vivacious host was actor, writer and performance artist, Florencia Lozano who was both playful and perfectly reverential throughout the proceedings. She was as delightfully effervescent as the Champagne toast after the function.
The Lee Reynolds Award is given to a woman whose work has helped to illuminate the possibilities for social, cultural or political change and this year it was awarded to Rohina Malik. It was co-presented to her by Marshall Jones III, the Producing Artistic of the Crossroads Theatre Company and Wayne Maugans, the Founding Artistic Director of Voyage Theater Company. Both gentlemen spoke highly of Rohina's tenacity, commitment and powerful theatrical voice. Her acceptance speech was electric as she spoke about how people told her she could never be an actress because she wore the hijab. She proved them all wrong and created a platform not only for herself but for other Muslim women to take to the stage to share their stories and spread the message of strength in diversity through her productions like "Unveiled", "The Mecca Tales" and "Yasmina's Necklace." Her joyful disposition and positive outlook invigorated the whole room.
The Ruth Morley Design Award is given annually to an outstanding female theatre designer of costumes, scenery, lighting, sound or special effects. Sound designer, Cricket S. Myers was the worthy recipient of this year's award. Director Shelley Butler, presented the award and painted a picture of an artist whose contribution to productions went beyond her exceptional sound design to effect the essence of the show's creation. You felt Cricket's gravitas as she took to the podium and spoke of the need to be mentors to upcoming female designers in order help them to navigate and stay in the industry despite it being a male dominated profession.
The LPTW Special Award is bestowed to a remarkable theatre woman for her service to the League and to her field and was awarded to Linda Winer, Chief Theatre Critic for Newsday from 1987 -2017. Roma Torre, NY1 anchor and theatre critic presented the award and outlined Linda's remarkable 48-year career as a theatre journalist. She also spoke of their mutual disdain of the dumbing down of the journalism profession due to social media cyber noise, where critics are reduced to "click chasers." Her acceptance speech was deeply moving as she spoke about 50-years of being involved in theatre journalism. Although she has stepped away from her position at Newsday she still has many plans up her sleeve and she said, "I'm on a gap year, all the brightest students take a gap year!"
The Josephine Abady Award goes to an emerging director, producer or creative director of a work of cultural diversity who has worked in the professional theatre for at least five years. Emily Joy Weiner, Co-Founder and Artistic Director of Houses on the Moon Theater Company is the recipient of this year's award. Karen Kandel, the Co-Artistic Director of Mabou Mines presented the award and spoke warmly about Emily's ability to create a nurturing, creative environment where everyone's voice is honored. Emily spoke of her love of theatre starting at a young age when she joined The Freelance Players where she learnt that the things that make us different from each other are the most interesting. She has dedicated her career to empathetically listening to and sharing people's human and often painful stories.
The LPTW Lucille Lortel Award is given to an aspiring woman in any discipline of theatre who exemplifies great creative promise and deserves recognition and encouragement. This is both an award and a grant. Director Adrienne Campbell-Holt was given the award and her company, Colt Coeur the recipient of the grant. Actress Celia Keenan-Bolger presented the award to Adrienne calling her smart, curious and observant.
In her acceptance speech Adrienne spoke of women as storytellers and influencers who have a lot to say, and she is proud to be part of a cultural moment that is inspiring a groundswell of new feminist language. She urged the women in the room to keep telling stories that put dynamic women at the center and to keep challenging the status quo of what those women look like.
The final presentation was the The Lifetime Achievement Award that honored the iconic Phylicia Rashad. The award was presented by Ghanaian-American writer/performer, Jocelyn Bioh who spoke of Phylicia as one of her "Sheroes." Jocelyn asked Phylicia's daughter to describe her mother in three words and she said, "clear, regal and legendary". When Phylicia took to the stage she absolutely personified those characteristics. She honored her lineage saying, "My entire career has been nurtured by women. When women come together there is a magic especially when we come together in support and recognition of one another." She honored LPTW for it's recognition of women's inherent creative capacity and the determination to fulfill and express it.
The event concluded with the launch of a new social media hashtag – #onemoreconversation that has the aim of gender parity in hiring. It encourages directors, artistic directors and other decision makers to take the time to interview more women in the process of choosing their theatre company complement. The request is to just have #onemoreconversation –with a woman artist, technician, or theater professional –before making a hiring decision. There is an opportunity for the public to buy raffle tickets to win some exceptional prizes while supporting The League initiatives at the same time. You can buy these online at http://bit.ly/2DvwnOP until March 24, 2018.
It was an inspiring and uplifting event. I loved how each presenter and honoree had time to give meaningful speeches that gave you insight into their work and their respect for women in the industry. Each speech was beautifully executed and a delight to experience. They were exceptional stories delivered by master storytellers honoring the epic female contribution to the theatre world.
To find out more about this incredible organization go to www.theatrewomen.org or follow them on www.facebook.com/LPTWomen
or on twitter @LPTWomen