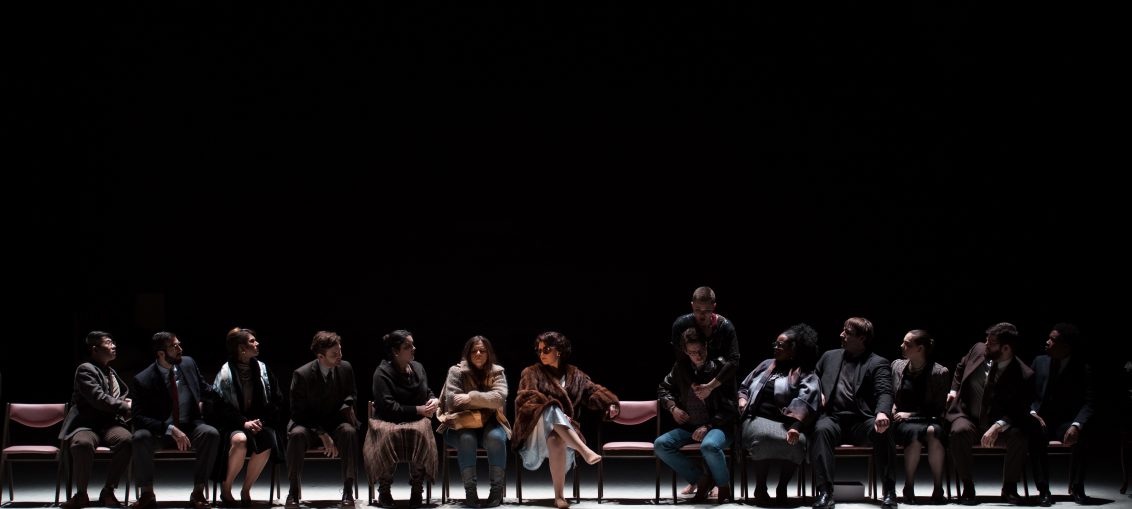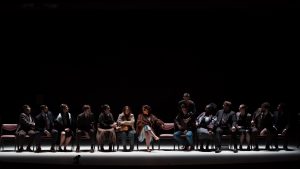 2018 marks the 100th anniversary of Leonard Bernstein's birth.  Accomplishments such as the first American music director of the NY Philharmonic, music educator who united the concert hall with television, and composer "West Side Story" fill more than one lifetime.  Yet that formidable legacy overshadows his lesser-known work worth knowing, including "A Quiet Place." On March 13, 2018 his alma mater, the Curtis Institute of Music, visited from Philadelphia for a single performance of the 1983 opera at The Kaye Playhouse at Hunter College.
"A Quiet Place" is the sequel to Bernstein's 1951 "Trouble in Tahiti".  Both are one act, and Bernstein once even revised "Quiet Place" inserting "Tahiti" as its flashback.  For their production, Curtis performed the Garth Edwin Sutherland chamber version commissioned in 2013 by the Bernstein foundation.  "Tahiti"' followed Sam and Dinah, a troubled suburban couple.  It was left for the audience to decide whether their reaffirmations of love are enough to keep them together…
Which they were until the late-1970s-early 1980s. During"Quiet Place"s" opening, a boozy Dinah (mezzo-soprano Siena Licht Miller in a non-singing role) dies in a suicidal car crash.  Along with Sam (bass-baritone Tyler Zimmerman), her survivors include Junior (baritone Dennis Chmelensky), an child in the first opera, and daughter Dede (soprano Ashley Milanese).  Dede is married to Francois (tenor Jean-Michel Richer), a French Canadian Junior met and fell in love with when he dodged the Vietnam War draft.
There are several reasons why "A Quiet Place" was considered problematic at its premiere.  While suicide, alcohol and unhappy marriages are the norm in opera, in the 1980s they were never depicted in a contemporary settling with characters closely resembling Bernstein's NY Philharmonic subscriber base.  Mourners' comments and family conversation are empty words.  Additionally, gay composers such as Bernstein and Benjamin Britten didn't disguise their sexuality in their music.  The characters singing librettist Stephen Wadsworth's words sound as hateful, awkward and insensitive as they did in pre-AIDS America.  There is nothing  Mozartian or musical comedy about the menage a trios of brother, sister and boyfriend/husband.  The three have an arrangement with more problems then the sibling's parents.
Another possibility for "Quiet Place's" musical footnote status is that audiences then and now wanted another "West Side Story".  That combination and  collaboration of genius is almost impossible to replicate.  There is some finger-snapping, but the opera is darker than either "West Side Story" or its predecessor.  The music is recognizably Bernstein's with some jazz and a lot of color.  He briefly references his other scores such as "On The Waterfront", the clarinet concerto he wrote for Benny Goodman, "Candide". and "Trouble in Tahiti".  The latter occurs when father, son and daughter communicate without fighting.
The Curtis Opera Theatre soloists and Curtis Symphony Orchestra conducted by Corrado Rovaris performed the opera lovingly.  Technically "students", they are already professionals with promising futures.  Unburdened by "experts" or conservative subscribers but in front of an enthusiastically curious audience allowed for a fair hearing.  Director Daniel Fish semi-staged his recently acclaimed Curtis/Opera Philadelphia production also worked in the opera's favor.  The family, their "friends" and Dinah the Elizabeth Taylor lookalike sat a row of chairs borrowed from the funeral parlor.
"A Quiet Place" is better than an unexpected surprise.  It's Bernstein.
Running Time: 100 minutes without intermission
"A Quiet Place" was performed by the Curtis Opera Theatre on March 14, 2018 at the The Kaye Playhouse at Hunter College (East 68th Street between Park & Lexington Avenues, NYC).  Information on the Curtis Institute of Music is on their website, along with their Bernstein at Curtis archive.  A full listing of Bernstein centenary events is available at Bernstein at 100.