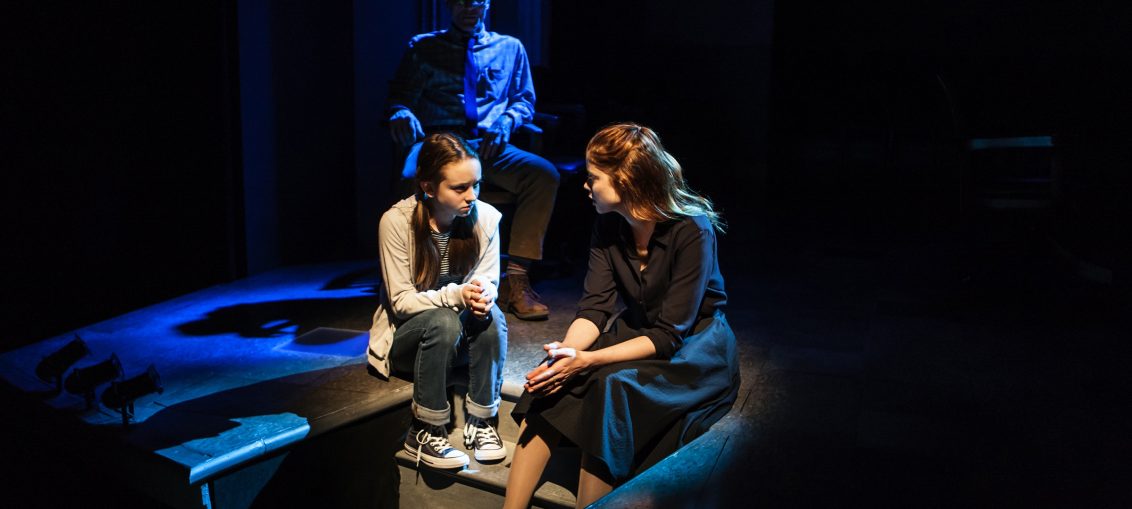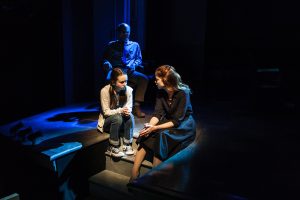 Non-spoiler alert: the title character never appears in David Rabe's "Good for Otto", making its New York premiere onstage at the Alice Griffin Jewel Box Theatre at the Pershing Square Signature Center.  Unlike Harvey the rabbit, the beloved pet hamster really exists.  His well-being is one of several crises in Rabe's passionate exploration of mental health providers and patients.  Like the subject matter, there are no easy solutions.  Such long-term perimeters limit the play's message that even its accomplished cast cannot answer in three hours.
Rabe returns to his familiar theme of the extended family created by circumstance. Drs. Michaels (Ed Harris) and Ryder (Amy Madigan) run an underfunded, understaffed rural Connecticut mental health facility.  Taking advantage of both Puritan Meeting Rooms and that operating rooms were originally called operating theaters, director Scott Elliott seats the cast and several audience members in rows along and in back of the Alice Griffin.  Among those having regular sessions center stage are Timothy (Marc Linn-Baker), Otto's mentally challenged owner, Barnard (F. Murray Abraham), who dislikes getting out of bed, and Alex (Maulk Pancholy), a young man struggling with his sexuality and self-esteem.  Dr. Michaels's most difficult case involves Frannie (Rileigh McDonald), a psychotic young girl whose self-inflicted cutting and hinted sexual abuse drive her caring foster mother Nora (Rhea Perlman) to her own limits.  Unwilling to commit her to a state facility, he attempts reasoning with insurance representative Marcy (Nancy Giles) in a series of phone calls to have the girl placed in a private hospital.
These struggles are enough for two acts.  There also ghosts haunting Dr. Michaels 's overstretched psyche.  Jimmy (Micheal Rabe), who died either a suicide or accidentally drunk, is understandable because he's unsolvable.  Yet Mom (Charlotte Hope), who killed herself when the doctor was a child, is shrill rather than sympathetic.  His hatred of her needs no explanation.  At one point he pushes the office chair she's sitting on into the wings, where she should have stayed.
Dr. Micheaels believes in the power of music.  This is a proven, undeniable fact, but awkward singalongs of "Moonlight Bay" and "Glowworm", like the dead mother, stall the play.  It is also an unfortunate reminder of psychiatric sitcom stereotyping.  Barnard particularly hates it, which makes sense in this production because F. Murray Abraham's voice is a beautiful instrument.
What never detracts is Rabe's symbolic tributes to American literature.  The clinic is not far from the Berkshires, where Hawthorne wrote of the "storm" gods tormenting Frannie.  "Evangeline" is the heroine of Longfellow's poem of love, exile and loss.  Her fascination with Trolls is logistical, as Washington Irving's lived in the Catskills.  Then, these "Nobodies" share a bond with the "Nobody" from Amherst, Emily Dickinson.
Despite uneven writing, "Good for Otto" is worth seeing for its cast.  Ed Harris and Amy Madigan add to their impressive New Group résumés as the (unmarried) caregivers who keep finding the inner strength to go on.  Mom is a thankless role, but Charlotte Hope gives her a harsh "Peyton Place" demeanor with Anne Sexton's rhythmic voice.  Mark Linn-Baker's Timothy isn't exactly cuddly either, but is convincing.  Rileigh McDonald and Rhea Perlman are in perfect sync as the almost-mother/daughter unable to communicate with each other.
Running time:  2 hours and 55 minutes with one intermission.
The New Group presents "Good for Otto" through April 15, 2018 at the Alice Griffin Jewel Box Theatre located in the Pershing Square Signature Center (480 West 42nd Street, NYC).  For tickets and further information, please visit The New Group's website.