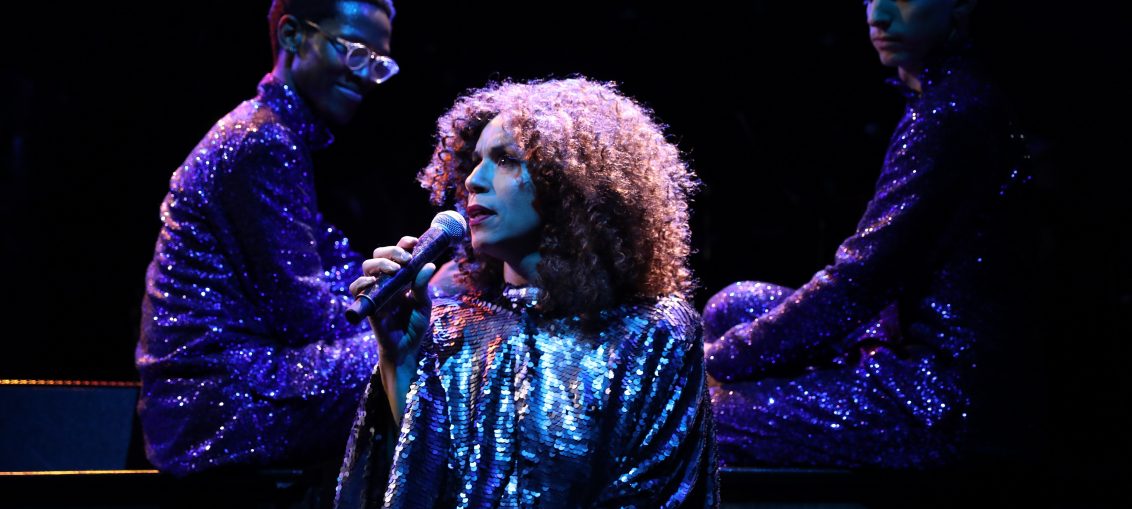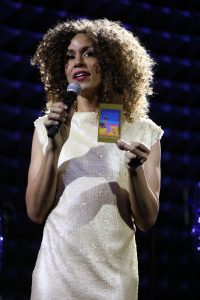 Jomama Jones is a celestial goddess,  a High Priestess from the cosmos who has come down to Earth through the channel of Daniel Alexander Jones, to inspire and teach (but never to preach) in Black Light, a godsend of a production now playing at Joe's Pub at the Public Theater, as part of the mainstage season, through March 25th. There's even a specialty cocktail to mark the occasion, featuring activated charcoal with a purple glow stick as a stirrer to offset the darkness. We could all use a bit of aura cleansing and illumination at such crossroads, and an evening with Jomama ensures your soul leaves sparkling, or at least a little lighter.
The ritual begins in the dark, with the gentle clanging of wind chimes and a single candle lighting Jomama's path to meet her sonic comrades: the stellar combination of Tariq Al-Sabir on piano and vocals, Sean Dixon on drums, Samora Abayomi Pinderhuges on keys and vocals, Josh Quat on guitar and vocals and the deep bass lines of Michelle Marie Osbourne. Their complex yet fluid blend of pop, rock, soul and even disco, are complimented by vocalists Trevor Bachman and Vuyo Sotashe, dubbed "the Vibrations," who flank the diva in sapphire blue glittering space-age suits. On a Sunday night in March, this is the Church of Now, comprised of a community of New Yorkers seeking to "be a witness" to this tender, emotional and at times uproarious journey of joy and sorrows, told through sagas and songs, with Jomama as what Public Theater's Artistic Director Oskar Eustis calls, "A wonderful guide to the America we dream about."
Jomama's stories, interlaced with powerful anthems performed with depth and passion from the versatile band and vocalists, vary from a childhood crush on Prince to summers in the American South with her Aunt Cleotha – a "witness" at her church. A "witness" is one who stays up all night and keeps watch, rather than being a passive observer. They take responsibility when and where others do not. All of Jomama's tales are profound and yet so humorous and charming that when I queried the channel and creator Daniel Alexander Jones on their authenticity, he grinned like a Cheshire cat and stated, "They are real to Jomama."
Indeed, the memories of her youth weave a tapestry of America, with lighthearted and relatable anecdotes which take a sudden, unexpected twist into dark places which explore race, gender, identity and social dynamics. These sharp turns at the crossroads only prove the High Priestess' ability to lift you to the stars, only to drag you to the depths of the bottom of the ocean. Black Light is an apt title for this show.
Visionary costume designer Oana Botez's sensational and otherworldly gowns are composed of thousands of sparkling sequins in every shade of the rainbow. They cling to Jomama's long, lean silhouette like stars on the night sky. The hue and shape of each vestment reflect mood and transitions, for her entrances in a new frock serve as a prelude to the vibe of the songs to come. The music clearly reflects Jones' desire to, "Convey the binding cultural and political force of Black music, and the impact of its pantheon of stars," from which Jomama was birthed, like Venus de Milo with an afro, in 1996. These influences are all present in the soundscapes and spirit of Black Light, yet it would be pointless to make references or name names, because though there are many inspirations, guardian angels and supernovas of past and present guiding Jomama and bestowing their blessings, the music is uniquely her own.
When speaking to Daniel Alexander Jones post show, I asked for his thoughts on what he and his alter-ego wish for audiences to take away from this collective journey? He replied: "What I want everyone to take from this is to hold space for other people's feelings." After an evening with Jomama, one's heart and soul are so blissfully pried open that there seems plenty of room for such a selfless wish to be fulfilled.
Perhaps this all sounds rather esoteric. Maybe it is. To that Jomama scoffs, "New Yorkers shudder at the word 'imagination,' but my people came from a long line of imagination." It very well could be that this highly entertaining sojourn through light and darkness simply intends to lead us back to our own spirit and imagination, with the one-and-only Soulsonic Superstar Jomama Jones as our guide – the High Priestess of the crossroads!
Running time is 80 minutes with no intermission
For Tickets and more information: www.joespub.com / Phone: 10AM-7:00PM, daily 212-967-7555, In person: The Public Theater Box Office, 425 Lafayette Street, NYC (Opens daily at 2PM)