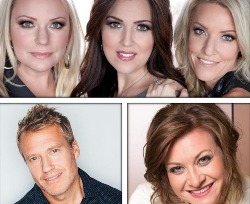 "What I love about this is that it takes a lot of ordinary people and gives them an extraordinary experience," expresses Phil Barfoot, described in the program notes as "an internationally known composer, author, and music ministry professional who has written and created more than 40 major choral collections and musicals that collectively include more than 300 songs." A little over an hour before the Seventh Annual Christmas in New York, Barfoot and his wife Sheri gathered in their dressing room at Carnegie Hall to disclose details of the evening's premiere: "The Worship of Christmas". Every year, Celebration Concert Tours Inc. brings hundreds of church choir members together to check some major items off their bucket lists. Not only are they visiting the Big Apple, some for the first time, but the singers are coming together to perform at the renowed Carnegie Hall. "We want to respect and honor the building," assures Barfoot, "and we still manage to bring a sense of life and movement to the stage." Phil and Sheri travel the world with their choirs every year, reaching New York, Italy, Israel, Ireland, Eastern Europe, and more. They handle the details, and their choir members get the experience of their lives.
The evening opened with an up-tempo rock remix of "Angels We Have Heard on High" called "Gloria" by Michael W. Smith. Charles Billingsley, featured soloist with over 3,000 concerts under his belt, outlined the melody with his smooth, inviting tenor while the so-titled American Festival Choir joyfully harmonized the supporting chords. The piece was followed by "Call His Name Jesus", a salsa carried by warm brassy undertones, during which the audience was invited to clap along, identifying the community-based participatory nature of the event from early on. In "God is with Us", a premiere from Barfoot and his partner Rebecca J. Peck, featured soloist Taranda Greene demonstrated her smokey, powerful sound, crooning the southern gospel-styled piece with perfect clarity of tone. The infectious and pensive spirit of the choir was palpable throughout the auditorium.
Another piece of note was entitled "Lord of Heaven with Holy, Holy, Holy", a serene and worshipful ballad penned by the Barfoot/Peck duo. Taranda Greene's astonishing boldness of sound executed each note with flawless delivery. The singer began her career with the Southern gospel music group The Greenes and has since become a popular force in Christian music. "Lord of Heaven with Holy, Holy, Holy" is undeniably a new hymn for the books. The following number, "Festival of Carols", was a medley of well-known Christmas carols, designed to invite the audience to stand and sing along. "Our audience brings the whole family together. We want each and every person in the room to feel involved with the music," explained Barfoot.
The choir was introduced by the conductor/composer, who called out each of the 11 participating states by name. Overall, 18 different churches and schools were involved this year, totaling 300 choir members from ages 14-84. Additionally, the St. Gregory the Great Academy Choir, comprised of 64 Fifth to Eighth graders, graced the stage for a couple of numbers. "Each choir starts rehearsing in their own church around June," informed Barfoot, "and we all come together in New York City two days before the concert." Of those first unified moments of rehearsal, Barfoot emotes that "It's cool. It's so powerful. It's really emotional because these people have invested so much, having this on their calendars for so long."
Point of Grace, the Grammy nominated and Dove award winning all-female trio, performed some of their signature Christmas hits as well a brand new title from their "Sing Noel" Christmas album, newly released in October of this year. Point of Grace has long since dominated the Christian music scene, and the audience was actively enthusiastic for their performance. "When Love Came Down" was a familiar highlight, with soft, expressive harmonies layered to united perfection. From their new album, the ladies offered a gentle arrangement of "Angels from the Realms of Glory", a joyfully spirited take on the classic song. They also performed an acoustic rendition of "Immanuel", and a soaring quartet of "Let There Be Light", joined by Charles Billingsly. The generous women fully embodied the graceful spirit of the season with both their adoring sound and their inviting presence.
"There's a lot of variety in the lineup – it's very high energy," Barfoot appropriately described. Other highlights included a gorgeously arranged reimagining of Puccini's Nessun Dorma, rescripted with text describing the birth of Christ. A reverential quartet skillfully delivered the renowned melody in accord. In "Celtic Worship", Barfoot and Peck used classic carol lyrics to form a new melodic creation. The lithe lute melodies flowed into well-constructed layers, nicely featuring live piano riffs in a clear demonstration of Celtic folk music.
The finale, with borrowed melodies from Handel's Messiah, was constructed into a comfortingly repetitive rock by Barfoot. The refreshed accompaniment well complimented the elated choir, who invited the audience to join in. After much applause, the choir and soloist Taranda Greene sang "Joy to the World" to finish the concert with a unison "Merry Christmas"! "I know it sounds corny," admitted Barfoot, "but tonight, I will hug every person on that stage. It's important that everybody feels loved. I always view this night as a little taste of what I picture heaven will be like." Over and over, Barfoot repeated his sentiment of gratefulness. Gratefulness for the opportunity, gratefulness for the spirit of the choir, gratefulness for his team. The concert was most certainly a shining example of the essence of thanksgiving, serving as a jubilant kick off to the Christmas season.
Read more about Barfoot & Celebration Concert Tours here.