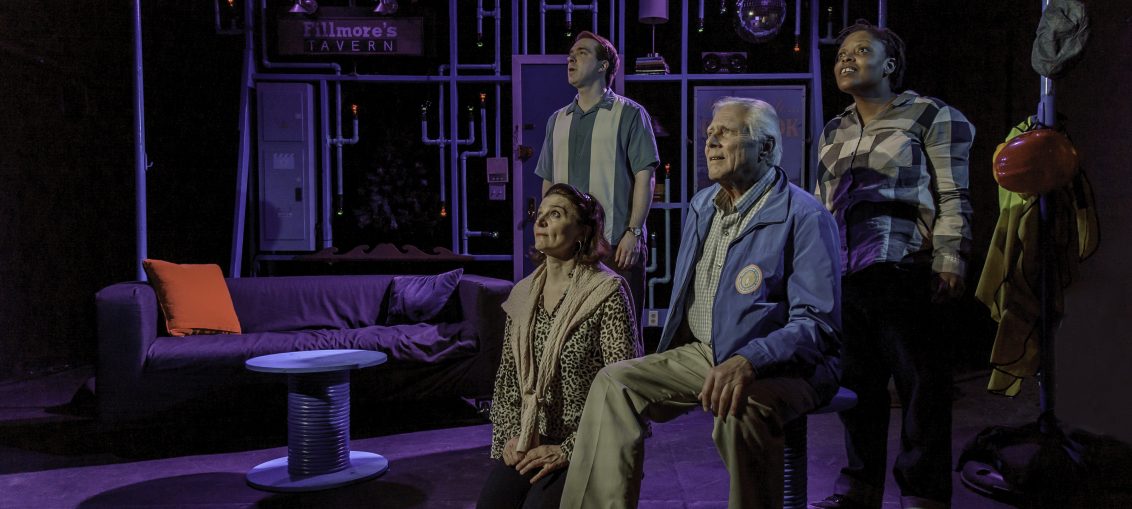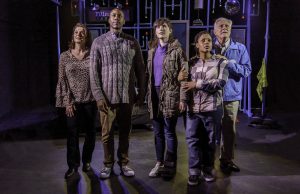 ALTERNATING CURRENTS is a heart-felt ode to the utopian ideal of community driven co-op housing in NYC. It's a gritty excavating of systemic racism, union failure, mixed race marriage challenges and the desire for belonging. It poses probing questions about community engagement and the pressures associated with toeing the line. It's a slick, energetic production that scratches beneath the faded veneer of the golden age of post-World War II American prosperity.
The Working Theater's Five Boroughs/One City Initiative encompasses five teams of commissioned writers and directors tasked with collaborating with working people to create an original play that is firmly rooted in the cultural identity of the neighborhood. Playwright, Adam Kraar, has extensively researched this development that was the brain child of Harry Van Arsdale, Jr., the leader of Local 3 of the International Brotherhood of Electrical Workers from 1933, who spearheaded Electchester in 1949 on land bought in Pomonok.
Kraar seeks to use the microcosm of this environment to discuss larger issues regarding unions, patriotism, low wages, race issues, gangs and drugs in housing projects, "glory days" debilitating thinking, inter-generational conflict and issues facing 21st century couples. There is so much meat in this text that it feels like it should be a series. We only get little tastes of characters and situations but it would be great to be able to deepen all of the story arcs so they could be a little more meaningful for the audience. It is such a great springboard to dissect this homogenous, residential "white" enclave of the past and look at its impact on the surrounding area over the years.
The play transplants us into the epicenter of the Electchester, an estate for skilled trade union workers, where a newly married couple (Luke and Elena), both electricians, have bought an apartment in this housing development in Queens. We meet the neighbors and the management – "hearing" their life stories, challenges and their hearkening to the "good old days". Elena jumps into volunteering on numerous committees which places strain on her marriage as she is never at home. Added to the couple's relationship tension is Luke's, an African American, struggle with the racism he feels is prevalent in the complex in 2018.
Kareem Fahmy has expertly directed this helter-skelter through the many spaces of Electchester in search of what "powers" its community. There is a focus on "physical theater" where actors continually transform into various characters, and the scene changes are rapid and seamless. He keeps our attention with a whip fast transitions and interesting staging.
Liba Vaynberg as Elena is captivating as the millennial in search of connection and belonging. She has grace and ease on stage with a great emotional range and depth. Jason Bowen as Luke is a potent force with a strong presence and ability to convey subtext brilliantly. Brian Sgambati, Robert Arcaro, Rheaume Crenshaw and Antoinette laVecchia are the delightful support cast chameleons bringing Electchester to life through their many characterizations.
I found David Esler's scenic design to be absolutely exceptional. The space was gloriously transforming thanks to the ingenuity of the multi-functional set that also stayed true to the electrician's "toolbox". Small electrical "cotton reels" for seats, metal pipes and electrical cords formed a stunning frame for the piece. Scott Bolman's lighting design was fabulously in tune with the script ensuring that light (electricity) was dominant throughout, almost as if it was another key character in the mix.
You can clearly see the evidence of the hard work that has gone into this production. However, I thought it got a little sentimental at times and the complexities of Luke and Elena's marital conflict too easily and simply resolved. You can see that the research yielded wonderful characters and situations but perhaps there are just too many strands for the length of this piece. I do think it raises vital questions and is an excellent vehicle to generate debate in the audiences who come to watch it in the five boroughs.
Running time: 85 minutes without intermission.
"Alternating Currents"  runs April 26 -28: IBEW Local 3 – 158-11 Jewel Ave, Queens, May 1-20: Urban Stages – 259 W 30th street, Manhattan, May 16: Bronx Museum of the Arts, 1040 Grand Concourse, Bronx, May 22-24: Snug Harbor Cultural Center – 1000 Richmond Terr, Staten Island, May 26: RiseBoro Youth center – 1474 Gates Ave, Brooklyn.For more information and tickets visit https://web.ovationtix.com/trs/cal/35029