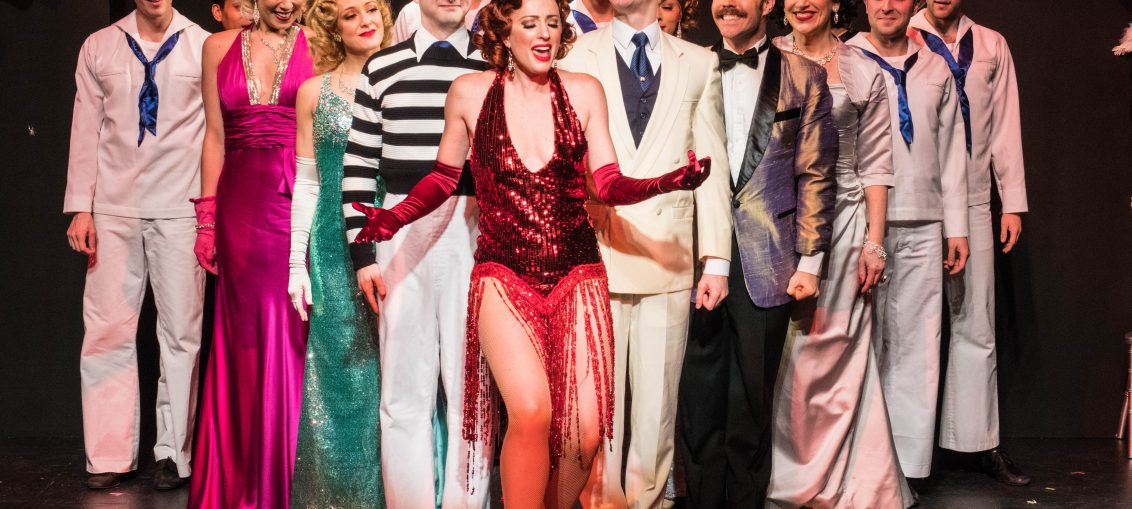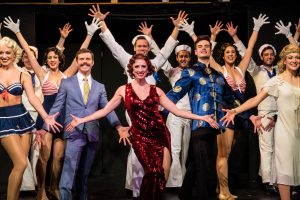 I have had delicious earworm of "Anything Goes" since I saw this vivacious production at Theatre Row. Musicals Tonight! is having an epic 20th anniversary spring season with work that is truly exceptional. I had the great pleasure of seeing their brilliant "Boys From Syracuse" last month and with "Anything Goes" this month they are exceling at knocking our socks off. This 1934 Cole Porter classic must have been a joyful oasis and vital antidote to the Depression years. I left feeling so optimistic about everything – "It's delightful, it's delicious, It's de-lovely! It has an infectious happiness about it dished out by a cast that seem to be have all swallowed bottles of the elixir of youth – they were vibrating with pure sunshine coursing through their veins. It was hard not to get swept along by the tide of their effervescence.
We're on board the S.S. American luxury liner as it makes it's voyage towards England. The sultry nightclub singer, Reno Sweeney is making the crossing along with her friend Billy Crocker, who has snuck onto the ship to be near his love, Hope Harcourt who is engaged to marry someone she doesn't love. The guest list includes public enemy #13 Moonface and his sex addicted sidekick, Erma who are in disguise to escape the authorities. There are love triangles, mistaken identities, over the top disguises, blackmail and an endless parade of tap-dancing sailors. Reno and Moonface are soon roped into helping Billy to win Hope's heart.
It's such fun to watch. Jack Maisenbach, the costume designer, gets my undying adoration thanks to his spectacular costume designs. They are like a production on their own. You want to give him his own show at fashion week. I couldn't wait for the next big musical number to see how he was going to transform the cast. They are simply beautiful. They add such glamor and spice to Casey Colgan's exquisite direction. Colgan is also the choreographic genius of the piece. I can't believe how much magic he created in such a small space. He never once let the space dictate the scope of the show stopper – giving us one fantastical dance sequence after another. It's such a visual feast of steps and tapping and kick lines and high kicks and pure electricity. He has a special gift for finding the perfect balance between fast comedic pace and gentle moments of slow burning romance. There are so many people on stage but he makes sure we are always focused on the right part of the action. I think his work is exhilarating.
Musical director and vocal arranger, Christopher Stephens has done a wonderful job of crafting the right "sound" of the era. The company are strong vocally and he brings the unforgettable hits from the show to life with such skill. I particularly loved "You're the Top", "Blow Gabriel Blow, "It's De –Lovely" and of course "Anything Goes".
Meredith Inglesby as Reno Sweeney takes your breath away. She knows how to fill every inch of a theatre with her commanding presence. A powerhouse triple threat that has you spellbound from the get go. Her Reno is sultry, sexy, cheeky, romantic and above all playful. Nick Walker Jones as Billy Crocker has a voice that sounds like caramel, Nutella and honey all rolled into one. You can't get enough. He is a charming leading man able to keep the audience attention throughout with his honest, heartfelt performance. Beth Stafford Laird as Hope Harcourt, Billy's unrequited love, is the sweet ingénue with a singing voice more memorable than a Rose-breasted Grosbeak.
I particularly loved Brian Ogilvie (Evelyn Oakley) performance as the foppish, British lord desperately trying to understand the complexities of the American turn of phrase. His "The Gypsy in Me" was hilarious and he gives a fantastic comedic performance with his detailed characterization. Carlos Lopez as Moonface, the criminal, is pure, undiluted funniness. He just has those very funny bones. You laugh your face off at his antics – a stunning performance! Jessica Moore as the siren Erma instantly turns up the temperature in every scene she is in. She is on fire as the sexually empowered criminal side-kick.
I could not take my eyes off Nic Thompson as the Captain. I don't know if I have ever seen anyone having such a great time on stage. He is luminous. Energy pumps out of him and he gives 1000% to every moment. He could probably power the entire lighting rig with his electric performance. Thompson is also a majestic dancer. His high kicks reached the ceiling.
Mark Coffin as Elisha Whitney, Jan Leigh Herndon as Evangeline Harcourt and Blake Spellacy as the Purser all turned in lovely, character driven performance's in the supporting roles.
But it is the ensemble who are the real show stealers. Jordan de Leon (Luke), Albert Hsueh (John), Cameron Benda, Briana Fallon, Spencer S. Lawson, Cameron Lucas, Becky Elizabeth Stout, Alexandria Van Paris, David Visini, Daniel Scott Walton and Kristen Welsh are so watchable. They are exceptional dancers and singers able to ignite the stage with their exceptional commitment. They look like they are having the best time of their lives up there and it feels so good to witness them in their element.
I loved every moment of this exuberant, polished revival. It thrusts positivity on you and makes you want to tap dance on your parquet flooring in your slippers whilst singing "Let's Misbehave" until the neighbors below bang on the ceiling with a broom!
Running time 2 hours with one 15-minute intermission
Anything Goes plays from February 27 – March 11, 2017 at The Lion Theatre at Theatre Row 410 West 42nd Street
For more information, click HERE
Children under the age of 4 are not permitted in the theatre
World