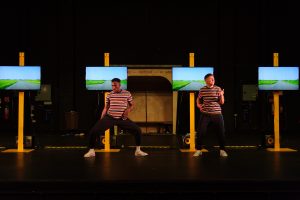 "From my childhood I have no happy memories. I don't mean to say that I never, in all those years, felt any happiness or joy. But suffering is all-consuming: it somehow gets rid of anything that doesn't fit into its system."  Édouard Louis
Young Adults are not the usual Next Wave Festival crowd, so BAM's new Artistic Director David Binder included them in his inaugural season of debuts.artists.  He and Next Wave couldn't have made a wiser choice than selecting Pamela Carter's adaptation of Édouard Louis's autobiographical novel The End of Eddy.  The joint production of Scotland's Untitled Projects and the U.K.'s Unicorn Theatre  chronicling the author's turbulent coming out and getting out will resonate regardless of gender identity or age.  The moving and innovative 90-minute adaptation is playing at BAM Fisher through Thursday, November 21.
Édouard Louis was 22 when En finir avec Eddy Bellegueule was published in his native France in 2014.  His action-movie first name and "beautiful face" last name were reasons enough to be picked on.  Then, from an early age Édouard/Eddy knew two things about himself: that he needed to escape the impoverished, narrow-minded factory town Hallencourt and that he was gay.  Unlike the privileged world of Call Me By Your Name, his overworked mother and alcoholic father offer no support.  Neither does anyone else.  There are years of beatings from two school bullies he endured in silence. The play includes the incident when his mother catches Eddy, his cousin and two other boys having sex and the subsequent shaming that only the 10-year-old suffered.  Things got so bad he tried convincing himself he was straight.  Education provides the teenager a mental, physical and sexual out.  The final break with the past came when Eddy Bellegueule changed his name to Édouard Louis.
Édouard/Eddy is one in the same, but Carter divides the part between Oseloka Obi and James Russell-Morley.  These two young actors who share lines and background information on the source material are already confident, likable professionals with – here, the cliche is fact – bright futures.  In addition to being each other's persona, director Stewart Laing has them play other characters (their parents, the bullies, siblings, etc.)  prerecorded on four large TV screens.  The choice of TV is appropriate, since Eddy's home life is centered, make that dominated, by it.  (Nothing is said directly about Eddy's twin brother and sister being named Vanessa and Rudy, but it's proof that the Huxtables and "Must See TV" were indeed everywhere.)
This compelling, faithful adaptation emphasizes Louis's belief that poverty creates unofficial accepted bigotry, suspicion of "the other" and resentment.  He's far from the first to say so.  Yet the chronically poor and marginalized in France where the author grew up, in England where his book was staged and in America where it is being performed, ingrained ugly hated is becoming acceptable.