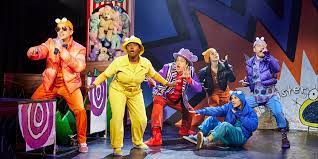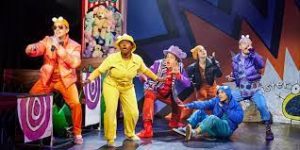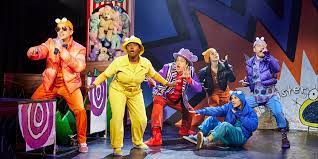 Children's theatre is usually treated as an afterthought (if it is thought of at all), not as important as anything done for adults. Disney has given us some exceptions to this, but few production companies have the resources and the marketing power the House of the Mouse has. TheatreWorks USA has taken a different track with Cat Kid Comic Club, by Dav Pilkey. Pilkey is the author of the Captain Underpants books, and TheatreWorks turned his DogMan spin-off book into a musical a few years ago. Having sold 50 million copies of his works, Pilkey is a known-quantity to youngsters and, therefore, is commercially viable in ways others are not.
The Cat Kid Comic Club is an hour-long romp through childhood silliness. It begins with the End of the World brought on by tadpoles under an evil influence. After the world is saved (about 3 minutes in), they are adopted by the villain Flippy the Cyberfish from the Dogman story (who is now a good guy having been saved in the previous musical). Flippy (Jamie LaVerdiere) soon realizes that fatherhood is hard. To help keep his new kids out of trouble, Cat Kid starts a comic book club. The plot is largely an opportunity to break into songs about a Toothbrush that wants to be a lawyer for Dinosaurs, about a little fluffy cloud of Death, and so on.
Most of the cast appeared in Dogman, and their professional past has established an ensemble feel that a lot of adult productions fail to achieve. The wonderful interplay between Naomi (Markia Nicole Smith) and Melvin (Don Rosales) captures the brother-sister dynamic every parent has experienced.
Brad Alexander's music is not quite Stephen Sondheim but neither is it Fischer-Price. It would not be out of place in any other off-Broadway show in its composition and artistic ambition, while Kevin del Aguila's lyrics clearly mark it as kid-friendly. At the same time, the rhymes are quite ambitions (scribbling with sibling is hardly a child's pairing).
But that is the opinion of a grandfather. I invited a pair of real-life kids to give their opinion. Stagebiz is proud to publish the reviews from Elise Ellis, a soon-to-be fifth-grader in Queens, and Elianna Hall, who is entering high school in Brooklyn this autumn.
A Fifth-Grader Reviews Cat Kid Comic Club — by Elise Ellis
I have been a fan of Dav Pilkey for a long time. I saw Dog Man the Musical a couple of summers ago, and I really liked it. So I was pretty excited to see the Cat Kid Comic Club.
Flippy the Fish adopts 21 tadpoles to raise, and he finds out being a dad is hard. His friend Cat Kid helps him start a comic book club to help them behave.
The acting in the show was good. I really liked the way Naomi and Melvin behaved like brother and sister, with teasing and fighting and telling on each other. That was the funniest part. I also liked the way the actor who played Cat Kid voiced Molly Pollywog. I thought at first it was an actor from offstage, but I realized it was not.
The music was not like kids music. The words were for kids but the instruments sounded more like real grown-up music like it was not a kids' show. The dancing was all right. It fit the show but it was not the main point of the show.
When I came in, I liked the sound effects before the show, and the scenery looked like a Dav Pilkey book. It was really cool.
This was a good show for kids ages 13 and under, and maybe for older kids if they really like the Captain Underpants stories.
Cat Kid Entertains Older Kids by Elianna Hall
Despite my age, I enjoyed Cat Kid the Musical very much. I saw Dogman the Musical a few years ago, so I was exicted to see this. As a 13 year old girl, I find it impressive that a musical that seems so childish was interesting enough to make me want to watch it again.
The jokes were funny. The songs and singing were on point. I really enjoyed the voices, and the actors can sing very well. And I was mainly entertained the entire time.
The only thing I found upsetting was the basic plot of the musical. I personally enjoy songs that help the plot thicken or introduce new issues or characters. In Dogman, that is what happened. But in this musical, not every song made a difference to the plot at all. It isn't a big deal, but that was my only problem with the show.
The audience around me were lauging and were surprised in a couple places.just as I was. I would say I'm not the only one who enjoyed the show. And overall, I really would watch it again. Just for the fun of it.