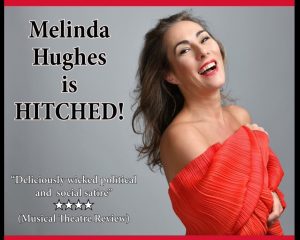 Melinda Hughes, a British cabaret act, brought her talents to the New York City stage with an unforgettable performance of her one-woman musical, "Hitched," at Dont Tell Mama. This satirical musical, which explores the ups and downs of married life with wit, humor and powerful musicality, proved to be an evening of pure entertainment for audiences.
From the moment Melinda stepped onto the stage, she exuded a natural charm and confidence, immediately engaging the audience with her dynamic stage presence and natural sense of humor. Her operatic voice with its luscious tones and crystal clear notes, is a marvel to behold. Trained in the finest opera schools in Europe, Melinda's classic training shone through in every song, creating a sense of warmth, beauty and elegance that captivated the audience.
Accompanied by her pianist and bassist, Melinda took audiences on a musical journey through the highs and lows of marriage, with each song building upon the last to create an incredibly emotional and powerful narrative. Melinda's musical range astounded and impressed even the most seasoned theater-goer.
But it wasn't just the music that made this performance so special. Melinda's stage charisma was magnetic, and her ability to connect with the audience and draw them in further enhanced the performance. With a candid and witty stage presence, Melinda seemed to effortlessly control the room, provoking instant reactions and laughter from the audience throughout the evening.
But perhaps the most impressive aspect of Melinda's performance was the sheer embodiment of her persona. She nailed every comedic moment to perfection and excellent timing, while her voice was both powerful and emotive, revealing her years of training and dedication to her craft. Melinda brought great physicality to every song, and made each one a complete performance in itself that any theater-lover would appreciate.
Overall, Melinda Hughes's performance, "Hitched," at Dont Tell Mama, was a testament to the art of cabaret. From the moment she stepped on stage, Melinda commanded the attention of the audience, creating a dynamic musical experience that was both educational and entertaining. Her wit, humor, and musicality made for an unforgettable evening that left audiences wanting more.
In conclusion, anyone who appreciates a lively spectacle of humor, wit, and musical prowess would be wise to catch Melinda Hughes's "Hitched" at Dont Tell Mama or wherever she may perform. Melinda's opera trained voice with its precision and clarity and her magnetic onstage presence make for a singular and unforgettable cabaret experience. Melinda is not only one of the best contemporary cabaret performers out there, but also one of the most melodious voices in the opera and theater world!
This message has been generated by Nova – download it for free:
Run Time : 90 Minutes
Don't Tell Mama
46th St between 7th and 8th
https://novaappai.page.link/DWNJx5oEjdKi8jTG6