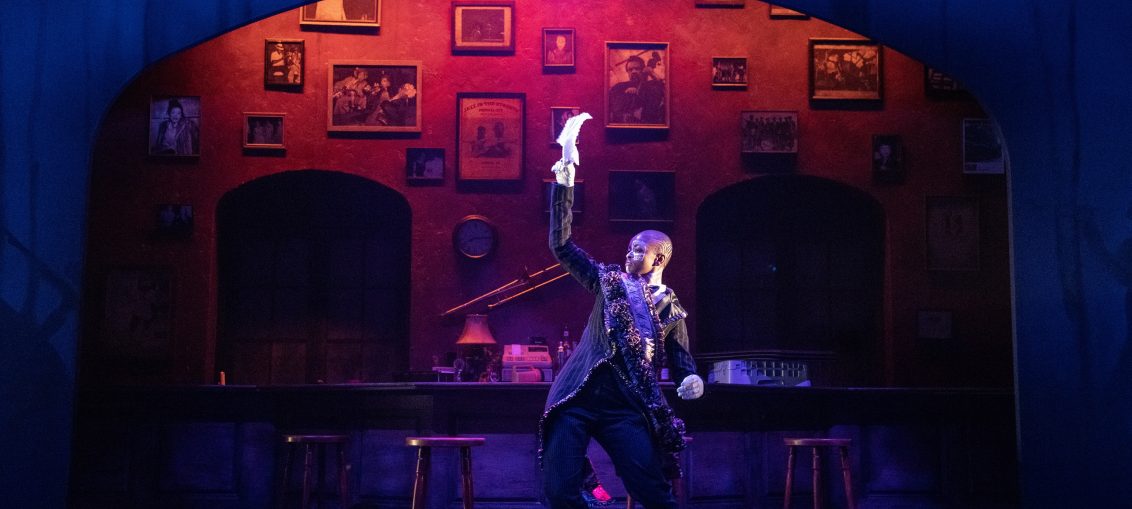 Americans are bombarded by tragedies every day; mass shootings, police brutality, and natural disasters like fires, floods, tornadoes and hurricanes. People become numbers, and their stories and struggles are reduced to headlines or photos showcasing their stress. It's easy to become numb and forget the human aspect behind the images and figures.
shadow/land by playwright Erika Dickerson-Despenza humanizes one of the worst disasters in American history, not only in terms of the damage that nature caused but the lives lost due to negligence and lack of care and support for vulnerable populations. The play examines the breakdown of a mother-daughter relationship and a family legacy in a historically Black, underserved neighborhood in New Orleans as Hurricane Katrina approaches.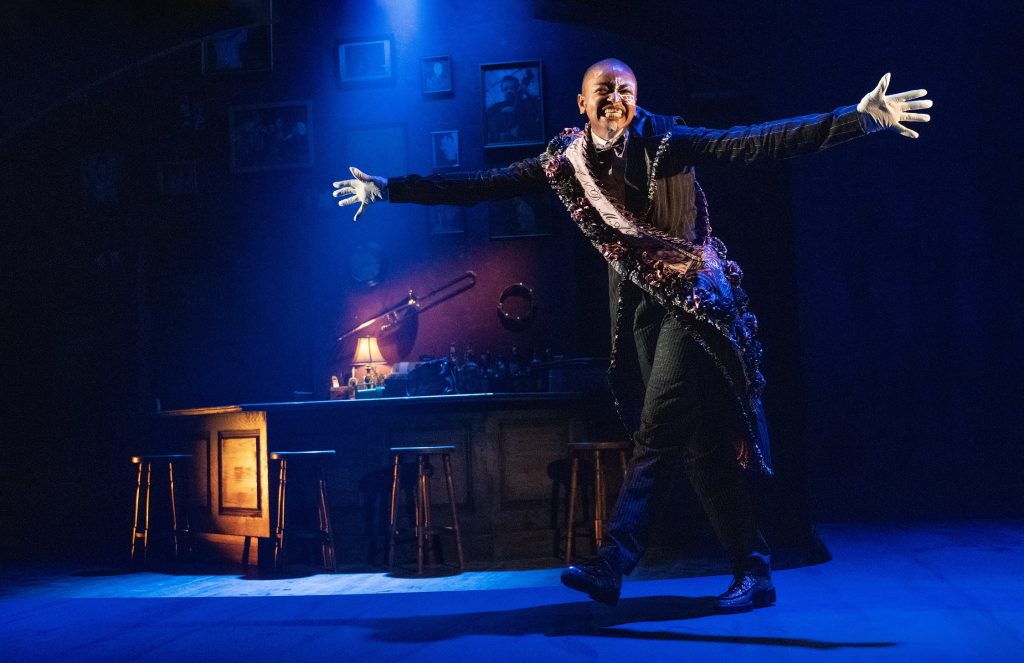 With sensitive direction by Candis C. Jones, it's essentially a two-hander with mother and daughter haunted by looming entities. One is a supernatural being, the other a force of nature, and several more are ghosts from the past or absentees from the present.
Christine Shepard personifies the supernatural force as "The Grand Marshal," wearing a sash as if to lead a procession to the other side. The Grand Marshall character draws inspiration from the figure of Baron Samedi, the grim reaper-like leader of the Gede family of lwa spirits from Haitian and Louisiana Voodoo culture. Baron Samedi is responsible for bringing mortals to the realm of the dead and is also a guardian of the past, history, and heritage.
Outfitted in a jaunty top hat and slick suit with his signature black, white, and purple colors, The Grand Marshal opens shadow/land in a way customary to the trickster, riling up the audience, drinking rum, and dancing provocatively. Shepard is a captivating mover and mesmerizing to watch. Androgenous and seductive, her otherworldly gestures mimic the black-and-white animated Disney skeletons from yesteryear, calling forth a ghoulish dance macabre about to take place. 
Back to the land of the mortals, the setting (scenic design by Jason Ardizzone-West) reveals the interior of a bar called Shadowland, the property and legacy of a mother, Magalee, who is grasping the place to hold on to the past, and her daughter, Ruth, desirous of selling the bar so she can have a future.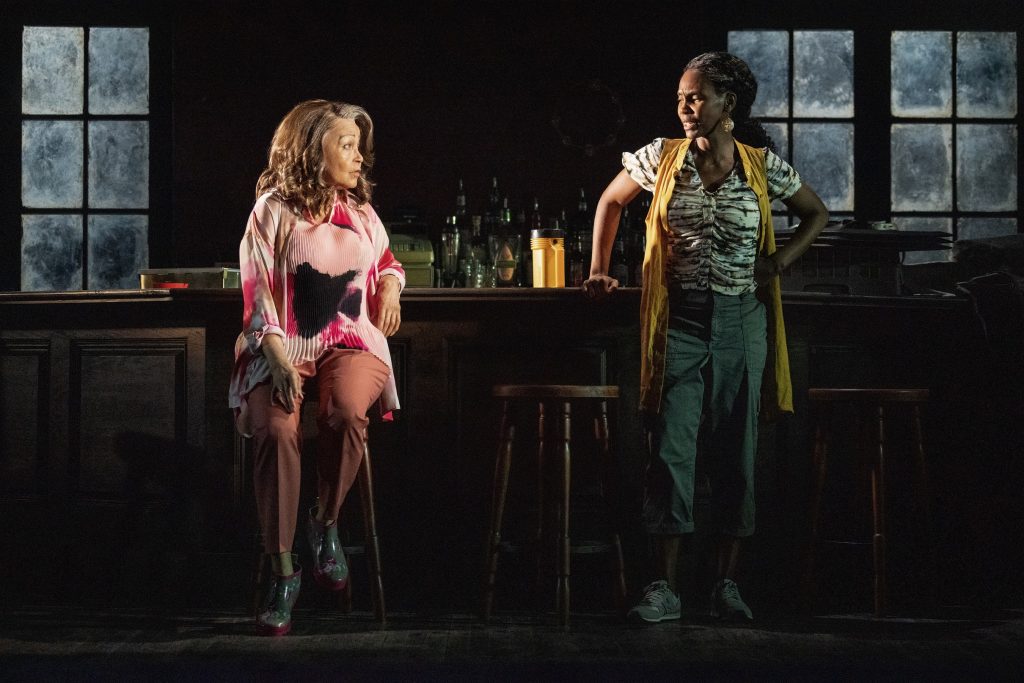 Magalee is an elegant, proud Creole grandmother dealing with dementia and is played with grit and grace by Lizan Mitchell. Ruth, portrayed by Joniece Abbot-Pratt in a richly layered, dynamic performance, is her disenchanted daughter. Ruth is practical and pragmatic on the surface, with internal turbulence due to unfulfilled desires shadowed by a sense of duty and responsibility. 
With nothing to do but wait, the women examine their lives and dig deep into their joys and regrets. In her lucid moments, Magalee reminisces fondly with pride about her past as a dancer, meeting her husband, and the hot jazz heydays at their New Orleans hub. Moody lighting design by Jeanette Oi-Suk Yew transports the actors and audience to brighter bygone days contrasting the stark reality of blackouts brought on by the storm and memory loss.
While Magalee floats in past glories, her daughter does not share the same fondness for their family history. Ruth is filled like a levee about to break with regrets and bitterness of a life of her own, unfulfilled. She feels burdened by the weight of a sense of duty forced upon her and is eager to sell shadow/land, deed in hand and armed with a Polaroid camera to document the damage. 
Ruth's skin is a noticeably darker hue of chocolate than her mother, who is almost white-passing like her sister Eva, who is not present but whose presence deeply affects them both. Since childhood, Ruth's life has been colored by the tone of her skin. She snarls with resentment for her mother's differential treatment of her two daughters. Magalee defends that she was only protecting Ruth, but Ruth feels outside forces shaped her choices.
Eva's absence in the face of disaster speaks volumes. She is out living life on her terms, while Ruth must look after their ailing mother and the family business and legacy, all of which are falling apart, caving in like the roof under the weight of the storm. Ruth's emotions echo the tempest and the damage it inflicted; she has a storm brewing inside her, ready to be unleashed.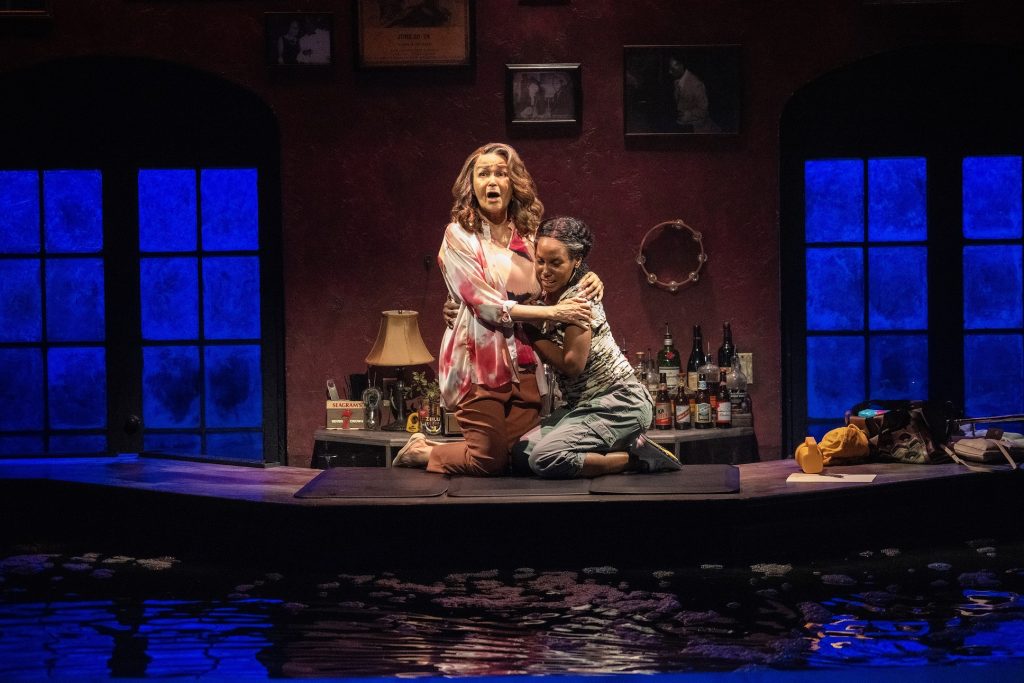 At their most vulnerable moment, emotionally raw and stripped down to their undergarments to combat the sweltering heat and humidity, the two women noticed a passing boat full of journalists whose flashing cameras captured the chaos but offered no assistance. They cried out for help, just as they had numerous times to emergency services, all to no avail. Stripped of their dignity, robbed of their humanity, they will not be saved, only exposed.  
There are no "lucky ones" following a disaster of such magnitude as Hurricane Katrina. Survivors' guilt alone is enough to drive a person to depression, not to mention the damage from external and internal wreckage. But Ruth is given a second chance at life by The Grand Marshal, who asks Magalee to dance but refuses to cut a rug with Ruth.
It's bittersweet, but that's life and the realities of the aftermath of such a catastrophe for people who were unsupported, unseen, and forgotten by limited rescue efforts. Ruth's journey to personal liberation and beginning anew is a sliver of hope in the depths of the darkness, the eye of the hurricane.
shadow/land is alternatively hilarious and heartbreaking thanks primarily to the powerful performances of the three compelling performers, drenched with charm and vulnerability, the excellent, thoughtful writing and the down-to-earth dialogue. I often found myself bursting out a guffaw; then suddenly, my eyes were welling up with waters rising high as the flood that entrapped the two women. It's a human story that may not make the news but is the real legacy of a storm whose effects ripple and linger long after the flood waters are dry.
shadow/land began performances in The Public's LuEsther Hall on Thursday, April 20, and the run has been extended through May 28, with an official press opening on Thursday, May 4. Public Theater Partner, Supporter, and full-price single tickets can be accessed by visiting publictheater.org, calling 212.967.7555, or in person at the Taub Box Office at The Public Theater at 425 Lafayette Street.
The performance schedule is Tuesday through Sunday at 7:00 p.m. and Saturday and Sunday at 1:00 p.m. The Open Captioned performance will be at 1:00 p.m. on Saturday, May 6. The Audio Described performance will be at 1:00 p.m. on Saturday, May 13. The American Sign Language Interpreted performance will be at 1:00 p.m. on Saturday, May 20. The full performance calendar can be found at publictheater.org.