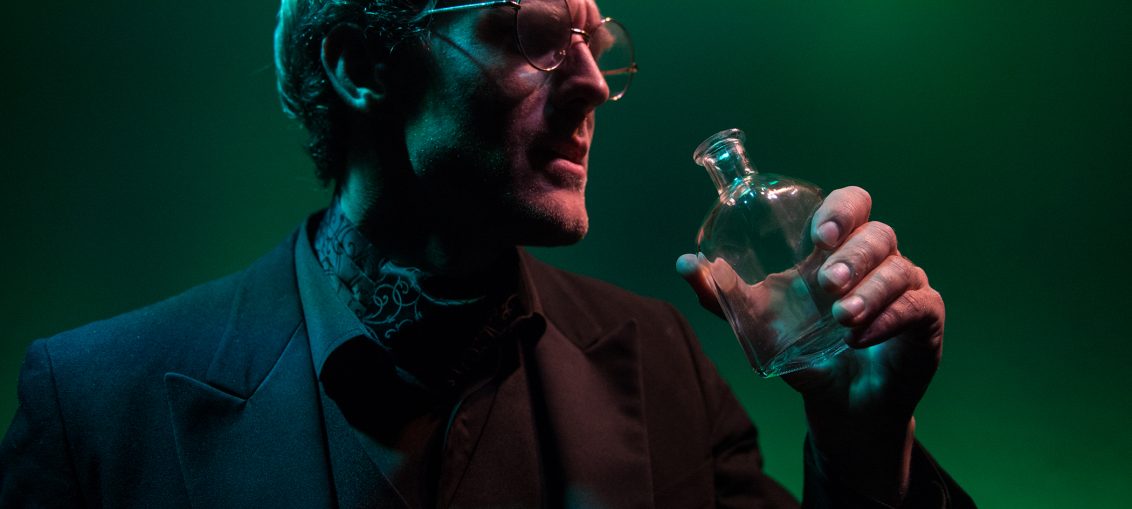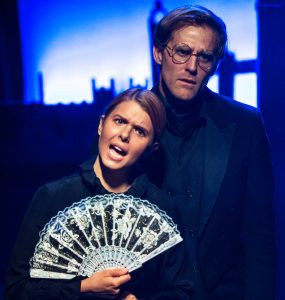 This is my favorite kind of theater –physical, inventive, ingenious and funny. Burt Grinstead and Anna Stromberg's comedic adaptation of Robert Louis Stevenson's The Strange Case of Dr. Jekyll and Mr. Hyde, is theatrical catnip – you just can't get enough of it. This multi-talented duo has written a sophisticated comic-tragedy, produced it and performed it – excelling in every area. It's the kind of work I would also prescribe for all drama students to see as it is a prime example of performance skill, innovative design and clarity of directorial intention all rolled into one exceptional "fringe" performance.
In a series of short, pithy scenes the playwrights focus in on the essence of the story providing vivid snapshots of the time, the characters and the devolving situation. It's action-packed and you feel like you're watching a theatrical blockbuster. We're in London in the 1860's where Dr. Jekyll is witnessing the public beheading of his brother, a notorious criminal. Jekyll is obsessed with the nature of good and evil and seeks funding to complete his research that he hopes can exorcise "evil" out of the human being. His academic colleagues believe it is a process best left to God and deny him the grant. However, he continues his research in private concocting a potion that he consumes. It doesn't rid him of his evil instincts but rather separates and consolidates his evil side into a fully fledged persona – Mr. Hyde. His shadow self then terrorizes and seduces the city. Dr. Jekyll can't help but indulge this darker part of his psyche that eventually starts manifesting without having to take the potion. It's a brilliant discourse on morality and the futility of trying to suppress or stifle your shadow self which only ends up showing up to bite you and all those around you. I love the remarkable way these playwrights have chosen to tell this classic tale – like a stagecoach that has lost its driver and is hurtling towards the edge of a canyon. Break-neck pace, heightened emotions and physical dexterity define the force of this production.
Anna Stromberg has also directed the piece. She has an exceptional eye for detail and is gifted at being able to find the funny heart beat in every scene. There is nothing extraneous and she keeps a tight ship. Stromberg also designed the costumes –miraculous pieces that denote a character in seconds and maintained the authenticity of the period in their minimalism. Burt Grinstead is the visionary that designed one of the most satisfying puzzle sets I have ever seen. A series of blocks could be arranged in a myriad of ways to instantly create a different location. These blocks opened up to reveal compartments that offered props into the locale. With every blackout I was excited to see what secret element would be revealed from the constantly transforming set pieces in the next scene. Clever craftsmanship that adroitly served the text and the needs of the performers. He also created the sound design for the production.
So this couple have not only written a superb rendition of a well-known work, produced it under their company Blanket Fort Entertainment, directed and designed it but also tackled all of the characters. This is a mighty feat. Burt Grinstead takes the part of Dr. Jekyll and Mr. Hyde with Anna Stromberg playing ever single other role (about 9 or 10 characters). Grinstead is electric as Jekyll and Hyde. I particularly enjoyed his transition into Hyde – simply brilliant. He has a commanding presence on stage and was entirely captivating as the foppish, earnest Jekyll who transforms into the maniacal, demonic Hyde in an instant. He brings a massive amount of energy into his performance that could electrify a city block. Stromberg is doing the Olympic decathlon of character changes. She is a mesmerizing chameleon. One minute she is an old academic and moments later an ingénue, a maternal housekeeper and then a sociopathic socialite. Her ability to shed roles and climb into others in moments deserves a standing ovation. She is a highly skilled character actress that I truly believe can play any role presented to her. They are both physically fit to tackle the demands of this strenuous performance steeple chase. You are almost exhausted from watching them whip around the the theatre at the speed of light. It's wonderful to experience these actors in action.
Terry Collins brought Grinstead's set design to life with sturdy, travel proof set construction. Matt Richter and Adam Martin are the original lighting designers – that ensured atmospheric shadow play and bold colors to create bold emotionality like the magenta flood when the love interest appears.
It's a polished, entertaining production that I am sure will have a long life.
(Read the Stagebiz interview with the two performers HERE)
Running time: 80 minutes with no intermission.
Dr. Jekyll & Mr. Hyde runs December 6 -15 at The Soho Playhouse's (15 Vandam St. between 6th Avenue and Varick Street) as part of the Fringe Encore Series. For more info visit https://www.BlanketFortEntertainment.com
Performances are Thursday, December 6 at 7pm, Friday, December 7 at 7pm, Saturday, December 8 at 8:45pm, Sunday, December 9 at 2pm, Wednesday December 12 at 7pm, Thursday, December 13 at 7pm, Friday, December 14 at 8:45pm and Saturday, December 15 at 8:45pm.
The show's website is https://www.BlanketFortEntertainment.com
You can view the Dr. Jekyll & Mr. Hyde promo video trailer at https://vimeo.com/300398820