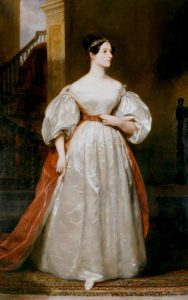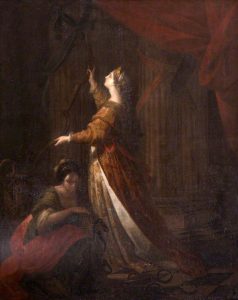 Hopefully, with a lot of numerousness, the truer story of women in history and the arts will continue.  #MeToo and COVID partially started this reckoning, and these two recent works are a sampling
While these icons experienced struggle, they were white and privileged.  There are plenty of reasons to stop right there, but their accomplishments – one documented, one speculative – led to a greater goods for all.  Creativity is a non-gender specific word.
New Camerata Opera's production of The Infinite Energy of Ada Lovelace by Kamala Sankaram.   April 7-10, 2022. Dixon Place Theater (161A Chrystie Street, NYC)
Augusta Ada King, Countess of Lovelace (1815-1852)'s backstory is the stuff of grand opera:  Her father Lord Byron's treatment of her mother Annabella Milbanke is a small part of a messy biography.  The one thing her parents agreed on was their daughter's unconventional education.  Ada surpassed her mother's ability in mathematics, and Sankaram is more interested in how The Countess (mezzo-soprano Brittany Fowler) balanced ill health, marriage to the ordinary occasionally sympathetic William (tenor William Erik Bagger) and her contribution to Charles Babbage's (bass Virdell Williams) "Difference Engine" – a precursor of computer programming.
There is also a visitor from abroad:  Harriet Beecher Stowe (soprano Barbara Porto), another wealthy white woman with the education and time to write.  The two women never met, but Stowe's subsequently slanderous article about Ada's salacious family history almost led to The Atlantic ceasing publication.
Sankaram's one-act chamber opera is an hour-long celebration of Ada's working out her greatest passion for numbers.  Director Jennifer Williams effectively isolated Ada in her thoughts, with set designer Liane Arnold projecting her formulas on the walls that frustrate than thrill her.  That isolation is extended to to William, whose aria reflected his love and fascination for his wife,  These feelings are not the same, and his duality is not resolved at the opera's end or in their marriage.  Mrs. Stowe is also isolated, stridently explaining to the uncooperative William standing far apart from her how she wants to expose Lord Byron's many faults.
It is only with Babbage that Ada feels comfortable.  Their duet isn't about love, but the equal sharing of ideas.  That's unusual – and overdue – for opera.
The York Theatre Company production of Penelope, or How the Odyssey Was Really Written with book & lyrics by Peter Kellogg and music by Stephen Weiner.  April 7-24, 2022.  The Theatre at St. Jeans (150 East 76th Street, NYC).
There are many men who have spoken for the mythical Queen of Ithaca.  The difference in Peter Kellogg and Stephen Weiner's musical comedy is that (Penelope Britney Nicole Simpson) speaks-sings for herself.  They honor her considerable success in holding together the island kingdom in husband Odysseus's (Ben Jacoby) two-decade absence – and as the author of The Odyssey.  As it's never been proven who Homer was, it's not unreasonable that the oral narrative originated with a woman.  The uncomfortable final scene between reunited husband and wife is the perfect metaphor for centuries of silenced female voices.
If only the well-meaning musical lived up to its premise.  Mythology can be malleable to whatever era it is reinterpreted in – Andrei Konchalovsky's 1997 Emmy-winning Odyssey miniseries remains one of the best.  Penelope, or How the Odyssey Was Really Written's continuous solo interior monologue songs slowed the action.  Having the best-known incidents (Cyclops, Circe) described in messages in bottle "sent" by Odysseus that Penelope performed for her persistent suitors, the budding romance between Prince Telemachus (Philippe Arroyo) and pig farmer Daphne (Maria Wirries) and the missing monarch washing up on the shore already provided plenty to sing about.
Traditionally, Penelope's suitors would not be scene-stealers.  Here, they are a doo-wop group who like singing more than pillaging.  Adorable and harmonious, they were another great idea thrown together with the rest.  The forever-anonymous Homer knew how to reveal the fraught homecoming in song.