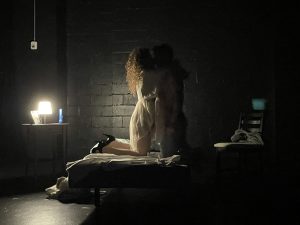 Does love make the world go round?  Is there such a thing as a random encounter?  In 1897, Viennese playwright Arthur Schnitzler asked these questions in Reigen (Round Dance). which in turn was questioned by censors.  Yet what was considered pornographic in 1897 is now rather tame – but still audacious – as translator/director H. Clark Kee shows in The Round Dance at the IRT Theatre.
Schnitzler's plot device is deceptively simple as he reveals the complexities of emotional and physical love in one act and several scenes.  A Hooker (Ruth Guimera) turns tricks with a Soldier (J.P. Stewart).  He then puts the moves on a Chambermaid (Shannon Stowe), who is being pursued by Young Gentleman (Jonathan Wong Frye).  Shortly thereafter he rendezvous with a Young Wife (Samantha Simone).  It turns out her Husband (Mike Roche) is also unfaithful, literally cornering a Sweet Girl (Taylor Hadsell).  Her sweetness extends to a Poet (Christopher Pio). and he in turn shares the love with an Actress (Judy Krause), whose next admirer is a Count (Mark Peters).  The couplings come full circle when the Count wakes up in the Hooker's room.  This last encounter hints at a something deeper.
Kee keeps the staging to a minimum, with the non-performing lovers seated on either side of the single multi-purpose set.  This way everyone out of the circle is still part of it.  While there are kisses and cuddles, stage lights go dark for lovemaking.  Choreographer Kayla Yee has the cast encircle each other to Ravel's Valses nobles et sentimentales and La Valse between scenes, with the emphasis being on the romantic instead of the composer's ironic doomsday scenario.
The cast shares the love equally between themselves and the audience, making for a lovely return to live theatre.
, .
Running time:  2 hours without intermission
Final performances of Round Dance take place March 24-26 2022 at 7 PM with matinees March 26-27 at 2PM at the IRT Theater (154 Christopher Street, between Washington and Greenwich Streets, NYC).  Tickets and further information are located on IRT's website
Max Ophuls classic 1950 film adaptation, La ronde, is part of the Criterion Collection