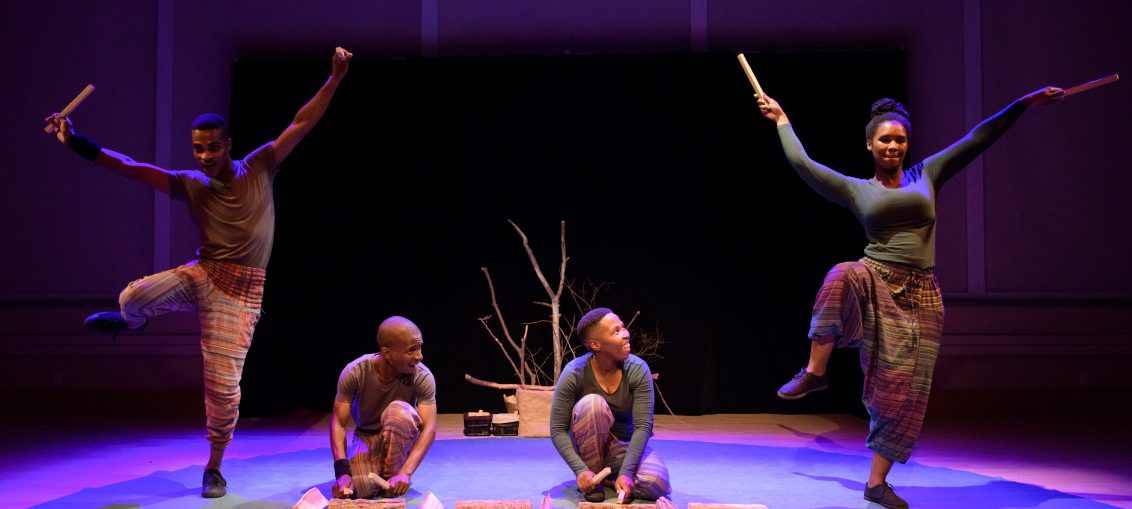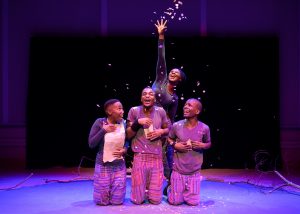 I had the good fortune of spending an hour in the company of four Magnet Theatre actors who have travelled all the way from South Africa to jumpstart our imaginations with their unique brand of physical theatre for young children. I can think of no better joy than to hear the feather light laughter of young children totally entranced with the magic of these spellbinding theater makers. Their giggling and delight were totally infectious. My adult self took a vacation as my inner child came up for air and had a much needed, transcendent theatrical experience. I did not feel like I was watching a play for children but rather an expression of life at its most optimistic and transformative. KNOCK! was born through a workshopped process by the director and cast and it's alive with fresh creativity.
KNOCK! explores the ways in which we respond to the natural world. The passport to this exotic forest is through the exploration of the material of "wood". It acts as the "magic carpet" that transports us into a world of sensory stimulation. Wooden blocks become an organic orchestra, tree branches become animal's antlers, pieces of paper become snowflakes and "ash" becomes clouds. While the actors keep transforming wood materials into wonderlands, they provide an intoxicating soundtrack made with song and the sounds living in their bones, cheeks, elbows and ankles – and we get to join in!
Nolufefe Ntshuntshe, Athenkosi Mfamela, Sivuyile Dunjwa and Babalwa Makwetu are our guides in this evocative landscape and make us all feel included. They are completely disarming and they de-materialize any anxiety with their open-hearted nurturing energies. We feel safe in their hands and ready to follow wherever they may lead us. After a while we forget who is leading and who is following as we feel like we are all somehow creating the story together. These expertly trained professionals are not only consummate storytellers but also have the tools to truly connect with the children in their care.
One of my most favorite moments was when the children were welcomed into the circular stage space where mountains of wooden blocks were waiting for playmates. Silence descended as each child got busy with the task of constructing their own forest palaces, towers, tree houses…
Director Jennie Reznek is a leader in the field of crafting engaging mini-masterpieces for this particular age group. She ensures that the pace is perfectly suited to the concentration span of the audience. There is never a lull in the action or a moment that goes on too long. We are onboard this pleasant Ferris wheel with no desire for the ride to stop. Reznek knows how to keep one on the edge of your seat and is responsible for my sore cheeks from smiling and laughing so much. I also loved Asiphe Lili's rustic and riveting design that beautifully transports us into an African bushland and awakens our curiosity.
I urge you to take your children, god children, grandchildren, nephews, nieces, neighbors to see this little piece of exceptional – it will light up their (and your) lives immeasurably.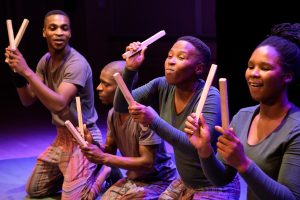 BAM has introduced "Relaxed Performances" to support the needs and enjoyment of neural atypical audience members. There is an adjoining room next to the theater if a child needs to leave the performance area. In this space they can still watch the show via live streaming. Relaxed performances don't have sudden blackouts or theatrical cues, moderate house lighting is kept through the performance and overall volume of sound elements is kept low.
Running time: 45 minutes without intermission. For ages to 3-5
KNOCK!  Is playing through April 28 – May 6, at the BAM Fisher (Hillman Studio) 321 Ashland Pl, Brooklyn, NY. For more information and tickets visit the BAM Website