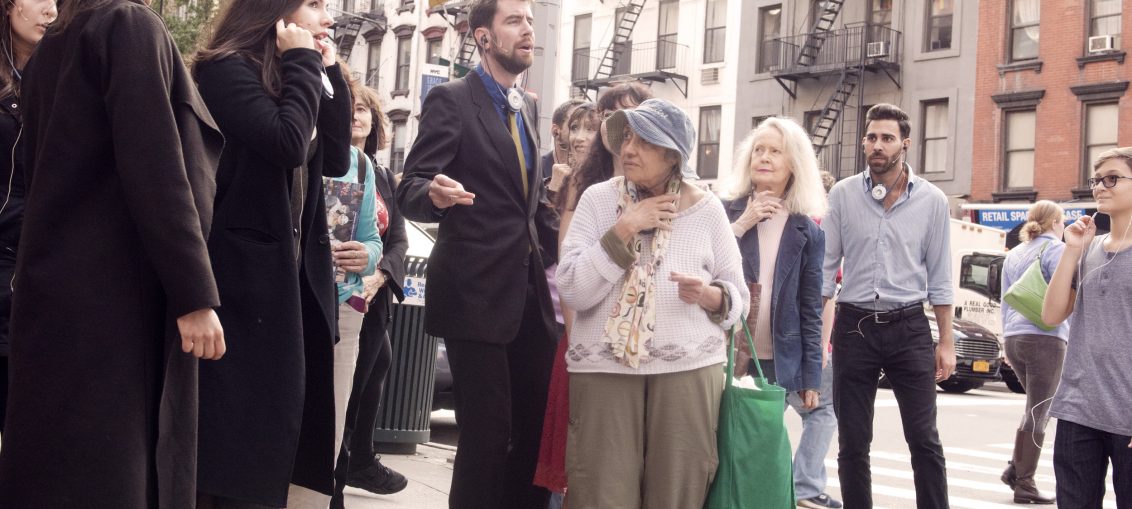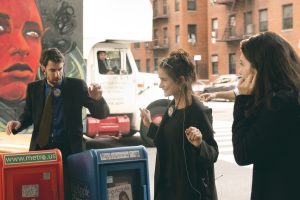 The Hungarian theater company HOPPart brought their unique brand of site specific musical work to the streets of Yorkville on the Upper East Side with their production Scale 1:5. The show is part of the annual Rehearsal for Truth theater festival presented by The Vaclav Havel Library Foundation and the Bohemian Benevolent & Literary Association that brings the best of Central European theatre to NYC. HOPPart took audiences on a delightful, musical walking tour in the area formerly inhabited by Czech, German and Hungarian communities.
Every audience member had their own wireless headset and you could hear the gorgeous a capella harmonies provided by the singers leading you along the streets. The song list is a combination of traditional and contemporary Hungarian songs with a few American pop classics thrown in for good measure. The walking audience really got into the swing of things and it wasn't long before the band of strollers started to collect passersby who got caught up in the Pied Pipers in their midst. Extra headsets were on hand for the new additions and the group grew.
The five incredible singers – Lilla Czvikker, Zalán Kisari, Lilla Litauszky, Dömötör Pintér and Lilla Csenge Cseke interacted with the landscape turning newspaper dispensers into drums whilst drawing lively attention to mom & pop stores, barbers and tiny clothing shops. They dynamically engaged with the environment. At times they stopped at a location so we could have a mini break and they sang to us with the dramatic NYC backdrops behind them. At times they were framed by the East River, a tree-lined boulevard, a quaint square, a telephone bank or the steps of a church. Every corner gave them an opportunity to interact with a new stranger who suddenly found themselves front and center of a street theater piece that disappeared from view as quickly as it had appeared. These minstrels had the knack of infecting the street with joy and an infectious playfulness –they were irresistible to locals.
The performers were magnetic with strong vocal presence and an ability to really connect to people of all ages that they encountered on the cleverly mapped out route by director Tamas Herczeg. It was an amazing hour spent walking, laughing and listening. You have a personal soundtrack underscoring your walk through Manhattan, like you're in your own foreign film. They created one of those truly perfect New York moments.
Scale 1:5 skillfully worked within the boundaries of the "map" of the old central European neighborhood and created an enticing piece of theater that invited one's inner child to dance. You get to have a unique, "secret" experience that is simply exhilarating. The show ended on the roof terrace where Hungarian desert wine was shared with the audience members as we took in the aerial view of the surrounding area.
Running time: 60 minutes with no intermission.
Scale 1:5 runs September 29, at The Bohemian National Hall (321 East 73rd street New York, NY 10021)
For more information and tickets visit https://www.vhlf.org/news/scale-15/