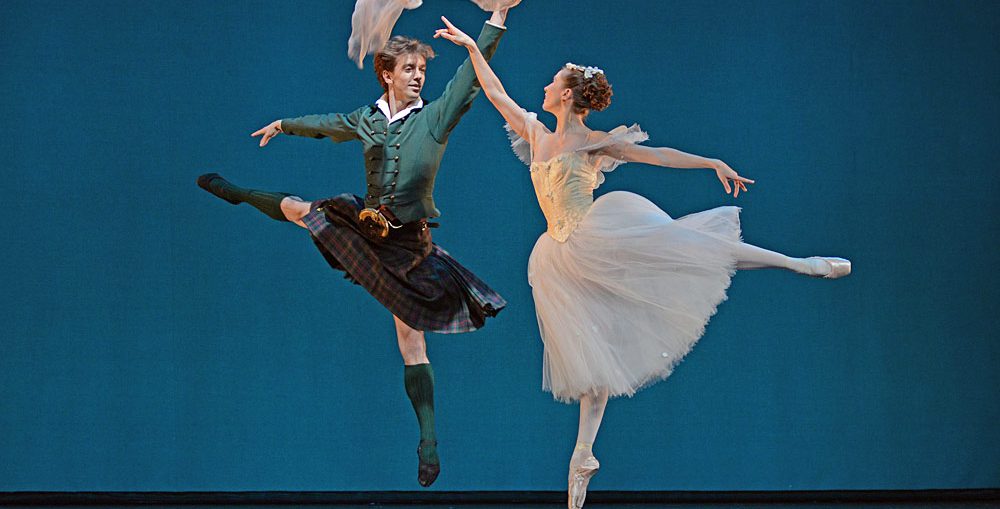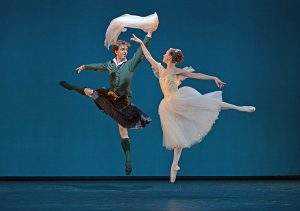 A delightful part of ballet history was at the Joyce July 7-14.
The Dance is an art because it demands vocation, knowledge, and ability. It is a
fine art because it strives for an ideal, not only in plastic but also in lyrical respect.
The beauty to which the Dance ought to aspire is not dependent upon taste or
pleasure, but is founded on the immutable laws of nature.
Dancer/Choreographer August Bournonville (1805-1879)
Let's start with the finale.  Ida Praetorius and Ulrik Birkkjaer, who danced so beautifully earlier in the evening, rejoin their colleagues.  They are the first of several couples performing tarantellas with stunning degrees of intricacy, and speed.  The medieval Italian folk dance closingr the 1842 ballet Napoli is fun because the dancers are having fun.  It also perfectly illustrates the choreography of August Bournonville and his company, The Royal Danish Ballet.  The nineteenth-century dance master and members of the world's third oldest ballet company (after Paris Opera Ballet and the Bolshoi, respectively) didn't come across as dated.  There is too much to see and admire in a style preserved and presented with loving care.
Ballet is a universal movement language with different "schools."  For example, the British School is precise, unexaggerated and expressive while the Russian School exaggerates the physical and emotional.  The Danish "Bournonville" School emphasizes storytelling through mime,and combining careful upper body movement of the hands, arms and torso with choreography that, depending on the situation, is either very fast or very slow and always, always appearing light.
Because Bournonville was active when ballet was shifting its focus away from male dancers (as in Louis XIV's court where ballet began) to female ones, both sexes have equally difficult choreography, which profoundly influenced young guest ballet master George Balanchine in the 1920s and former principal dancer/burgeoning choreographer Alexei Ratmansky 20 years ago.  Yet at the same time, RDB has is a remarkable history of great male dancers, including the legendary Erik Bruhn (take a look on YouTube).. Bruhn's international career included guesting at ABT); RDB alum Ib Anderson, Ask Le Cour, current RDB artistic director Nikolaj Hübbe, and Peter Martins all ended up at New York City Ballet.
The rich highlights program began with Act II of La Sylphide.  Minus an act, scenery and a full corps de ballet, the situation was nevertheless easy to pick up.  James, the love-struck Scot (Birkkjaer), has already met the flirty wood Sylph (Praetorius), breaking off an advantageous engagement and angering the local Witch (Sorella Englund).  The curtain rises on Witch taking her revenge on the Sylph for falling in love with a mortal by poisoning a veil, which is exactly what Medea did to Jason's fiance Glauce several millennia before 1836.
Before James falls for the Witch's duplicity, he and the Sylph – nameless not because she is an object but because she is supernatural – express their feelings for each other with steps travelling towards each other and the audience.  Bournonville's choreography always keeps the viewer in the dancers' sight lines.  None of the company, Praetorius and Birkkjaer in particular, never looked self-indulgent.
Another Bournonville essential is that the audience can follow the lovers' conversation.  RDB mime vocabulary is textbook. So after Praetorius puts on the veil she is not only motionless on pointe, she then collapses in an non-ballerina, human way.
Sorella Englund, former RDB principal and current school pedagogue, changed into a more elegant costume when she came back after intermission for A Bournonville Square, an easygoing compilation that would fit together even if it wasn't designed for touring.  Marcin Kupinski and Alexander Bozinoff definitely made From Siberia to Moscow's acrobatic Jockey Dance look effortless.  Didn't need or miss the ponies!   Tobias Praetorius, Ida's brother, charmed with the "sung" Streetsinger mime solo from Napoli.  Stephanie Chen Gundorph and Jon Axel Fransson told the story of their relationship in the pas de deux from The Kermesse in Bruges.  Theirs is a lifelong commitment with hands held tightly while dancing.
Whether rehearsed or spontaneous, what made this "best of" work was how the dancers related to each other.  There were hugs, kisses, encouragement and respect.
.