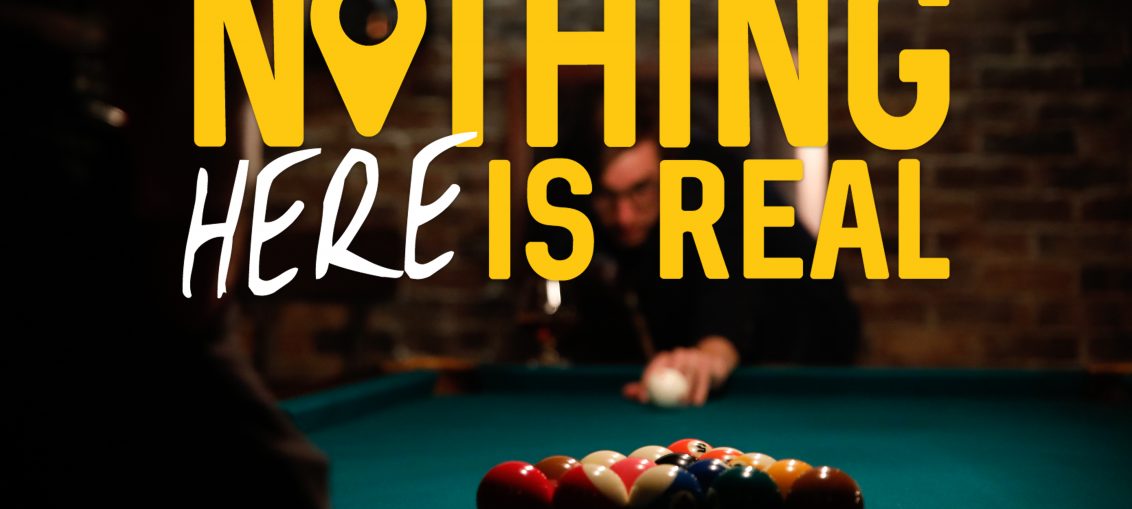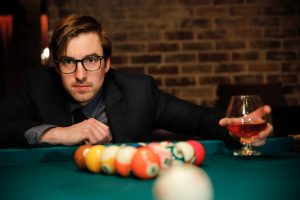 For a single night each month, you can join Gary Ferrar, one of New York's most sought-after entertainers, for a mind-bending evening of magic and mentalism. You gather around an antique pool table in an underground parlor to become part of an intimate experience that will leave you questioning what, if anything, is actually real. Mentalist and magician Gary Ferrar's world premiere of NOTHING HERE IS REAL, directed by Harrison Kramer, has begun its residency and open-ended run at The Cocktail Lounge Below Tom Valenti's Oxbow Tavern (240 Columbus Ave. at West 71 St.). Performances take place every last Tuesday of the month.
The Huffington Post raves, "This guy's show is absolutely insane!" and Forbes Magazine describes Ferrar's act as "a nuanced parlor show with intimate mentalism."
We were fortunate enough to ask Gary a few questions about his source of inspiration, his collaborators his legendary wild animal tamer grandfather,  the Brotherhood of Magicians and much more…
What are you curious about?
Almost everything! There's a lot I don't understand in the world, so I'm always trying to learn what I can.  I do a lot of driving between gigs, and I listen to an assortment of podcasts that are extremely eclectic.  You never know how inspiration is going to strike, so I like to get new points of view and operate outside my comfort zone.
How did you discover The Cocktail Lounge Below Tom Valenti's Oxbow Tavern? Why is this the perfect venue for your latest show Nothing Here is Real?
I was hired by a private client for an event that was held in the space and instantly fell in love with it.  The exposed brick walls, the red velvet curtains, the couches, the private bar in the back. I instantly knew it was the perfect space for this kind of show.  It's classy without being pretentious, and with such an intimate performance, the environment is critical.  The presence of the pool table meant that I literally built the show around the room.  I wanted all the material in the show to feel very natural happening there, and I think we achieved that.
What is the difference, for you, between being a magician and a mentalist?
A mentalist charges more…  In all seriousness, there's not much difference! Traditionally, a magician works with objects and a mentalist works with minds, but even that dividing line gets quite blurry.  So I embrace that, and tend to mix both styles and present them as a common experience.
Where did you get your inspiration for your new production?
Most of the effects in this show have been in my head for a while.  I'd be working and suddenly think, "wouldn't it be cool if…" but because of the impracticality of the ideas, they couldn't fit into my working repertoire at gigs.  Eventually, I put them all into a rough draft for a script and realized that it all worked well together.
How did you meet the director of your show, Harrison Kramer, and how does he elevate your craft?
Harrison reached out to me several years ago, because he wanted to learn magic and he quickly developed a great act. I regularly send clients his way if I'm already booked, so we have a very trusting relationship.  He was the natural choice to help shape this project because he knows my performance style better than anyone.  He'll question me about every single decision I make in the show, which makes my work very precise.
How do you prepare for your shows?
The show appears very simple on the outside, but there's a surprising amount of props involved.  So I typically focus on checking prop placements before the audience arrives.  It's almost become a meditative process, with some jazz playing in the background and the whole room to myself.  I treasure that moment as much as I do the show.
What personality traits do you think you require to be a successful magician/mentalist?
I think an outgoing/open personality is key.  As a mentalist, you're quite literally reading people and taking performance cues from them.  There needs to be a tremendous amount of trust, and if they see that you're really putting your true self out there for the world to see, then they will be much more likely to do the same.  And those are the moments that end up feeling really special.
What led you to becoming an all-in-one performer, improviser, magician, mentalist and magic consultant?
Theater was my first love.  I liked being on stage but also wanted an understanding for how lights and sound worked.  Magic was an opportunity to have my own little show.  Since at most gigs, I'm the audio controller, the performer, the stage crew, the creative consultant, etc… it leads to production meetings that are quite lonely.  But it also allows me to be very efficient.  If I can tell that a crowd wants something more serious or something sillier, I can make all the necessary adjustments on the fly.
You belong to the International Brotherhood of Magicians – that sounds really cool. What do you most love about being part of this illustrious order?
I shouldn't say too much.
Entertainment is in your DNA. Your grandfather was wild animal tamer – Ed Ferrar. What did you learn from him that still impacts your daily life?
My grandfather had a tremendous amount of confidence.  At my first paid magic show, for a small hotel owned by a friend of his, he introduced me as "an up and coming magician direct from New York City!" I was eleven and knew a couple card tricks. It taught me that perception matters, and you need to give the audience permission to respect you as a performer.  That's a skill that I'm still developing.
Who are your modern-day mentors?
I'm not extremely involved in the magic community.  Most of my inspiration comes from outside magic.  But Mac King has a show in Vegas that I saw as a child.  If there was ever a moment that made me want to do this for a living, it was that show.
What is your favorite thing about being an entertainer?
The audiences!  In my working repertoire, I have effects that I've been doing for over 10 years.  Like all jobs, there are moments that can feel repetitive.  But by always interacting with different people, I'm constantly on my toes.  I would hate to do the same exact set every night, so I'm very thankful that people are, in general, so odd and unpredictable.
You offer Magic camps? Where can we sign up?
This summer I'm not personally working many camps because my performance schedule is so hectic.  But for any kids looking to get a start, I'm in close contact with all the instructors at Future Stars Camps, and I usually pop in for a day or two to talk with the kids.  They have a great program with several locations over the summer.
What is your most beloved magic trick?
I think it depends on my mood. Right now, it's an effect in Nothing Here Is Real that combines a true story about my grandparents with some props that were used earlier in the show. As I approach that moment in the show, I feel everything coming full circle just before the audience does, and I get really excited.
What big adventure/s would you still like to tackle in your life time?
Right now, my wife and I have a four year old and a one year old. Raising them is the biggest and greatest adventure I've tackled, and it doesn't leave much room for others!  But eventually, I'd like to bring my show to other parts of the world.
Gary Ferrar (Creator, Performer) draws on his love for theater and improvisation in more than 300 performances each year, from live national TV appearances on Fox News, to performing for Howard Stern, Sharon Osbourne, and Howie Mandel on Season 7 of "America's Got Talent." Clients like Google, Facebook, and Spotify have all called on Gary to produce entertainment that is both theatrical and mind-blowing for corporate events, product launches, and digital marketing campaigns, such as Buzzfeed's "Drunk Magic" video, which has been viewed over one million times. Gary has served as a magic consultant for television commercials for Samsung and as a publicity consultant for Lionsgate's Now You See Me franchise. In addition to performing, Gary has lectured for the oldest magic society in the U.S. and provides private lessons on magic theory for celebrities and influencers such as Ivanka Trump and Ralph Lauren.
For more information, visit www.garyferrar.com, Like him on Facebook at https://www.facebook.com/ahrealmagic, and follow him on Instagram at https://www.instagram.com/garyferrarmagic.