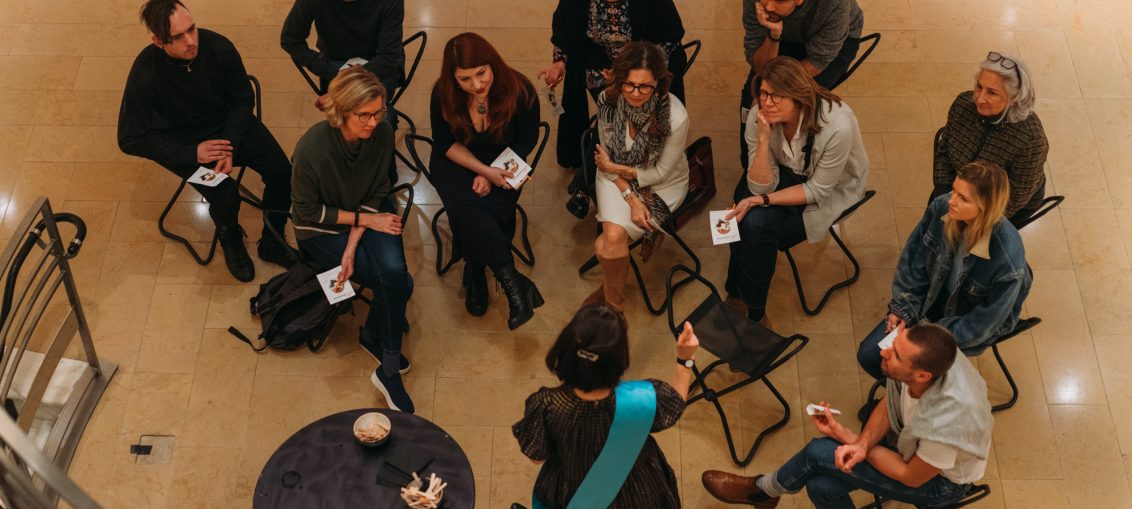 The Rubin Museum of Art has a knack for making their exhibitions of both ancient and contemporary art from the Himalayan region — and the philosophies and practices that inspired and informed the work — relevant through compelling interactive engagement that makes the creations and concepts spring to life in ways that are entertaining, thought-provoking and sometimes profound. I should know because I was first lured into the former tenement building-turned-Barney's store that was transformed into a museum to host the collection of art collectors and entrepreneurs Donald and Shelley Rubin — who bought their first Tibetan thangka painting with their life savings as newlyweds — back in 2008 when The Dragon's Gift: The Sacred Arts of Bhutan exhibition came to town. To celebrate the unprecedented display of 87 treasures from the Himalayan kingdom, along with two monks who'd stay for the duration of the gallery showing to bless the artworks and offer daily prayers, a group of Buddhist Cham dancers enacted their sacred performance garbed in heavy layers of brightly-colored garments and masks featuring ferocious-looking deities in various spots around New York City in the blazing heat. I witnessed them at the same location where Occupy Wall Street would later be held. Their meditative movements and entrancing dance had a hypnotizing effect. I was hooked instantly! I had to know more about the culture, the art, and the religion. That same afternoon I went to the Rubin Museum of Art and shortly thereafter became a docent for about two years.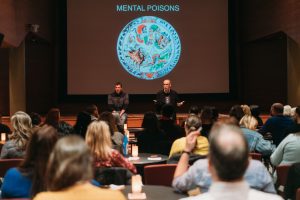 Though it has been a long time since I was a part of the gallery tours and programming, I still make a pilgrimage to the Rubin Museum when I am seeking that dynamic combination of art and thoughtful engagement. There is hardly a more interesting time to visit than during the annual Brainwave series of events and dialogues which juxtaposes celebrities and leaders in their fields with neuroscientists and other brain experts. It's all based around a specific theme that is relevant to what's being featured in the galleries. The 2020 season of Brainwave series of conversations and experiences that began at the end of January and runs through April seeks to investigate the connections between the Buddhist idea of impermanence, or the nature of constant change, and cutting-edge research in neuroplasticity. The talks will feature fascinating guests such as musician Laurie Anderson, activist Tanya Selvaratnam, Parkland shooting survivor Aalayah Eastmond, stroke survivor Dr. Jill Bolte Taylor, artist Lee Mingwei, extreme athlete Aaron "Wheelz" Fotheringham, among others who will explore the nature of resilience in the face of change. For a museum-wide, fully immersive and interactive way to experience the impermanent nature of existence firsthand, Brainwave 2020 was launched in late January with The Game of Life — an event inspired by the Buddhist paintings and teaching tool that graces every temple and is known as the Wheel of Life or Wheel of Existence which pictorially represents the cycle of birth and rebirth. Modern-day Tibetan artist Tenzing Rigdol — whose work was featured in The Rubin Museum's first contemporary show, Tradition Transformed, in 2010 — has created a stunning, provocative collage and silk brocade version of the wheel titled "Melong" that replaced the ubiquitous Buddhist iconography with depictions of current events of the conflicts between Tibet and other Asian nations and their leaders that was showcased at Tibet House last November. This is the truth of the Wheel of Life — the realms are not necessarily the places we go after death, but where we exist in the present moment and where we are destined for next due to our actions.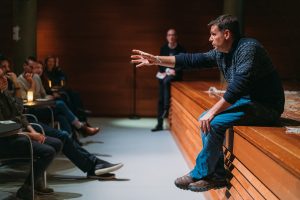 The experimental evening was described as "a game of spiritual snakes-and-ladders up and down the Rubin's famed spiral staircase." The Wheel of Life was always my favorite because of the rich imagery and powerful metaphors the six realms represented: Gods, Demigods, Humans, Animals, Hungry Ghosts and Hell Beings. In this game, all attendees were given cards with one of the realms (which often separated them from their companions, much like immersive theatrical experiences such as Sleep No More). After an introduction from the Rubin's Director of Programming and Engagement Tim McHenry and Dr. Miles Neale — an enthusiastic, energetic man who has devoted his life's work to combining psychotherapy with Buddhist thought and practice. He explained the three mental poisons that act as the spoke that turns the wheel of the constant pattern of rebirth which is represented by a snake (anger), a rooster (pride) and a pig (ignorance/indifference). (A tip: the only way to break the cycle is to become enlightened and then you can exist in Nirvana, away from it all, unless you choose to return as a Bodhisattva, one who is enlightened but chooses to come back and help others). Participants had to tally which aversion they felt during certain activities of the game. The results would define their next level, up or down. Dr. Neale made one thing clear from the onset without the aid of a crystal ball or tarot cards for an astute prediction, "If you want to understand your present circumstances, look to your past experiences. If you want to know your future, look to your present actions." With those cautionary words of wisdom, we were off to begin in our designated realms.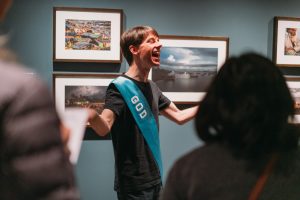 I happened to be a part of the God realm which might seem the highest honor but that kind of thinking is a trap — for the God realm is rules by pride which is considered the hardest to move past. The Gods of today are not residents of Mount Olympus or mythical figures who make miracles occur, but those of us who could be described as having "first world problems" of where to go for dinner, what movie, gallery or play to see and where to spend their next vacation, not where their next meal is coming from, if at all or even worse predicaments. Most people who live in New York City, certainly those present that night, could be considered part of the God realm simply due to the comforts and choices their lives avail to them. Those in the God realm tend to be oblivious to the suffering around them. To demonstrate that point through art, the God group was taken to the fifth floor for the exhibition of renowned Bangladeshi photographer, writer, activist and institution-builder Shahidul Alam. His striking work contrasts images of the elite alongside scenes of daily life riddled with poverty and strife, including photographs of refugees with utter exhaustion and bleak desperation in their eyes. For the activity, the God group members were asked if they'd consider taking in a refugee. All of us considered the question thoughtfully like good, well-meaning liberals until the twist came — AirBnB now has a program where a refugee can be placed with a host for as long or little as the person chooses. With the question no longer being hypothetical to be processed intellectually but a real-life possibility we were asked again — would you go home and do it tonight? It was a struggle and there were intense feelings of fear, shame, guilt, anger, aversion and all of those nasty things our friend Dr. Neale warned us about.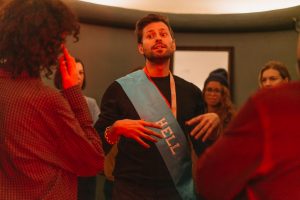 Since no one was willing to commit, off to Hell we went, straight to the basement level into the ladies' loo which was dimmed with red lights and filled with a pervasive cacophony of irritation — screaming babies, cell phones ringing and other aggravating sounds. Oddly enough, this one was my favorite and the extreme distinctions between the two realms were impactful, particularly after one has been demoted from heaven. The obnoxious noises were hardly noticeable because our task was to jump in the middle of the circle we created and sing a phrase of a song, any song, even "Happy Birthday" while our fellow Hell Beings supported us and sang along. I am sure to some it was absolute torture but, to me, it was fun and everyone was laughing and enjoying themselves. And because we helped each other, we acquired merit and were promoted to the land of the Hungry Ghosts at the bottom of the spiral staircase.
The representation of a Hungry Ghost is extraordinary imagery that really shows that a picture can be worth a thousand words. They are depicted as having enormous bellies with tiny mouths and throats and always seen running around in a madcap manner. They illustrate a need and want that can never be filled. Addiction is a force that creates Hungry Ghosts. There we were given one tiny taste of ice cream and asked about our reaction to that. Some wanted more, others were aggravated by the flavor or type, and most felt indifferent. We were then transferred to the Human realm (in my group we skipped past the Animal and Demigods realms and their games which were ruled by ignorance/fear and jealousy/competition, respectively).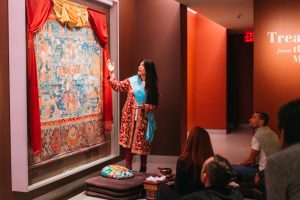 The Human realm may seem boring and commonplace for that is what we are in currently but Buddhist thought regards it as precious and the most auspicious place of existence to attain enlightenment. Tashi Chodron, the assistant manager of Himalayan Cultural Programs at the Rubin Museum of Art who hails from Tibet herself, gathered us around a resplendent, jewel-toned thangka and shared the story of Tara, a female deity who is known as the savior from fears. She guided us in a meditation and noted that the most significant and important aspect of one's own inner journey and outward experiences in life is to help others end their suffering as well. This is the vow of the Bodhisattva, the aforementioned enlightened being who makes a conscious choice to return to the painful reality of life to assist others on their path (some have said that even dogs can be Bodhisattvas) and a surefire way to be on the path to freeing oneself from the trappings of attachment and the painful cycle of deaths and rebirths (not once or final but often many times per day).
With that blessing, we were ushered to the Shrine Room, the Rubin's popular installation where art and ritual objects from the Kagyu tradition are displayed as they would be in an elaborate shrine of a private household.  There, Dr. Neale imparted a few more words of wisdom. But it was the visceral, tangible experience that made the lessons of the evening that were based around the theme of impermanence and the metaphorical realms of being, as well as the art which emphasized or explained them, really resonate. It will be interesting to observe what kinds of impressions, reactions and responses are discovered and ignited over the span of the other Brainwave events through April. They may not offer enlightenment but are likely to transport one to another realm, if only for a brief, ephemeral moment. 
For more information, tickets and updates on Brainwave events running through April 27, 2020, please visit: www.RubinMuseum.org/Brainwave.