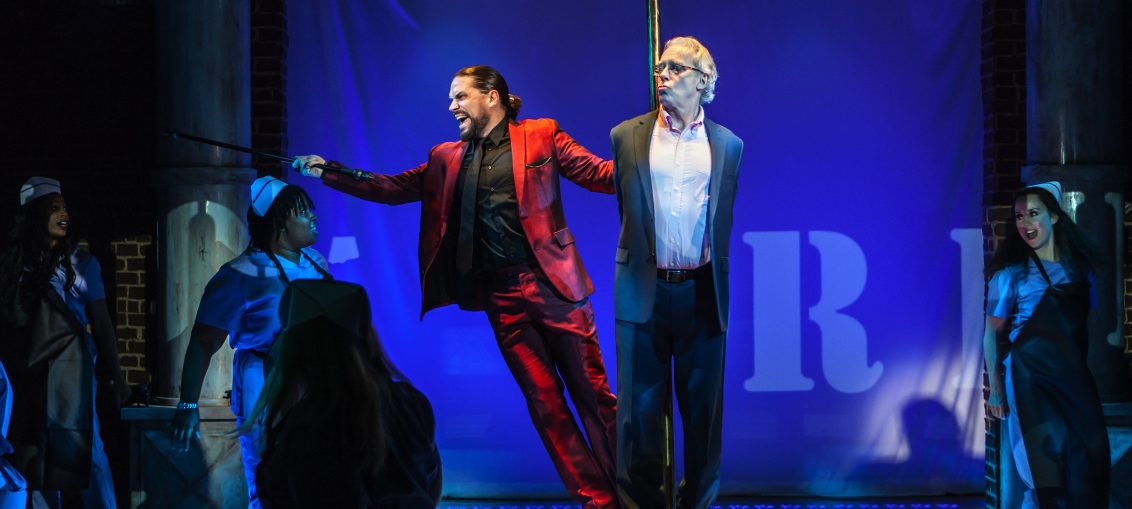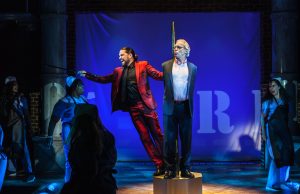 The title no joke.  Richard Thomas and Stewart Lee's "Jerry Springer – The Opera" is a raucous parody of many things, but most of all opera.  Librettos make for dull reading, but this 90% unprintable one is laugh out-loud.  It has taken over a decade for "Jerry Springer" to brawl its way to a NYC stage, but The New Group more than makes up for it with John Rando's wild production.
Thomas (music, lyrics) and Lee (book, additional lyrics) didn't have to look hard for commonalities between "Jerry Springer and "opera".  Act I is the taping of Jerry's (Terrence Mann's) show.  Jerry sings and dances a little, allowing the fantastically talented Mann temporarily to steal the spotlight from the delightful show-offs around him.  Mann also does a good imitation of the real Jerry, accomplishing it with the half-sung/half-spoken Sprechstimme developed by Arnold Schoenberg.  Thomas doesn't use Viennese 12-tone but his synthesized Broadway beat is steady.
The terrific ensemble seated in front rows of the Romulus Linney Courtyard Theatre becomes an angry mob incited by the Warm-Up Man (Will Swenson) that takes the rioting that is the bane of Russian opera to new levels of insult hurling.  Jerry's guests are neither noble nor immortal yet suffer no less.  Dwight (Luke Grooms) cheats on fiancé Peaches (Florrie Bagel) with her "crack whore" BFF Zandra (Beth Kirkpatrick) and drag queen Tremont (Sean Patrick Doyle), whose hair and makeup resembles Melania Trump's.  The quartet engages in a full-blown bel-canto catfight with falsetto and high notes flying.  No sooner than Steve the security guy (Billy Hepfinger) drags them off, Andrea (Elizabeth Loyacano) and Baby Jane (Jill Paice) duet it out over Montel (Justin Keyes), whose baby fetish isn't based on an actual opera, but there are plenty of tenor parts where the hero suffers from arrested development.
The last guests are more of the Broadway/Jerry Springer variety.  Shawnetl (Tiffany Mann) dreams of being a pole dancer.  Husband Chucky (Nathaniel Hackmann) disapproves, calling women "whores" among other things.  Following Shawntel's show-stopping song and pole dance, Jerry informs Chucky that he's been followed on Jerrycam and has his own unusual pastime:  the KKK.  It's impossible not to laugh at the white-robbed morons carrying the Tea Party banner singing and dancing about their "Jerry Springer moment."
The Klan's appearance allows Warm-Up Man to reveal his true identity – Satan! – as he has Montel shoot Jerry at Act I's conclusion.
Act II is a very obscene and funny mash-up of Dante's "Inferno", Milton's "Paradise Lost", Handel's "Messiah", Gounod's "Faust" and Boito's "Mefistofele".  Swenson, who possesses a strong baritone and magnetic stage presence, even wears a knock-off of the red suit worn memorably first by Samuel Ramey and later Ildar Abdrazakov in Robert Carsen's San Francisco production of Boito's opera.  Jerry awakes in the popular early opera destination of Purgatory with Baby Jane acting as his Virgil to his Dante.  Unless he reconciles Satan and Jesus (Montel), Jerry faces eternal damnation.  The special edition of Jerry Springer in Hell means a special and familiar guest list: the bickering Adam (Chucky) and Eve (Shawntel), long-suffering Virgin Mary (Jennifer Allen, Shawntel's Bible-thumping Mother) and, of course, a confused God (Dwight).
"Jerry Springer – The Opera's" most famous (or infamous) number is the duet between Satan and Jesus.  Satan holding the note on the "F*** You!" is funny not only because it just is, but because it's such an opera thing.  Avid operagoers are very particular about what they like.  While some would sit through Wagner's entire Ring Cycle, others avoid it favor of something shorter and more accessible like Puccini's "La Boehme".  Hearing a few notes of a non-favorite can lead to making up choice words to replace translated subtitles.  Then, there those off-nights where cursing would make a better alternative than singing.
Like its source, "Jerry Springer – The Opera" is an equal opportunity offender.  The difference being that everything is all in fun, particularly the commercial breaks skewering those on basic cable are hysterical.  Reality television has changed a lot since Jerry's heyday and the opera's 2003 premiere at London's National Theatre.  The Kardashians, Real Housewives and Teen Moms may be "famous" but their specialized shallowness is not the stuff of opera or anything else.
As for the former reality host occupying The White House?  There are jokes throughout about Jerry being the former mayor of Cincinnati and returning to politics…but they are jokes.
For two cheerful hours, our current reality can be set aside.
Advisory: Not for young children.
Running Time: 2 hours and 15 minutes with one 15-minute intermission
Performances of Jerry Springer – The Opera are extended through April 1, 2018 at The Pershing Square Signature Center (The Romulus Linney Courtyard Theatre, 480 West 42nd Street).  On March 13, 2018, Matt McGrath takes over the role of Jerry.  Additional production information is available on The New Group's website along with ticket information.  The TodayTix app has tickets available via lottery.