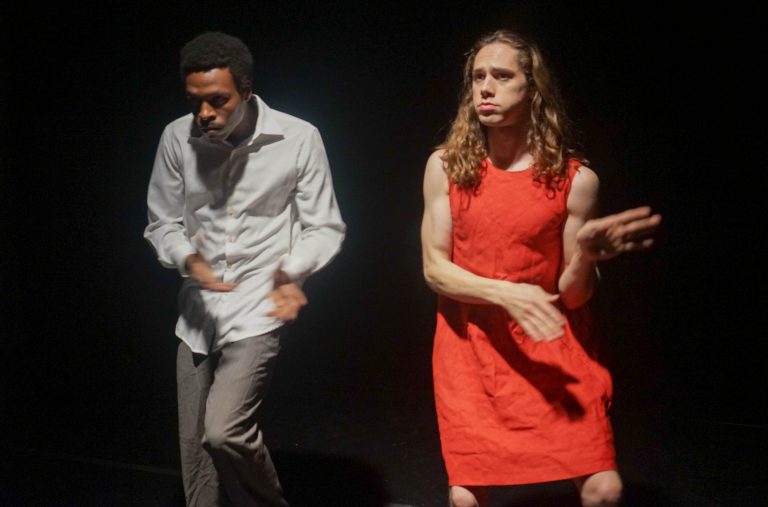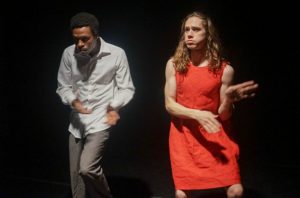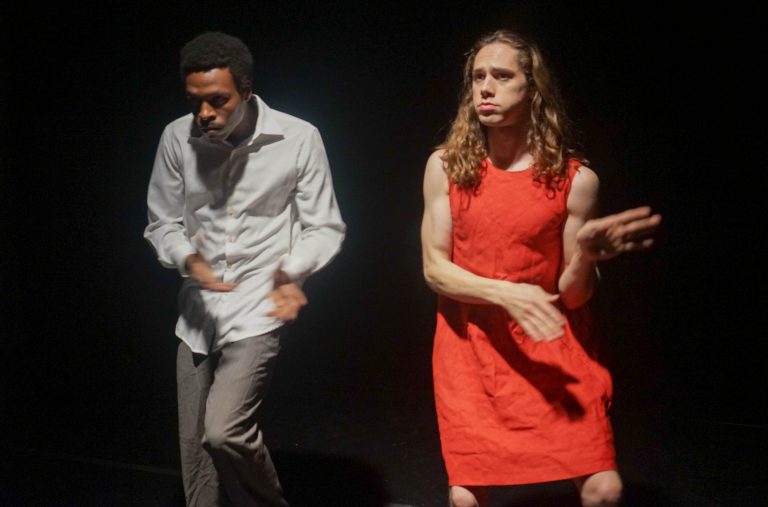 He said nothing.  She said nothing nice.  He tried.  She still made no effort.  He got angry.  She got violent.  That is the double one-sided conversation at The Tank in Theatre of War's reimagining of Amiri Baraka's "(Flying) Dutchman", which is as confrontational and relevant as it was in 1964.
Rather than setting the interaction between middle-class African-American Clay (Malcolm B. Hines) and White poetess Lula (Jonathan Schenk) in a subway like Baraka did, director Christopher Stevenson has the two "talk" across a long table.  Microphones provide the public performance Lula craves and testimony Clay provides her with regarding his life.  Throughout they are conscious of the audience, for which they share an equal dislike.
The few updates to the script include references to hip-hop, Beyoncé and President Obama.  Even if there were more, Clay and Lula will never connect.  They are symbolic of the lack of conversation that exists in American society.  The issues – sex, race, entitlement – are real, but their meeting is a dramatized nightmare.  That's what theatre does: going to the dark places other aspects of society never will.
The two actors skillfully balance the tension and turmoil.  Their dialogue is spontaneous; nothing sounds scripted.  Hines delivered Clay's ugly breakout moment with full fury but also with empathy.  Schenk convincingly played Lula as a woman who sees herself as an artist and artistic fantasy.
In legend, The Flying Dutchman's curse of roaming the seven seas for eternity can only end with a woman's love.  That doesn't happen in "(Flying) Dutchman", where redemption requires a different kind of love.
Running time: 45 minutes without intermission
Advisory: Not for young children
Performances of "(Flying) Dutchman" took place at The Tank (312 West 36th Street between 8th and 9th Avenues).  Future Tank productions are found on their website.