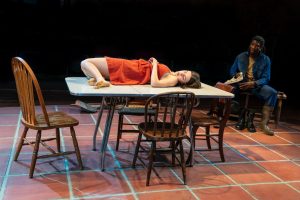 Not that loyal Classic Stage Company attendees need convincing, but updates are one way of attracting an audience.  Through March 10,  CSC is running two new adaptations of August Strindberg classics.  One is Yaël Farber's  Mies Julie, a harrowing reinterpretation of the Swedish playwright's most famous work.  The darkness within nineteenth century Expressionism invite exploration, and Faber, along with director Shariffa Ali smash every crevice of the contemporary South African farmhouse kitchen where the fatal encounter between Julie (Elise Kibler) and John (James Udom) takes place.
Like Strindberg's 1888 original, the 75-minute play focuses on the class war between the bored rich young woman and poor servant.  Faber adds race (Julie is a White Afrikaner, John a Black Afrikaan Xhosa), politics (the big house party in the next room is for Freedom Day celebrations marking South Africa's first democratic election) and property (John's ancestors are buried beneath the house's foundation).  These additional conflicts make the two, along with John's mother Christine (Patrice Johnson Chevannes), real people – thereby making Strindberg's original intent of presenting emotion over abstract possible.
While Strindberg implied the two have offstage sex, Julie and John do so on the kitchen table.  This and their subsequent lovemaking is graphic, as is the physical abuse on both their parts.  Ali's choices are uncomfortable but reinforce their incapabilities.  Julie and John could care for each other under different circumstances – but those options are unavailable.
At first, Elise Kibler had trouble finding Julie's right tone and accent.  However she found both encouraging and antagonizing John.  Her Julie is ultimately sympathetic.  James Udom's John, too, is sympathetic.  He cares for her in his own way (as she does in hers), but knows the future is exactly that, filled with uncertainty or more of the same.  Patrice Johnson Chevannes not only provides public and private histories, but the balance between the son and neglected child now young adult she brought up.
There is an additional character, Ukhokho the dusty ghost haunting the house and its uneasy inhabitants.  Vinie Burrows speaks no lines but has a lot to say about the nighttime events taking place at Mies Julie's.
Mies Julie opened on February 10, 2019 and runs through March 10, 2019 at Classic Stage Company (136 East 13th Street, NYC).  Please check the Classic Stage Company website for tickets and performances, as well as for Dance of Death.
.
.