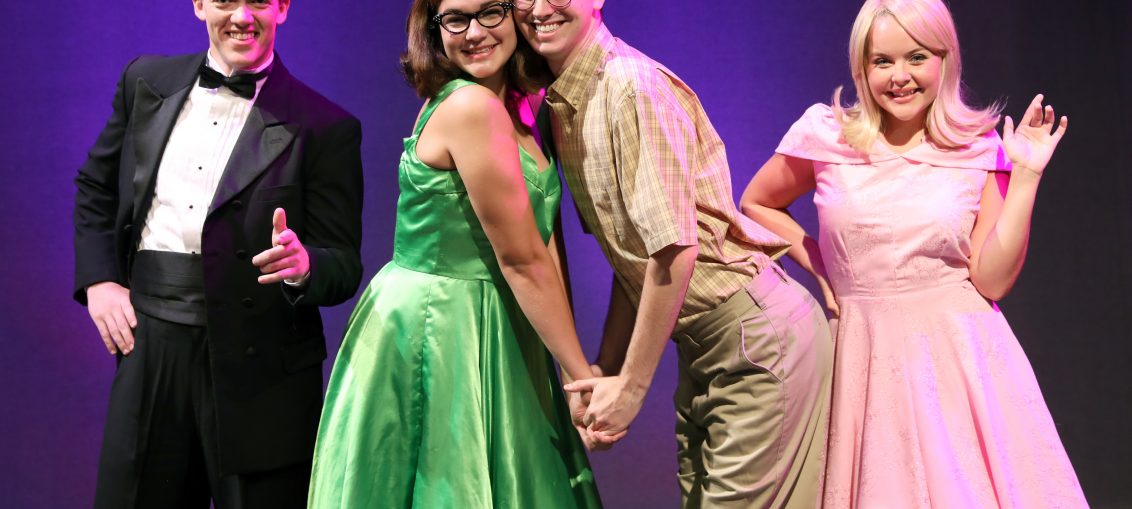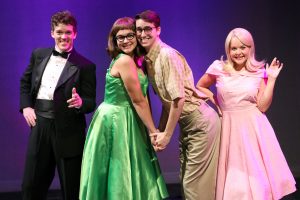 Jukebox musicals stand or fall on the strength of the songs and the ability of the performers to deliver on them. Plot and character often feel bolted on. In the case of "Breaking up is Hard to Do," the music of Neil Sedaka forms the reason for the show, and the Centre Stage cast in Greenville, SC, deliver. I rather wish the book by Erik Jackson and Ben H. Winters gave the performers more scope for their talents. I feel that way about a lot of jukebox musicals.
The plot is "Dirty Dancing" meets "Grease." Set at a Catskills resort in 1960, Breaking Up Is Hard to Do is the sweetly comic story of Lois [Charly Ann Roper] and Marge [Mariel Zmarzly], two friends from Brooklyn in search of good times and romance over one wild Labor Day weekend. Marge and her stagestruck best friend Lois arrive at Esther's Paradise Resort in the Catskills on Labor Day Weekend in 1960, on a vacation that was intended to be Marge's honeymoon — until the groom left her at the altar. Lois attempts to console Marge by setting her up with the resort's handsome, self-obsessed singer Del Delmonaco [Josh Thomason]. But her plans backfire when Del mistakenly assumes that Marge's father can further his ambitions to become the next teen heartthrob on American Bandstand. Gazing forlornly at Marge from the wings is cabana boy and aspiring songwriter Gabe [Sterling Street] whose true talents are overshadowed by his geekish looks and dental banter.
A sub-plot revolves around the master of ceremonies and stand-up comedian Harvey [Rod McClendon] and the owner of the resort, Esther [Arleen Black]. They've worked together for years, and their relationship has grown into love, but roles and history need to be overcome before they live happily ever after.
Roper and Zmarzly have a fine time with their roles, and both can sing Sedaka as well as anyone. Their on-stage exchanges with Thomason have a solid chemistry, and Thomason nails the role as a self-absorbed, third-rate entertainer with delusions of stardom. Street's part is such a caricature that he has to resist adding "Revenge of the Nerds" to the show's influences. Fortunately, his tenor voice is almost a dead-ringer for Sedaka's, and he plays through the script's shortcomings like a trooper.
Black and McClendon bring veteran acting talents to their parts, and they manage to find more in the script that one would find just by reading it. Black's accent is close to perfect for the Catskills of the 1960s, and McClendon draws on Henny Youngman and Shecky Greene to make Harvey my favorite character in the whole production. He and Black both manage to sing in character and sound good doing it.
Director Reed Halverson has put together a cast and staged a show that does justice to the music of Sedaka and makes a dodgy book into an entertaining story. Musical director Holly Caprell is a large reason why this production is a success.
Centre Stage itself is a marvelous space for theatre, seating about 280 without a bad seat in the house. The size does limit the choreography of the show. The final number has all six actors on stage, and there is just enough room for them to dance. That said, Greenville has an exceptional space downtown that has established itself over the last couple of decades as an important cultural center.
Running time: 2 hours and 15 minute including a 15 minute intermission.
"Breaking up is Hard to Do" runs through August 18, 2018, at Centre Stage, 501 River Street, Greenville, SC. For more information at tickets, visit Centre Stage's website.