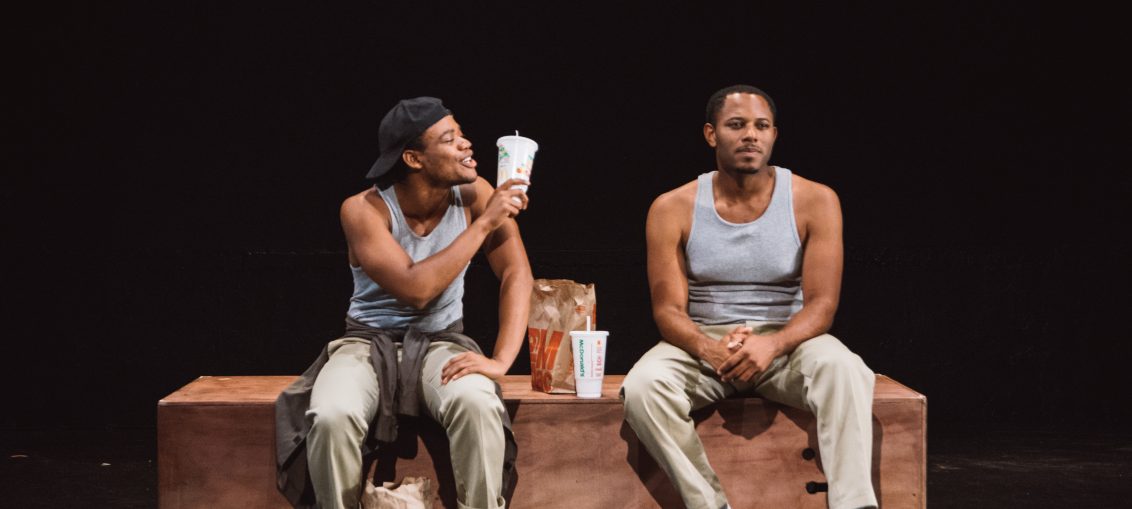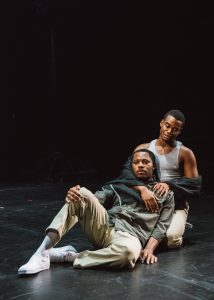 The Hole is one of the most powerful productions I have ever seen. I know in the future when this show achieves its meteoric success, I will remember fondly that I got to see its magnificence before the ticket prices were Hamilton impossible. It's that perfect confluence of a sagacious playwright, astounding performers and an intuitive director. I was totally absorbed in every single moment, character transformation and life lesson – I was literally on the edge of my seat, craning forward towards the action, unable to look away.
Zhailon Levingston has written this piece in the blood of our time. It is throbbing with relevance. He tackles the hegemony of the archetypal "male" and deconstructs its vice grip on the fluidity of the individual. It's a complex improvisation or "riff" on Tennessee William's, Cat on a Hot Tin Roof. The character essence of Brick, Gooper, Cat, Big Daddy and Big Mama find a new expression in this re-woven theatrical quilt. It is so cleverly done that these old legendary characters will forever have Levingston's indelible mark on them for me. We do not retire or retreat to the basement, we get solitary in The Hole. It's a thrilling psychological labyrinth that plays out in a confinement cell on Angola Plantation.  The dialogue was still dancing around in my head, echoing off the walls of my opened mind as I strutted along Christopher Street after the show.
Director Rod Gailes OBC has brought Levingston's script to life with a defibrillator's shock to the system. He jolts you harshly into the present moment and you stay there transfixed. You're given a well needed jumpstart as you stay on the tension line between life and death. He keeps the stakes high so that the release brings a massive shift in your comfort zone. I loved watching his invisible footprint in every moment as he shaped this work with such sincerity and specificity. The actors were clearly given a strong vision to support. You can feel his extreme talent charging the atmosphere around the performers and giving them the anchor so they can fly.
Larry Powell and Justin Sams are like a hammer and anvil beating against each other in a frontal assault that doesn't let up. The many characters they play attempt to outmaneuver or dominate each other but both always end up yielding. It is such an enlivening mental wrestling match to observe. I was in my element watching these skilled players master their craft in every scene.
Larry Powell is a titan on the stage. One minute he is the alpha male, the next a transgender beauty, the next a charming predator – and with each new character comes a different center of gravity, vocal placement, physicality and focus. He engulfs you with his stage presence. I have great admiration for his phenomenal voice that filled the space. (I so am tired of the sotto voce "naturalism" that deflates too many performances in NYC).
Justin Sams is a characterization chameleon and he is really funny. He seems to be able to find the core humor of each of his eccentric personas. But each of them are played so truthfully and with such respect, you marvel at his dexterity and maturity. You just want to cast him in everything so you can see how he will embody different characters and to see him again and again on stage!
Together these two men are warriors that you want to cheer on – theatrical gladiators throwing themselves into the pit of this piece to wrestle the lions in wait for them.
Brenda Abbandadolo's great, multi-functional costumes were earthy and muted allowing the performers to easily transform into their different characters. Lighting designer Betsy Chester did an epic job of giving this work its somber mood. I particularly loved her choices for the solitary confinement scenes. Christopher Darbassie's sound design perfectly captured the feeling of listening to the voice in your head and the cavernous feeling of being alone. I particularly enjoyed the central set piece that was jail door and bunk bed etc. exquisitely crafted by Rey Naldo. It's a work of theatrical art.
This is a monumental work. Go see it before you can't afford to!
The Hole was guest curated for the 25th Anniversary of the Ice Factory festival by the TEAM.
Running time: 90 minutes with no intermission.
The Hole  runs August 1 – 4, at The New Ohio Theatre (154 Christopher Street between Washington and Greenwich Street) For more information and tickets visit  http://www.NewOhioTheatre.org