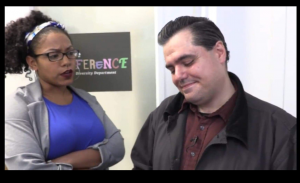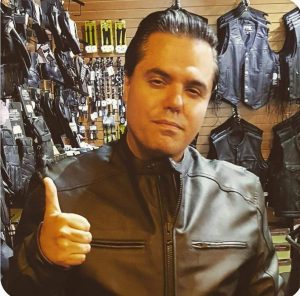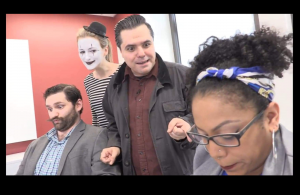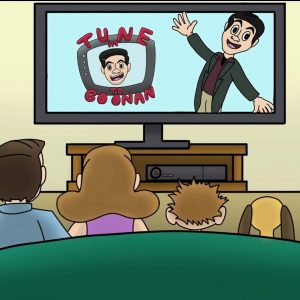 Photos by: Tune In To Goonan     Cartoon Animation Credit: Chris Slavin
Countless significant events happened forty years ago on October 20th 1978. "The Police" had their first concert at NYC's CBGB's, The U.S. Dollar devalued below Dutch Y2 and one Charles Xavier Goonan was born. My apologies, Xavier is not his middle, but it should be. Charles Goonan is a comedian and a product of Midwood Brooklyn. A town he has called home most of his life. Ask him about it, I'm sure he has a song that'll tell the story. Charles is a very talented comedian who has spent most of his life working towards comedy in one capacity or another. I'm a big fan of comedy history and that is what first stood out about Charles. He has an unending knowledge of Comedies past, from Fred Allen to Burns and Allen, and Bob Newhart to Bob Hope, Charles uses that knowledge of history to make some superb comedy. Charles Goonan's most recent production is a sitcom pilot based on his own life. "Tune In To Goonan" it's "the story of a little guy making it big". Charles Goonan plays Charles Goonan and hails from Brooklyn. Essentially playing an accentuated version of himself. In this pilot episode of "Tune In To Goonan" we see Goonan try to submit his written work to a diversity project. He must pretend to be gay so he can submit his production for consideration. A play on what is going on in the world today when it comes to exclusivity and being part of any group. A very serious subject played out with comedic perfection by the entire cast.  It's the simplicity of this very high production that makes it such a strong piece.
There is so much talent. Everyone stands out in their moments One member that stands out is, Geraldine Dulex. Geraldine is a professional Mime, not a fake one just for the pilot. In fact, Charles worked her miming abilities into the character after she was cast. Her capacity to fill out comedic moments with silence is a talent few have. Richard Kern, also shows some serious comedic chops as "Smelly", a part Charles says Richard was "born to play". Richard will have you laughing every second he is on the screen. Also, standing out and rounding out the splendid cast is, Erica Salguera, who plays the Diversity Lady and is very very humorous. Her reactions and ability to keep a scene smooth and moving without a wrinkle is a true testament to her ability as a comedic performer.
For me, comedy has always been a very visceral thing, despite my unending intellect and education. Holy shit, did I just write that? I'm so pretentious. I feel like comedy is all I've truly known in my life. Almost as if I don't remember anything before I knew it and learned nothing else since. The question, "can someone be made funny or are they born funny?" has been on the frontal lobe of man since it first laughed at someone falling down helplessly, which I can only assume was mankind's first laugh. I've have had to opportunity to meet thousands of comedians over my almost 30 years performing comedy professionally. In that times time I have met a handful of truly funny people that I truly believe are genius. I can count them on my hand. 12 years ago on a bus From 33rd and 3rd to New Jersey at a Verizon commercial shoot I met one Charles Goonan and found a genius. We immediately connected. I knew I met someone exceedingly special, uncommonly smart and remarkebly funny. Also without any formal musical training, but despite that musically inclined in such a way that there may not actually be any comparison. Singularity. To truly stand out one must have this. I had the opportunity to perform alongside Mr. Goonan when he produced several live episodes of "Splatter", most easily described as a dirty old timey variety show in the vain of Bob Hope but with dancing vaginas. Which are apparently in storage in Pennsylvania. Little did I know the impact that this mans ability to be funny would have on my own ability. I often throw around the word genius when it comes to comedy. I believe any comedian can be genius in a moment. Any moment one makes another laugh is genius. There is nothing better. To control that moment? A moment clear as crystal. That's power. Spend some time with Charles and you will experience those moments. Not an easy thing to achieve but possibly the single greatest thing one can do to move forward in life, is be funny. Charles Goonan eats, breathes and craps funny. I know, he's showed me. His ability to nuance any situation or moment whether is be musically, genre specific or farce his wit knows bounds that don't even exist. Go see his pilot on October 23rd at Stone Creek Bar 140 East 27th st. You will not regret it.
TUNE IN TO GOONAN" A Comedy About A Little Guy Making it Big!
See it October 23rd 7:00 pm to 9:30 pm
Stone Creek Bar NYC 140 East 27th St NY, NY
Written, Directed & Produced by Charles Goonan
Starring: Charles Goonan, Géraldine Dulex, Matt Jade, Richard Kern, Donny Howard, Erica Salguera, Stephen Fontana, Gregory Lee, Ya Han Chang, and Duane Cooper
Animation by Chris Slavin
(C) Copyright 2018 Charles Goonan
To see more of Charles Goonan check out his Facebook page at www.facebook.com/THECHARLESGOONAN