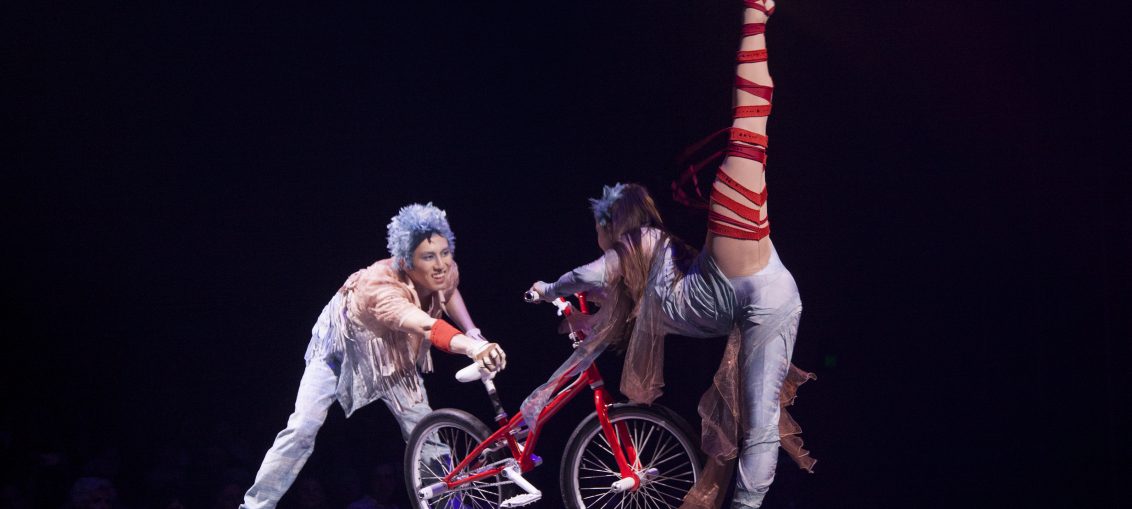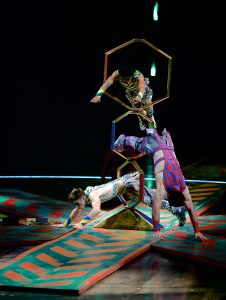 There is simply nothing that can compare to the circus — the dazzle, danger and derring-do, the shrieks of joy and gasps of amazement at the sheer feats of human accomplishment, both bizarre and beautiful at the same time. The "under-the-big-top" traveling, tented circuses have been around for hundreds of years and the origins of the acts, from juggling to contortion, for thousands of years, utilized to entertain both royal courts and street corners. But like all art forms, circus has fallen in and out of fashion over the eras as increasingly sophisticated audiences demanded much more than the mere gawkish amusement it had become mid 20th Century. Enter Cirque du Soleil, now in its fourth decade, formed by Guy Laliberté, a circus performer with a dream for something more. At first, no one knew what to make of this avant-garde expression of a traditional (albeit tired) institution, but with the passion, perseverance, inventiveness and sheer will-power of the founders (and a strong dose of belief and support from the Canadian government), and the most talented artists around, Cirque du Soleil went from an obscure experiment to a billion-dollar empire and one of the most renowned brands of entertainment of all time, paving the way for the new style: "cirque," which focuses on superhuman (not animal) talents and skills and has elevated the worn-out circus of the past, to a chic, sophisticated spectacle for the future.
Today, Cirque du Soleil may be seen as a cultural behemoth, much like Disney, but there's a reason these brainchildren of geniuses (when properly nurtured and cultivated) can sustain such juggernaut institutions — they're still, quite simply, vastly superior to the rest. This truth is strikingly clear in Cirque du Soleil's latest, ambitious and sensational feature: VOLTA.
VOLTA juxtaposes the extreme with the intimate. It is Cirque du Soleil's grandest and most daring extravaganza yet also (for numerous reasons) the most human. It begins with an "America's Got Talent" or "X-Factor" style game show where the contestants (such as Double-Dutch jump rope and Cyr Wheel masters) vie for the "Wow" approval from the audience. Then comes Waz, a blue-haired boy (coif by Fraggle Rock, Anime and modern-day hipsters you might encounter on the subway) who seems shy but has dance moves that captivate, who recoils into a mental breakdown once he's bestowed with the much-desired approval and applause. Thus spirals the tale of VOLTA, which utilizes extreme street sports, acrobatics and high-flying acts of wonderment to spin a very personal and relatable story of the voyage of self-discovery, acceptance and fulfilling one's potential — a Hero's Journey for the current Zeitgeist.
Cirque doesn't tend to stick with a set script but always maintains a clear thread to tie the themes together and create a narrative felt less logically, but more emotionally understood. The story propels the acts which begin when Waz is lifted to extraordinary heights to enact an amazing aerial dance from a ceiling lamp as one might find in their own childhood kitchen. One of the most interesting elements of VOLTA is that it explores, dissects and celebrates the suburban and pedestrian and catapults the ordinary to the extraordinary! The social or corporate ladder climbing becomes an act where a revolving apparatus of a stairway to nowhere sends its scalers (dressed in drab greys and formerly grasping electronic devices) into a frenetic twirl evocative of the trappings of the rat race. The technicolored skater and bikers (costumes exquisitely executed by Zaldy), act as neighborhood kids with their playful interaction with Waz, and the double-trampoline act with multiple performers thrusting themselves to uncertainty only to bounce back, both evokes a dollhouse of playthings and a metaphor for how to respond to life's pitfalls. Even the charming Clown, who appears more of a hipster hunk than a red-nosed creep, encounters everyman, relatable confrontations with the local laundromat being his chief source of frustration. Some of the most stunning and affecting moments are the perilous "jumping through the hoops" where (as in life) the odds keep getting stacked higher and more impossible but the biggest consequence is not life-threatening danger, but rather fear of failure and disappointment.
But what resonates on another level for such a demonstration of grandeur, were the tender moments of Waz's reminiscence translated through a film projector and into live action with him and a nurturing female counterpart (his mother?) enacting a pas de deux of ballet and bicycle which demonstrated celluloid flickers of the enchantment and disillusion of childhood so brilliantly showcased in similar expressions in Terrence Malick's Tree of Life, Richard Linklater's Boyhood or even Pink Floyd's The Wall. There is a moment in the second act where a woman outfitted like an Indian deity adorned with flowers and little more, floats and contorts above the crowd, suspended only by her hair. This might seem to be one of the most seemingly incoherent moments in the VOTLA's themes and yet it is one of the most profoundly moving and glorious, causing one to ponder if that little goddess or Buddha poised on a desk or dashboard could really inspire a sliver of "Elevation" (the song's title) or moment of enlightenment at just the right time.
And now that our eyes are bursting with stimulus — what about the auditory experience? One of Cirque du Soleil's strongest assets to the movement of "Contemporary Cirque" is their use of modern music. Some past critics have dubbed their choices as "New Age," but there is nothing of that in VOLTA thanks to the explosively emotional, ethereal soundscapes M83's Anthony Gonzalez created exclusively for this show. The dreamy, hushed vocals and resplendent instrumentation that mounts into a fanatical crescendo surpasses electronic music and shoegaze and transcends into something more sentimental and affecting, which is what Gonzalez, along with the astounding vocalists and musicians, created and brings to vivid life in VOLTA.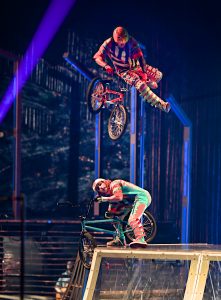 The show's finale is the BMX-style extreme-sport bikers, who at first appear like renegade youths channeling The Warriors, though their talents exceeded any expectations and they had us all gripping our seats with tension and fear for their safety.
To that — I would be gravely amiss as a member of the cirque and entertainment community as well as the press, not to mention the horrific tragedy that recently befell not only those involved with this show, but the entire community and all of its innumerable fans and supporters when on March 17th, one of our own who was counted amongst the greatest cirque performers of our time, Yann Arnaud, lost his very life, all too short to this dangerous art. Arnaud devoted 15 years to Cirque du Soleil and one can assume many more to the craft. He was one of the best multi-talented aerial artists who ever graced the stage under the Big Top.
The April 20th special preview performance I attended was the first since his untimely death; and the love, grief and loss of this incredible man was palpable. A heartbreakingly moving memorial tribute was given at the end of the show with his image projected, Olympic ring and a large bouquet of flowers on the stage with his compatriots gathered around encircling in solidarity. After the show, I saw one of the most charismatic and talented BMX bikers openly weeping for his friend. I could not control my own emotions and felt compelled, as humans do, to seek and share comfort in such a moment. We exchanged almost no words but embraced and cried over the loss of such a talent, friend, brother, son, husband, father. But the show must and does go on and their performance honors and exhales Yann Arnaud who committed his whole self and being to this art form.
One thing remains clear: this show and all spectacles where the performers appear inhuman, infallible and immortal, should only serve to remind us that we all are, even our heroes: mortal, fallible and human, and that in light of our struggles and triumphs, those are our most impressive, astounding and awe-inspiring qualities.
Cirque du Soleil VOLTA performs in the Greater New York Area: From April 20 through May 6 at Meadowlands Racetrack and Entertainment in East Rutherford NJ and May 17, 2018, through June 10 at NYCB Live Home of the Nassau Veterans' Memorial Coliseum in Uniondale, NY. Tickets are available at: www.cirquedusoleil.com/volta