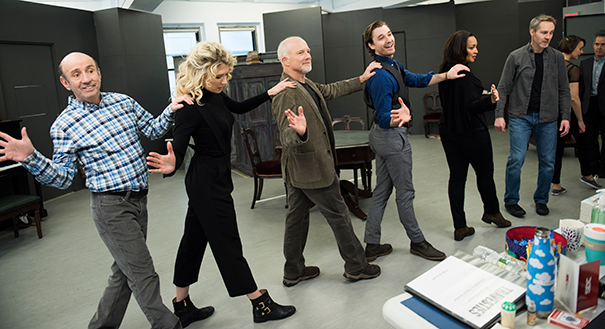 All great writers—especially playwrights—become, at some point, drunk on their own words. Ben Johnson accused Shakespeare of such literary inebriation. I think the same could be said of Eugene O'Neill, Edward Albee and James Joyce—which brings me nicely to Tom Stoppard and his own great, besotted spillage of verbiage, TRAVESTIES, revived by the Roundabout Theatre Company.
I first saw this play on Broadway in 1975 with the wonderful John Wood as Henry Carr. That was in my salad days, when I was green in judgment—by which I mean a lot of the play was WAY over my head. Yet I still liked it and somehow sensed what Stoppard was saying about art and revolution. But, oh, how he did go on!
In this new revival, Stoppard still goes on. (Really, in all these years, no one suggested any cuts?!) However, I didn't care because the tremendously talented Tom Hollander plays Henry Carr and he is amazing!
TRAVESTIES is essentially an intellectual vaudeville of a play. Set in Zurich in the critical year of 1917, it brings Carr into heady encounters with James Joyce (Peter McDonald), Lenin (Dan Butler) and the enfant terrible of Dadaism, Tristan Tzara (Seth Numrich). In a loose sense, this is historically accurate. All these fellows were there at the time.
Oh, then there's Carr's butler (who might be a spy), Bennett (Patrick Kerr), Lenin's wife, Nadya (Opal Alladin) and, in a delightful nod to The Importance of Being Earnest, Cecily (Sara Topham) and Gwendolen (Scarlett Strallen).
Sounds confusing, right? But is it fun? You bet cha! Director Patrick Marber has staged this production with an infectious, demented glee. Kudos to a top-notch cast and to Tim Hatley for his superb sets and costumes.
Lastly, despite my earlier carping about the verbiage, TRAVESTIES concludes with the three best lines that ever ended a play. And Tom Hollander delivers them perfectly.
Running Time: 2 hours and 30 minutes including a 15-minute intermission.
Travesties is playing at the American Airlines Theatre through June 17, 2018. For more information and tickets, visit the Roundabout Theatre Company